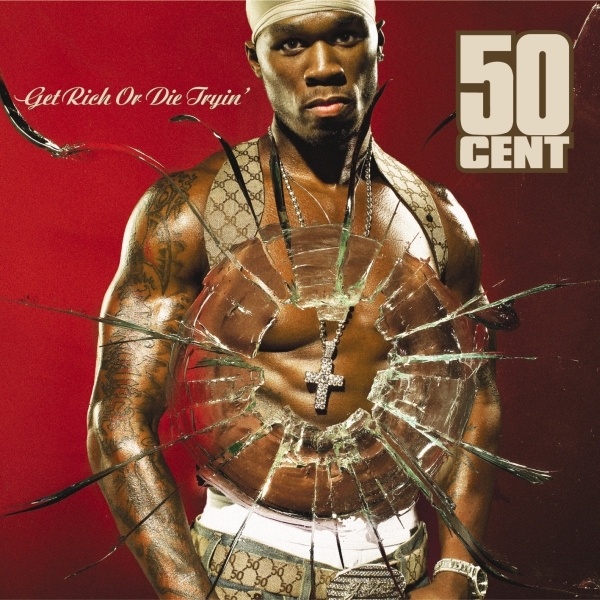 You have to respect that 50 Cent did exactly what the fuck he said he was going to do, and nothing less: get rich, or die trying.
On Monday, Cam'ron turned 37. He's celebrated by rap fans the world over for his creativity, flair and seeming ease with which he pulled it all off. Today marks the tenth birthday of 50 Cent's Get Rich or Die Tryin', an album that is in many ways the anti-Dipset: Ice-cold, rock-hard, and absolutely fucking perfect. Get Rich or Die Tryin' was more than an album. It was a mantra, a mission statement, and no matter what you think of 50 Cent, G-Unit Records, or even 50's public persona, you have to respect that 50 Cent did exactly what the fuck he said he was going to do, and nothing less.
Eminem might have described Fif by rapping, "Take some Big and some 'Pac, mix 'em up in a pot, sprinkle a little Big L on top," on "Patiently Waiting," but the real draw of 50 was that he seemed more myth than man, The Terminator come to life. Even before Get Rich dropped, 50 was a legend—he'd been kicked around the industry for years (his aborted Power of the Dollar album is fantastic and if you haven't listened to it your worth as a human is suspect), built his reputation on eating other rappers for breakfast, and releasing mixtapes that were better than his competition's albums. Oh, and he'd been shot nine motherfucking times, which pumped him up to rap superhero status if nothing else did. Simply put, Get Rich or Die Tryin' was the perfect soundtrack for the big, dumb action movie that was the early 2000's.
And if he was a superhero, 50 was a grim one. My mom wouldn't let me listen to him when "In da Club" dropped, even though, despite the fact that the scariest part of the video was watching 50 do upside-down situps in Eminem and Dr. Dre's human Build-A-Bear factory. The point of the "In da Club" video was a pretty obvious one: The takeaway was supposed to be, "Okay, we found the archetype of the perfect rapper, and we used science to do it."
And for a second, it seemed that 50 was actually the end-all, be-all of rap music. He sold drugs, came from Queens but could spit with a Southern cadence, and worked with Dr. Motherfucking Dre, the most important producer in all of hip-hop. He wasn't the second coming of Tupac, but was instead the synthesis of everything. On Get Rich or Die Trying, he was the murderous eye of the storm, the smooth criminal who took random shots at Ja Rule and successfully rapped over everything from gunshots ("Heat") to steel drums ("P.I.M.P.") to Chronic 2001 ripoffs ("21 Questions"). He wasn't there to drop science and he damn sure wasn't there to be your friend. 50 could be clever and conform to old-school standards of "lyrical," but at his best his disregard extended past humanity to the idea of convention itself. "Now here's a list of MC's that can kill you in eight bars/Fifty…uhmmm Jay-Z and Nas," he rapped on "Life's on the Line," subverting the lyricism of his competition so that he could make his point. It's no coincidence that the best work in 50's recent memory comes from his verse on Chief Keef's "Hate Being Sober"—it's that same sense of coldness and not giving a fuck that 50 Cent once repped as staunchly as the Louis Vuitton-patterned gun holster on the album's cover.
Albums as terrifyingly flawless as Get Rich are rare; it helped define our generation's sense of what a "gangster rapper" is, and the involvement of Dr. Dre upon the whole affair cast distinct sense that what we were dealing with was our generation's The Chronic. It's arguable that 50 Cent kind of fucked rap up during the mid-2000's but you can't deny that Get Rich or Die Tryin' was a self-fulfilling prophesy: 50 Cent got rich and didn't die, and he hasn't looked back since.
Drew Millard has met 50 Cent two times. He's on Twitter - @drewmillard