Little Coyote Wants You to Know It's OK to Be Dark in "Daylight Twilight"
The Toronto-via-Whitehorse band discusses animals, the Yukon rock scene, and arthouse cinema.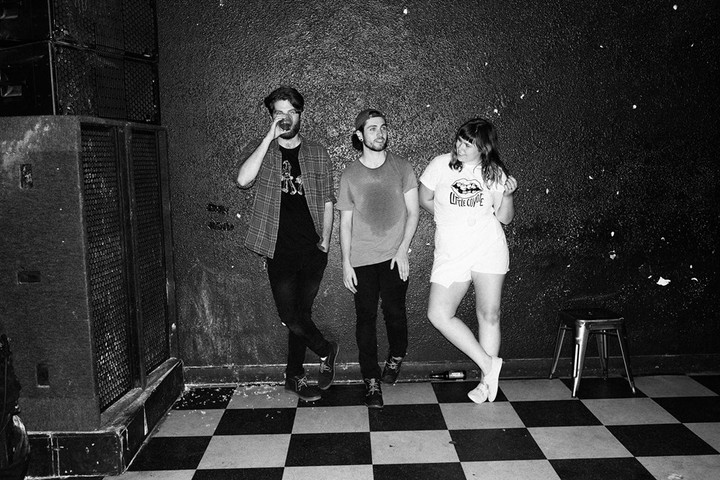 Photo by Dzesika Devic
The onset of winter can be a strange time. Days get shorter and nights become unbearably long. It is during these cold months that we find solace in different things. Some people stay inside and drink hot chocolate. Other people make somber music in hotels. Toronto-via-Whitehorse indie rockers Little Coyote chose the latter option in the video for their song "Daylight Twilight" off their album The Trouble with Teeth.
The video sees the band performing in a hotel room interspersed with shots of them pondering recent events. The minimalist nature of the video blends perfectly with the emotional nature of the song, providing just enough information without ever giving away a plot. Guitarist Byron Patterson's arpeggiated and textured guitar lines perform a melodic dance with the acoustic sounds of singer Teagan Johnston's piano, supported and propelled by Mike Poisson's steady, intricate percussion. Johnston's supernatural vocals cascade over the instrumental backing, giving the whole production a grandiose feel that is hard to fully capture with words. Watch the "Daylight Twilight" video below and read on for our interview with Johnston.
Noisey: Animal imagery is featured prominently in your artistry. Why the use of animals and the references to nature?
Teagan Johnston: When Little Coyote first started it was a project I conceptualized as a kind of starting over and reconnecting with my roots. It sounds like a silly explanation but I was absolutely obsessed with dogs and animals as a kid so I kind of wanted to try to reconnect with that feeling. I also moved from B.C. from Toronto to start the band so I think in the early days a lot of my writing was quite reflective of my longing for the nature back home.
Dogs or cats?
Dogs forever, but I do have two cats… So don't tell them that.
What's the music scene in Whitehorse like?
Very small and very welcoming! I visited last October and people were wonderful. I ended up playing an hour set at a town hall lunch/clothing drive and jamming with some of the locals. We also love Dave White at the CBC up there, he has been a huge supporter of this band and the new album.
Your music videos tend to have very cinematic, almost arthouse elements and sensibilities to them. What attracts you to these aesthetics?
I've always really enjoyed movies and more specifically independent films. There is this great movie rental place called "Pic a Flic" in Victoria. I always used to go to in high school, I would rent a lot of random movies there each week, just based on the recommendations of the staff. I guess that consumption has rubbed off on me in my own approach and aesthetic when I'm conceptualizing our videos.
What are you hoping people take away from this video and your music?
I hope they take away something that speaks to them, whether it be sonically or lyrically. I hope it's something that they feel comfortable lying in bed with, or freaking out to, or maybe even dancing around in their living room with. I also hope maybe it can help someone feel like it's okay to feel emotions in their totality, that sometimes it's okay to be dark.
You can check out Little Coyote's debut album here and catch them on tour on the dates below:
Nov 10th Brooklyn New York - Bushwick Public House
Nov 12th New York, New York -Sofar Sounds
Nov 14th WIlmington, Delaware - 1984
Nov 11th - New Brunswick New Jersey - House Show 73 Delafield St
Nov 15th Washington DC - Velvet Lounge
Nov 16th Chapel Hill, NC - The Cave
Nov 17th Richmond, Virginia - Hardywood Brewery
Nov 18th Norfolk, Virginia - Toast
Daniel G. Wilson is a writer and musician from Mississauga. He's on Twitter.