I Got Drunk At Stompin' Tom's Funeral: A Half Remembered Memoriam
Where were you when the world stopped turning?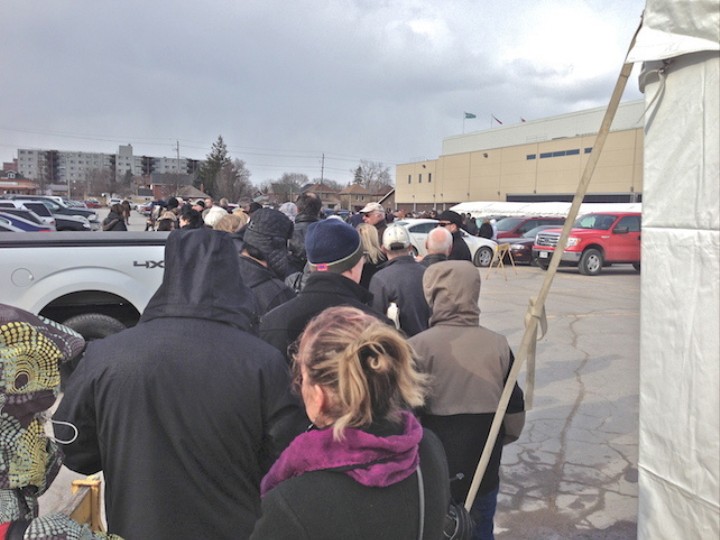 Where were you when the world stopped turning? I was getting wasted in my Queen West apartment, pre-drunk before a Masked Intruder show at the Horseshoe Tavern in Toronto. As the news slowly enveloped my Facebook feed, I was admittedly unphased, "Wow, some stompin' septuagenarian bit the dust, la de da, more Bieber" I no doubt mumbled to myself, warm PBR in palm, shitty heart frozen in irony.
But then, like the fluttering of a twenty-plus gaggle of Canadian geese over a Great Lakes sunset, something inside me awakened. Maybe it was a long-dormant nationalistic bone burrowed deep within my fleshy mass, maybe it was because I was super stoned and sentimental, but when I, on a lark, let my guard down and clicked play on Across This Land with Stompin' Tom Connors, a 90-minute special filmed in 1973 at the same Horseshoe Tavern I was supposedly making it to that night, I didn't stop 'til the whole damn thing was done. And yeah, I missed doors and stumbled in late to their set, but in my mind, Masked Intruder didn't even play that night; in that moment, the 'shoe, the city, hell, this entire nation belonged to our sweet stompin' angel.
Stompin' Tom Connors died March 6th of last year at the seasoned age of seventy-seven. He left behind a legacy of stubborn patriotism, a legion of emptied Moosehead bottles, and a 300-plus catalog of sometimes corny, sometimes clever, overwhelmingly Canadian songs and stories. Before his death, Tom was to me but a ghost from the past whose songs I'd heard in elementary school geography classes and National Film Board cartoons. After his death, I became enamoured, downloading 25 of the Best Stompin' Tom Souvenirs off of Soulseek and making up for the years I could have loved him in his life. When it was announced his funeral was open to the public, my newfound fate was sealed: it was my civic duty as a maple-hearted Canuck to attend.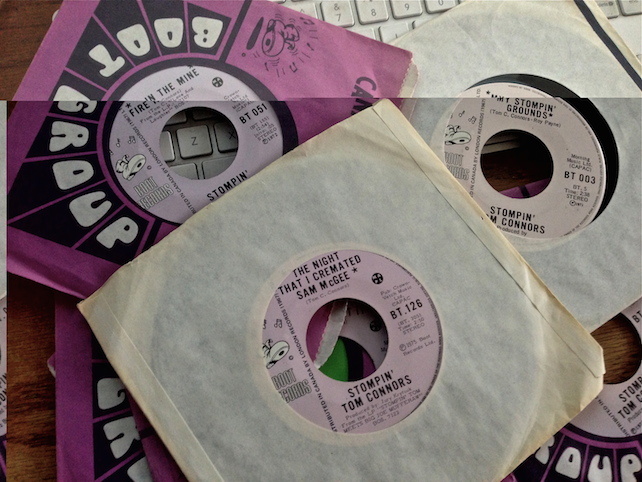 Carting along my hometown cronies Wood Gundy and Sunday Morning Sholdice (who once played a young Connors in the Blyth Festival production of The Ballad of Stompin' Tom), we packed our paddywagon with Boot Records 45s and a used copy of "Believe in Your Country" and made the pilgrimage to Peterborough one night ahead of the funereal festivities. Carting in our crates of Canadian beer and Canadian whiskey to the local Best Western, we began a night of great northern debauchery as a toast to the rambunctious nature of our departed hosehead hero.
After smoking, swimming, shotgunning, and singing "Bobcaygeon" so loud that the too-kind concierge switched around our rooms, we caught a cab into downtown Peterborough and made short work of ourselves, drinking exclusively Canadian beer and losing most of the night to wild abandon. Peterborough is an amazing and confounding little town; even on a Tuesday night, the bars and streets were crammed with a confluence of college kids in post-midterm bliss and grizzly locals, high on junk and covered in blood (we found ourselves somewhere in the middle). Though we avoided the Pig's Ear, a Peterborough haunt where Tom stomped about in his younger days, we retired past last call fully tanked and tender, recording an improvisational eulogy in our last throes of consciousness called "Peterborough Tuesday Night: A Stompin' Tome to Stompin' Tom Connors."
We slugged through the next day, half-hungover, half-hair-of-the-dogging with dollops of Canadian Club hidden in our Tim Hortons coffees. Around 4:30 in the afternoon we headed to the Peterborough Memorial Arena (is there a more perfect venue than a small-city hockey rink?) and found a line stretching from the doors to the far regions of the parking lot, a full hour and a half before the doors even opened. Rims rolled and toque-topped mourners patiently shivered under small dustings of snow until the gates opened and the procession began. At the entranceway, the doorperson asked whether we wanted to be in the licensed or unlicensed section: yes folks, upon Stompin' Tom's final request, the bar was open the duration of the funeral. I shit you not.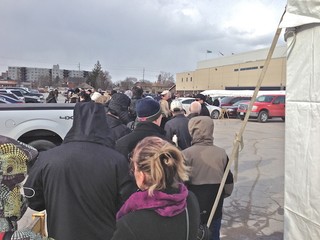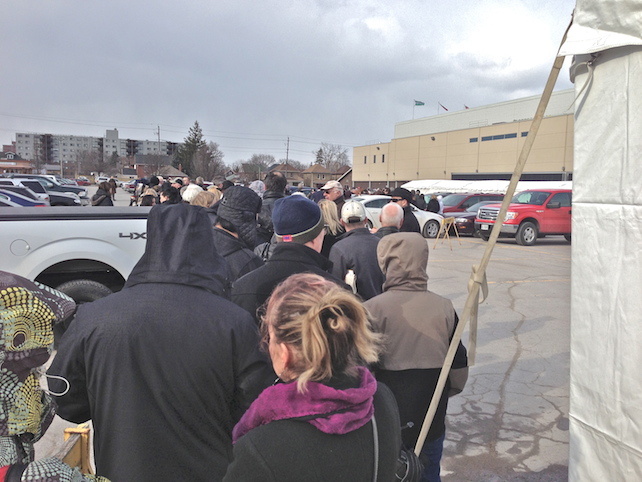 We got to it and at it with some tallboys of Molson Canadian and sunk into our seats, cheersing and beersing with our fellow countrymen. Decked in hockey jerseys and Kenora dinner jackets, the crowd was jovial and celebratory, except one miserable codger in front who told us to keep it down and keep it respectful, well before the ceremonies commenced. And when they did, Tom's longtime manager Brian Edwards reminded that old coot and everyone in attendance that in Tom's vision, the night was no candlelight vigil or solemn seven-day shiva. "We're going to show you how to really have a party," he said.
He was right: it was an all-Acadian, Northern Way-dian, real Canadian rager. Famous friends and fellow musicians paid tribute in cover songs, original odes, and speeches that tugged on heartstrings and funny bones in several fell swoops. You had Tom's inner circle of band members and tour partners, champions of Canadiana culture like Sylvia Tyson and Dave Bidini of the Rheostatics, politicians like former Maple Leafer Ken Dryden and Adrienne Clarkson (yes, the freakin' former governor general), all saluting the spirit of His Hallowed Stompin' One. For every piss break and bar visit I took, the names sloshed together into one pure puddle of national pride. I laughed a lot, I cried a lot, and Sunday Morning Sholdice had to drive my car back to Toronto through a fierce late-winter blizzard. It was a perfect ceremony.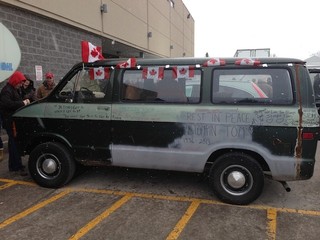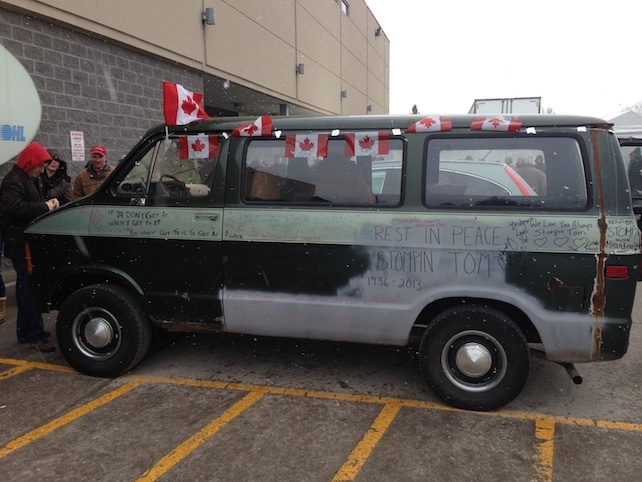 But the geezer in front was also right: this was a funeral. When the widow Lena Connors, escorted by mounties, placed Tom's signature black cowboy hat on his flag-draped coffin, the gravity set in. We lost not just someone, but something; some weird, indescribable chunk of our nation's short and confused history. Imagine the Confederation Bridge snapped in half and Prince Edward Island floated off into the Atlantic; Tom is that intertwined with the complex tapestry of the Canadian identity and our national sense of self. He reminded us who we are when we couldn't figure it out ourselves. He is a province, a prime minister, and a piece of all us that's now, in some ways, gone forever.
So my friends and I came up with a salute, an act of remembrance as our collective memory of the man withers and fades away. When you bear witness to an act of intrinsic Canadiana, like a prairie being ploughed, a Guess Who cover in a Mike Meyers film, a home team victory in the winter Olympics, or an eternally-flowing keg of John Labatt beer, do for Tom as he would do for you: give 'er a stomp.
Ivan Raczycki is a Canadian writer with the best Twitter handle ever: @BeersCanada