Goldlink Bounced and Finessed Through His Toronto Show
The DMV-rapper proved once again that he's a star about to rise.

Photo by Eric Zaworski
If there were any lingering doubts that future bounce-rap proponent Goldlink isn't a star in the making, they were quashed the moment he started harlem-shaking during his Canadian Music Week set last night. The DMV-area artist, whose musical resume lists Los Angeles beat movement Soulection, Kaytranada and legendary record producer Rick Rubin as associates, delivered an uncompromising 40-minute rap set at his headlining show at Tattoo. After an inspired set from Toronto artist Clairmont The Second, with a reception that sounded like he brought out half his high school to support, DJ Kidd Marvel spun a few recognizable Soundcloud cuts from artists like TNGHT and Chris McClenney. As is Toronto custom (even at the all-ages shows!) the crowd stood around with bated breath, Instagram open, waiting for the DMV-area rapper to manifest.
As soon as Goldlink began, sporting a customized studded leather Perfecto, expensive looking Air Jordans and skinny jeans, he ran through cuts off his debut mixtape The God Complex, throwing down "Bedtime Story" and "Fuck Being Polite" with finesse. At first, I thought he was lip syncing, energetically hitting every bar at double-time, sounding almost exactly like his MP3s. But it soon became obvious that Goldlink is a perfectionist in his live set, supplementing a tightly-mixed rap demonstration that easily bounced over his production, all without the safety of a background vocal track. There's something to be admired about a rapper this young performing so effortlessly. The crowd thankfully put their phones away during the show and were happy to rap along. Goldlink paid special attention to the women in attendance, shouting them out every five minutes, and rightfully so—he had a sizeable female fanbase in-house, which gladly applauded between songs.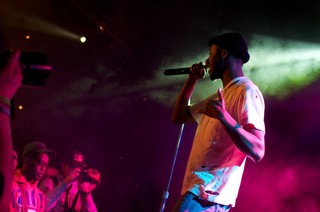 Photo By Eric Zaworski
Midway through his set, Goldlink compelled DJ Kidd Marvel to play a Ja Rule track for the crowd, and couldn't help but dance to it for a few moments. Ending on a high note, the show wrapped by 10PM with host Tika Simone thanking the audience for support. As a rap fan, it's sometimes easy to get jaded about live shows, especially when you're requested to do things like "put your hands in the air" and such. But when a young artist comes along with interesting new shit, has not-forced interactions with the audience, and can perform well, it is an absolutely refreshing surprise.
While Goldlink kept the premonitions of his performance as being "real hip-hop" show, he more appropriately operates somewhere in that area of music not bounded by rigid genre contexts. Yes he raps, but what makes his music unique, especially in the live aspect, is that it can fit right alongside EDM festival players like some of the artists he collaborates with. It helps that he makes music that carries the same airy, joyous qualities you'd want to hear outside at summertime while not sober. He's at a pivotal time in his musical career, and with evidence that he's working with Rick Rubin, this will probably be the last time Goldlink's excellent live performance will only cost $20 to see.
Eric Zaworski is a writer and photographer based in Toronto. Follow him on Twitter - @ericzawo