Celebrating William S. Burroughs' 100th Birthday With Dreamachines and Guttural Howls
We saw dreammachines and free-improvising bands at Toronto Music Gallery's exhibition for famed author and artist, William S. Burroughs.
As an author, essayist, visual artist, and spoken word performer, William S. Burroughs spent a lifetime dismantling control mechanisms through subversive and surreal art that have had far reaching influences in popular culture. In the year that would have marked his 100th birthday, publications, art exhibitions, films, and other events worldwide have spent 2014 honoring Burroughs's legacy. And on November 7, Toronto's Music Gallery produced an evening of its own.
Arriving at the Music Gallery, audiences were immediately immersed in a den of dim lights, as two "dreamachines" spun idly atop tables in the room. Invented by Brion Gysin and Ian Sommerville—friends and collaborators of the man of the hour—many needed no introduction to these devices and gravitated towards them without persuasion. For the uninitiated, they're stroboscopic flicker devices that spin at a rate said to engage the alpha waves in users' brains; allegedly inducing hypnagogic states and "drugless" highs when users "view" them through closed eyelids. But on a more important level, the dreamachines afford users the unique ability to unlock their minds and let them wander from the stable "realities" otherwise encountered through visual stimulation. Meanwhile, multi-woodwind specialist, composer, and Burroughs scholar Glen Hall provided a multi-media portrait of William Burroughs that employed some of the same practices the visionary used himself; CCMC ditched structure entirely and stuck to a formula they've excelled at since the '70s: free, authentic self expression.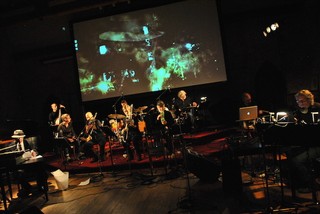 Canadian Creative Music Collective (CCMC) member and popular Canadian poet Paul Dutton opened the CCMC's set with a collection of spit, guttural growls, and garbled speech from what seemed like every recess of his diaphragm, while musician/composers John Kamevaar and John Oswald combined an interesting mix of saxophone and synthetic percussion blasts (with Michael Snow away on tour, the group performed as a trio). It was a bit disappointing that CCMC wrapped their set after barely half an hour, but shaming them for denying anything more would be an exercise in futility and bad faith. As Toronto's longest-running free-improvising group they've spent 40 years liberated from formal restrictions like genre, melody, and music theory, so expecting them to perform any longer would've been a serious error. After CCMC finished the roughly 25-minute piece they introduced themselves with, things seemed complete when Dutton declared "And that appears to be that." But then he started rambling about playing some more, and Oswald took it as a cue to accompany the verse with some crackle-and-pop percussion. Neglecting his instrument, Kamevaar initially looked somewhat impatient with the exercise, but eventually he cracked a smile and joined in after Dutton mumbled something about how the piano had been completely silent all night.
After producing Hallucinations—an album-length "sonic film" based on Burroughs's novels Nova Express and The Wild Boys—in 1997, Hall could have gotten away with presenting a reprise of that endeavor at Friday's centennial event. But the original performance he gave instead treated audiences to an even more extensive exploration of Burroughs's career. The Rub Out the Word orchestra Hall debuted at the Music Gallery on Friday expanded the list of primary sources accessed on his earlier record to also draw from Naked Lunch, The Yage Letters, as well as Burroughs's spoken word piece "Last Words of Hassan Sabbah"—the latter of which provided the presentation's name. Besides guitar and loud player John Gzowski, the Rub Out the Word performance also featured a brand new, 11-person orchestra—this time including dual trombones, a peculiar synthesizer trumpet called an EVI—live multi-layered video collages, and a costumed Ron Gaskin seated behind a typewriter in the role of the quintessential Burroughsian narrator.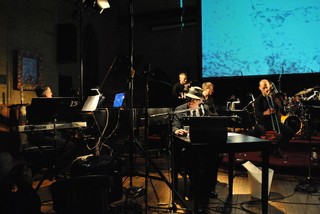 Using Burroughs's cut-up technique, Hall broke apart, scrambled, and collided together sections of the author's texts as well as musical compositions of his own, mixing together texts written over the course of 13 years with genres like chamber music, swing, Arabian modal motifs, noise, and musique concrète into an hour of arrangements. Burroughs became increasingly interested in using sound as a weapon, and Hall's compositions exploded expectations about genre, authorial intent, and ethnocultural traditions. As the concert unfolded, it was less a narrative and more a space-time travelling aural portrait. The entire composition was a mind-boggling take on Burroughs's work, perhaps more so for demonstrating that Burroughs's messages bear a kind of clairvoyant consistency in their approximation of the zeitgeist. Again, lending credence to something Burroughs said in his Red Night Trilogy: "A virus is a copy. You can pretty it up, cut it up, scramble it—it will reassemble in the same form." Burroughs was a virus, and after 100 years, Glen Hall showed we're still infected.
Photos and words by Tom Beedham - @Tom_Beedham