Why Can't You Listen to that New Kendrick Lamar Verse on Jonathan Emile's "Heaven Help Dem"?
The Montreal rapper thought a Kendrick feature would be his big break, but now he's paid for a verse he's not allowed to use.
In 2008, 18-year old Fredy Villanueva was shot and killed by police in Montreal. This tragic event would be the catalyst that drove Jonathan Emile to record his song "Heaven Help Dem" a year later. The song speaks about the unfortunately always-relevant issue of police brutality terrorizing young black men in North America, with Emile rapping lines like "when a cop dies, we're all mortified / but when a cop kills, he don't need no alibi" over the stormy electric production. "After I finished the song, I felt so comfortable with it that I decided to add another dimension to it," says Emile over the phone from Montreal. "I asked Kendrick Lamar to be a part of the song in 2011."
Outside of the polarizing single "i" and a performance on The Colbert Report, not much has been heard from Kendrick Lamar lately. For a relatively unknown rapper to have a verse from Lamar, especially on a song that speaks to the topical and controversial subject of police brutality, could be a career-changing move. Kendrick fans were quick to listen and post the song, calling to attention his poignant words about the murder of black youth, especially in contrast to the comments he recently made to Billboard. The song quickly garnered plays, but then suddenly, all versions of it were pulled from the internet.
The song "Heaven Help Dem" had already been released—without a Kendrick verse—on Jonathan Emile's only project, 2009's The Lover/Fighter Document EP. In 2011, Emile repurposed the song for release again, and this time decided to cold call Kendrick Lamar's people to inquire about a verse. "They were open to the idea. We outlined what the song was about, what we intended to do with it, and we said it was about police brutality and injustice. We sent the beat over to them and a couple of days later they responded by saying, 'Kendrick is willing to do it, so this is the fee, and this is what we expect from you guys.' We got the song back a couple weeks later after doing two instalments of payments." Emile's camp sent over the payments and received a verse in return from Kendrick Lamar, but when it came time to clear the verse, Emile found himself stuck in legal limbo. "We basically got stonewalled after the transaction took place. There was little movement going on, and then no communication going on."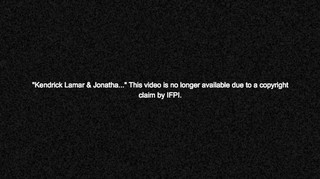 After waiting almost four years, Emile finally decided that the best way to make his song with Lamar heard would be to simply release it. Emile informed Kendrick's camp that he was planning to release the track early January, and that if they had any problem with this they should contact him. Two days after Emile released the song, he sent another email to Lamar's people showing them that the song was up. That's when he finally got an answer. "We got a response back saying 'No, don't put the song up because Interscope is going to snatch it down.' So we were like 'Interscope is going to snatch it down? We already gave you weeks notice that this was going to happen, and you're telling us to pull it down when the song is already up?"
Kendrick's verse features his signature lyrical acrobatics, batting out lines about the destruction of the youth. "They all say the average Black man only live till 25, 'Pac died at 25 / How many kids you know dead at 20? Five? / Now that's life I know 10 that's crumbling in coffins / Dead as a doorknob, fresh outta high-school / and couldn't find no job went straight to the grave / It's crazy how the grim reaper in love with such tender age."
The song was originally scheduled to be released on January 9 by Emile, who would push that date back after Kendrick Lamar's interview in Billboard. In the written piece, Lamar would say: ""I wish somebody would look in our neighbourhood knowing that it's already a situation, mentally, where it's fucked up. What happened to [Michael Brown] should've never happened. Never. But when we don't have respect for ourselves, how do we expect them to respect us? It starts from within. Don't start with just a rally, don't start from looting -- it starts from within."
As of now, there is no version of "Heaven Help Dem" that exists with the Kendrick Lamar verse. The version that was uploaded to YouTube was replaced with one where Kendrick's verse is censored with bleeps, and the Soundcloud upload was removed entirely. It may be possible that Kendrick Lamar and his camp decided that a verse from 2011—before he ever got signed to Interscope—was no longer an accurate representation of Kendrick's artistic growth (TDE could not be reached for comment.) However there's still the issue of Emile not being returned the fee that was requested from him in exchange for a Kendrick Lamar verse, leaving him with a verse that he can't return and isn't allowed to let people hear.
Noisey: Take me through the entire song's conception and how you got in touch with Kendrick Lamar.
Jonathan Emile: I originally wrote the song in 2009 and I put it on my first EP. After I finished the song I felt so comfortable with it that I decided to take the song in a different direction and add another dimension to it. With that, I asked Kendrick Lamar to be a part of the song in Fall of 2011. We didn't really have any relationship with him at the time, so we basically cold called him and sent in a random email to his management asking if he was willing to collaborate. They said we would need to pay two instalments, and we agreed.
This all happened in 2011?
Yeah this happened at the end of 2011. After we had gotten the transaction done we attempted to follow up with his lawyers to make sure all the i's were dotted and all the t's were crossed. But there was no movement at all on their end.
What kind of movement were you expecting? Did he already do the verse at this point and you were just waiting for the legal part of it so you could use it?
That's right. I was just waiting on them, because all these different departments were on the invoice, and then they said legal is in a different department, and that they sent it to them and that it'll be taken care of.
Were they signed with Interscope by this point?
No, this is prior to signing with Interscope. Kendrick as far as I know was signed in the begining of 2012, so this is before Interscope.
Okay, so let's fast forward to this year.
Early in the new year I sent a message to them so that I could get back in contact and let them know that we were expecting to put out the song on January 19th. So two weeks ahead of that date, I sent them a message and let them know what was going on. We didn't get a response from anyone. I don't want to name names, but someone on the management team and said "Oh I don't remember this happening. Why don't you just send me the song attached?" which we were already doing. They received the song and confirmed that they got it, and then we didn't hear back from them. A couple more days go by, we send another message saying that we wanted to make sure everything is cool, because we're still operating under that assumption. The core of the song hadn't changed from what we had done in 2011, but we did send them an update version of the song and they didn't respond. A couple more days, we send another email to confirm again and again, no response. So in keeping with our production schedule, we wanted to put the track out on the 10th. We wanted to put it out on the 9th, but the Billboard thing happened so we pushed it back, because we felt it was the right thing to do. The song was keeping in line with what Kendrick was saying in the media anyways, and we felt that these other things dictate a production schedule, especially since we weren't getting any communication.
So what happened when you finally put it out?
We put it out and two days later, just to continue to keep the line of communication open, we sent another email saying okay the song has been out for two days you haven't been communicating, so we just tried to put out a statement that sort of goes in line with what Kendrick has been saying, you know? That's when the song started to go viral and we still had very little communication. Usually we would get a one line email. We'd write a paragraph but they'd give us one line email. We tried to reach them over the phone, unreachable. But that day I did receive a phone call from a person who was pretty adamant about the fact that if the song stays up, Interscope was going to take it down. We paid for it in good faith. We tried to communicate, but the communication wasn't there and this was done before Kendrick was signed to Interscope, so we don't really understand what the problem is. If you guys had a problem we gave you weeks to let us know.
So the verse has still been paid for?
Of course.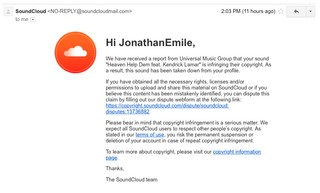 And they haven't refunded you anything?
No, in fact I asked the question like "What are you going to do? Are you going to refund the verse?" and they said something along the lines of a verse being like a piece of fruit and when you leave it out it just gets rotten over time, so you have to use it when its made, when you buy it or whatever. And we were operating under the assumption that you knew what the song was about you agreed to do the song you contributed to it.There was a good fair payment, so why would you not want the song to come out now.
Why do you think there's been so much resistance with this song?
I'm very weary to speculate because in the music industry you talk to lawyers just as much as you talk to musicians, so I'm not going to speculate into what's going on. Personally, I feel like this has to be some kind of misunderstanding, because it was before Interscope and I'm not going to put words in their mouth. I haven't spoken to Kendrick directly so I don't know. I have ideas, but I mean my ideas will be more or less valid than what somebody else's ideas. I don't know, because these people are not really communicating, not really saying what's up. I'm operating under the assumption that music maybe overtime it's a different style and maybe overtime it depreciates its value, but this is something we put up a lot of money for. And I'm sure he was proud of it at the time, or else he wouldn't have let it go. I mean he's a perfectionist.
What's your ideal situation that you would like to see happen? Would you like to see the verse get released do you want a refund?
I would just like to see the song be out there and split royalties and recognition for it like we intended in the first place. For me it's not about the money. The biggest thing for me is I was trying to make a song with a message and I'm trying to do that now. It's not like I changed as an artist, I'm growing but if you look at my music there's messages in all of my music. I'm not just a conscious rapper I'm a topical rapper too. So, when I'm talking about something and when I'm trying to get a point across its very deliberate. I'm not a punchline rapper or a rapper who doesn't really have much weight behind his rhymes so I would like the song to be out there so I can represent myself because its not his song its my song. We own it. I just want to represent myself and get the message across that I was trying to get across in the first place.