Retrospective Review: SNFU - '…And No One Else Wanted to Play'
Do you know how many great punk albums came out of the Canadian West Coast in 1985?!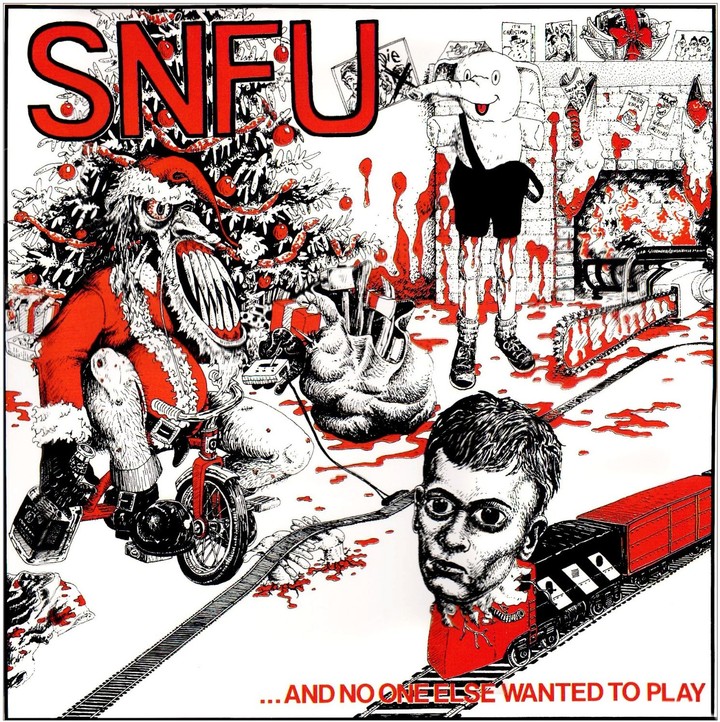 I have a confession to make. For years and years (and years), my favourite SNFU album was their third album from 1988, Better Than a Stick in the Eye. Honestly, it was more a time and a place thing; that slightly more polished record being my first exposure to the best thing that's ever come out of Edmonton, Alberta.
Years and years later, I came to appreciate the unorthodox fury of SNFU's 1985 debut album …and No One Else Wanted to Play much more than anything else the band ever recorded (on and off again throughout the years, the band is still active with eight albums to date). Why? Because in 1985, the thought of a band this original and punk rock (with ample hardcore and metal tinges) coming out of Edmonton seemed impossible.
There's an amazing moment about 1:20 into album opener, "Broken Toy," where the guys in SNFU just all of sudden bust into the riff from The Knack's "My Sharona." Then, as if they didn't know what the fuck they were doing (but I like to think they did), 30 seconds later they're back into the screaming, chaotic conclusion to one of the best punk lead-off tracks of the mid-80s.
"She's Not on the Menu" comes next, one of singer Ken Chinn a.k.a. Mr. Chi Pig's many twisted pieces of social commentary; an immediate blast of "fuck you, douche bags," the kind of which would be carried on by the band for decades (and later emulated by every prairie punk band from The Smalls to Propagandhi).
Seeing SNFU live around this time was, by all accounts, one of the most profound experiences a young punk rocker could ever hope to have. This 14-year old young punk/metalhead/nerd found himself on vacation in Edmonton (of all places), staring at an ominous-looking poster in a West Edmonton Mall record store touting SNFU's show that very night. Unfortunately, my parents didn't think it was the best idea to let their newly teenaged son loose into the Albertan underground punk scene, otherwise I might have been a convert of the band from the very start.
I did get to see SNFU live a number of times in the early 90s, but my first foiled chance was in the mid-80s. A time when punk rock was still hidden in the underground, where it ultimately belongs; where bands like SNFU could come up with songs like "Cannibal Café" and "Plastic Surgery Kept Her Beautiful" without a second thought, or any outside influence. Lyrics like, "Funny, I'm not familiar with this taste / Well, I said, 'Are these ribs or is this steak? / Well, I'd sure like to know what the hell this is I'm chewing / Well, I said, 'Holy fuck, it's another human!'"
There's a restaurant on Commercial Drive in Vancouver, where members of SNFU have settled in their later years, that's actually called the Cannibal Café, run by longtime fans of Vancouver underground music. They don't serve human there, but they do make a pretty mean burger. …And No One Else Wanted to Play appropriately closes with "This Is the End," SNFU's twin guitarists The Brothers Belke laying down another one of their spastic, rocked-out punk blasts, leaving perfect space for the band to shout "1, 2, SNFU!" The song also features another piss-take on "My Sharona" (and maybe this time it really is just an accident, but I like to think it isn't) before concluding one of the best punk rock albums of 1985. And do you fucking know how many good punk albums came out in 1985?!
Jason Schreurs is a writer who still wishes his parents had let him go see SNFU when he was 14. - @jasonschreurs