How Wavelength Is Bucking the Unfortunate Trend of Dude-Heavy Festival Lineups
The 'JunosSoMale' fiasco and lack of female festival headliners highlight the gender issues still plaguing the music industry.

All photos by the author
With the announcement of the 2016 Juno nominations earlier this month, the issue of gender representation in the Canadian music industry has garnered even more attention. During the initial release of Juno announcements online, one of the many who would call the controversial nominations into question was Canadian solo artist and member of Stars, Amy Millan. Tweeting a series of photos of the nominees including Album of the Year, Artist of the Year, Dance Recording of the Year, Rap Recording of the Year, and Rock Album of the Year, Millan exposed the lack of females in the categories and the boys club mentality of the Canadian music industry, adding, "All the dudes congratulating the dudes @TheJUNOAwards #Junossomale." That same night, Canadian electro-pop artist and producer Grimes echoed Millan's frustrations with a series of now-deleted tweets. Sadly, the #Junossomale hashtag appears to be an accurate statement for this year's ceremony. Here are the facts: with over 200 Juno Award nominees this year, less than 75 include female musicians and so far, only one female artist has been announced to perform—four-time nominee, Alessia Cara. And yet Toronto's Wavelength doesn't seem to have any issue finding females to grace the stage.
A mighty cornerstone in the Canadian music scene, Wavelength began in 2000 as a weekly curated music performance series and free monthly zine that showcased independent Canadian musicians. In its 16 years, Wavelength has evolved into a music programming force that hosts a monthly concert series, several independent projects, and two annual festivals: Camp Wavelength and the Wavelength music festival. Celebrating creativity, co-operation and collaboration in the independent music and arts scenes, Wavelength has a long-standing reputation for showcasing exceptional emerging Canadian talent in a diverse collection of genres. In celebration of its sweet 16 anniversary last weekend—and in stark contrast to the Juno nomination fiasco—each of this year's Wavelength headliners featured female musicians like Foxtrott, Duchess Says, Thus Owls and more than 50 percent of the festival's performers were female. But Wavelength is no stranger to female headliners. This trend began in 2014 when DIANA and Marnie Stern were chosen as two of the headliners for the Wavelength music festival. Then, last year, the trend continued with Lowell and Mozart's Sister holding down headlining slots. Wavelength's representation of female artistry is even more gratifying because it is unintentional. "That's the great thing," said Artistic Director and co-founder of Wavelength, Jonathan Bunce. "It was honestly just the music that we liked. It's happened three years in a row, so this theme has just sort of emerged. It wasn't like we sat down and said, 'We have to have a female headliner every night.' There was no grand design. There are just so many talented women making music right now and I think that us, as programmers, are just responding to that."
Wavelength has showcased artists who have become some of Canada's biggest names in music including Broken Social Scene, Arcade Fire, Grimes, Austra and others since its inception. When asked what Bunce looks for when booking acts for Wavelength, he responded, "Freshness, honesty, originality." By this criteria, Friday's Wavelength headliner, Foxtrott—real name, Marie-Helene L. Delorme—is an ideal booking. When asked to discuss how the issue of gender has influenced her career so far she replied, "To be honest, I had a bunch of meetings with different labels and I got into some meetings that were like, 'How are we going to market this? We love the music but who the fuck are you?' and I was just like, 'Egh, not for me.' Just because of my personality, I just can't... I just can't change myself. It just doesn't work. Sometimes, I've had comments that piss me off a lot like, 'How do you feel that there's a lot of female electronic acts?' For me, it's almost insulting to hear that because you didn't talk about the thousands of bands that were guys singing with guitars. You're trying to convince me that a market is saturated because there are two other Canadian females singing with electronic beats? That doesn't mean shit. We don't sound alike at all."
With their historically strong curation reputation and current female headlining trend, Wavelength is making a statement—intentional or not. "There has been a shift and I think it's great and I'm sure young women must be excited about it. It's something that should be celebrated," said Bunce. When asked if Wavelength considers booking a balance of male and female artists, Bunce responded, "Yes, though more in terms of making sure we don't accidentally steer towards a male-dominated, or worse, male-only lineup. I think the worst thing is that most people don't seem to consider the question at all." Delorme also doesn't dwell upon about the cultural statement she is participating in as a female headliner. "As an artist, I don't like to have an outside perspective of myself. I think it's kind of biased when you start thinking about what you represent in the world too much. It's not really your role as an artist. I'm not the one who wants to analyze what I do. For me, that's not where I find my energy or my inspiration."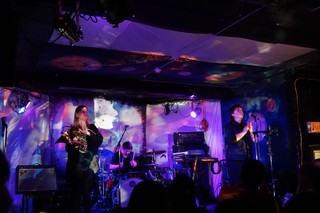 Unfortunately, not all festivals view programming with the same sense of inclusion. Out of the following ten major music festivals; Bonnaroo, Osheaga, Sasquatch!, Coachella, Hangout, Bestival, Isle of Wight, Governors Ball, Firefly, and WayHome, only four of them had headliners that included a female in 2015. And out of those four, only Osheaga had more than one headliner that featured a female musician; Florence + the Machine and Of Monsters and Men. That's five female/coed bands out of 36 headlining slots. The current and sad reality of the matter is that most festival programmers don't believe female acts will sell tickets the way male acts can. Due to the deep-rooted sexism within the music industry, male acts tend to get strong media support and radio play, increasing their ability to attract ticket-buying fans. In an article on the lack of diversity at music festivals, Noisey writer Emma Garland shed light on festival programmers' tendency to deny accountability for this extreme inequality. Garland's quote from promoter Melvin Benn, curator of the Reading and Leeds and Latitude festivals, is an example of this disturbing reality.
"We put on bands that people want to buy tickets to watch—so it's the public that makes the decision about what bands play at festivals. We're not the tastemakers. Putting a festival on is a monstrous financial risk. The only way I balance the books is selling tickets. Why do you think we book the same male acts again and again? Because they sell tickets." The 2016 festival season isn't looking much more promising for female musicians on the major festival circuit. This year, only six of those same ten festivals have booked a female/coed headliner. And only half of those six female/coed headlining bands of 2016 are all Florence + the Machine.
When commenting on these statistics in comparison to Wavelength's trend of booking female headlining acts, Bunce stated, "We're non-profit. We get grants. We can take more risks. We can book closer to our hearts. We can book more of what we're excited about. We do have bottom-line concerns but it's not like we have crazy ticket sales matrix the way that a commercial festival would. We're focused on the art, on the creativity, on being close to the community and responding to what's happening in the community, so if there's more women in that emerging level right now then we can support them. It's a no-brainer to me and it's a happy circumstance that we've been able to represent women so strongly in our programming." Thanks to funding supplied by both public and private supporters such as the Ontario Arts Council, the Toronto Arts Council, Canadian Heritage, FACTOR, OMDC's Ontario Music Fund and the Ontario Trillium Foundation, Wavelength is able to curate lineups that reflect the best of Canada's emerging independent music.
In what has become a sad reality of the music industry and need for serious improvements in independent music and equal gender representation, Wavelength's inclusive programming is an example of what an organization committed foremost to the music looks like. If musicians were equally embraced for the art they create, maybe female musicians would represent at least half of our national music award nominations instead of the embarrassing misrepresentation of this year's Junos. And maybe, just maybe, the industry would recognize that Florence + the Machine isn't the only female-fronted act capable of headlining major festivals.
Stephanie Horak is a Toronto-based music writer and founder of Stories Behind The Songs. Follow her on Twitter.