Getting Your Ass Kicked In Rural France For Hellfest
Hipsters, nerds, metalheads, and the cultural touchstone of public urination.
I just spent three days at a metal festival in rural France. Since 2006, Hellfest has been booking a spectacularly curated mix of big names, underground upstarts and everything in between, spanning metal's maze of subgenres. I went with two old friends, joining upwards of 100,000 metalheads, rocker moms and grandmas, little kids with giant headphones, LARPers and assorted weirdos. We drank beer straight from the jug, ate from the minimal French menu of bread, cheese and meat, dealt with the country's uniquely laissez-faire attitudes towards scheduling, customer service and hygiene while taking in the panorama of rock.
The fest had two main stages, then four others devoted to specific musical zones. The Altar held death metal bands, the Temple was black metal, and the Warzone was devoted to punk and hardcore. Our musical comfort zone was the Valley, the smallest tent, devoted to stoner rock, sludge and doom metal. Also, all the hipsters and nerds were at this tent. We felt at home.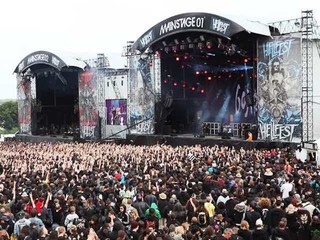 The Valley bands tended to be from the US, often visiting Europe for the first time and clearly overwhelmed by two or three thousand enthusiastic fans. They all tried their best to look badass, but couldn't help smiling. It was pretty cute. For whatever reason, Friday's Valley lineup also represented the feminine side of Hellfest, with many of the best bands — Khalesa, Witch Mountain, Acid King — happening to be female-fronted.
Iron Maiden headlined Friday night. These guys are way old at this point, but Bruce Dickinson's voice is still in good shape, and he helpfully kept the crowd informed of France's winning soccer score as the hit-filled set progressed. A true gentleman.
Saturday was a quieter day for us, with the main stage acts being comprised of mainly classic rock and hair metal. We wandered over to the main stage to catch Extreme. I'll cop to a slight, guilty appreciation of these guys' melodic 90s hits, but funk metal has aged about as well as their hairstyles in the face of male pattern baldness. In Gary Cherone's eyes you can see the tragedy of being the short-lived singer of the worst version of Van Halen. I'll say one thing, though: guitarist Nuno Bettencourt is a handsome man. I mean, I'm a straight guy, and I'd at least cuddle with him. Nonetheless, we left before they even got to their biggest hit, the douchey ballad "More Than Words."
We also caught a few acts at the Temple stage, Tsjuder and Gorgoroth. I started to ponder: why is black metal more acceptable to the hipster crowd than death metal? Is it the extra theatrics (makeup, costumes, otherworldly attitude) or conversely, the obsession with authenticity (with "evil" occupying approximately the same level of importance in black metal as "real" does in hip-hop)? Is it the commitment to sheer brutality on every single level? Or is that where death metal is complex and show-offy, black metal wears its unmusicality proudly? Anyway, the bands were appropriately scary.
Monster Magnet headlined the Valley on Saturday night. In Europe, they're a one-hit wonder for their 1998 song "Space Lord." To us, they're the band we spent a whole lot of time listening to in smoke-filled basement apartments as young men. As if tailoring to our specific needs, Dave Wyndorf and co. delivered a straight-up, all-killer, no-filler set of crowd-pleasing classics. I could have tolerated a new song or two, but I appreciated the commitment to fan satisfaction.
The main stage headliner that night was Aerosmith. I realized during their set that they're one of those old bands who can rely on their 90s and 2000s catalogue. Can you imagine if, say, the Stones did that? There would be riots, and rightly so. They finally got around to "Dream On" and "Sweet Emotion," but it was a long slog getting there.
Sunday on the main stage, Soundgarden delivered a perfectly professional yet blatantly phoned-in set. Luckily, we were reinvigorated by a killer evening Valley set from Dozer. This veteran Swedish ensemble was a festival highlight for me, combining heavy riffage with sweet melodies. Singer Frederik Nordin was the only vocalist at the fest man enough to rock a full-on falsetto. And after three days of feeling like I was standing in the wrong place because the bass frequencies seem to be so punishingly loud everywhere, I finally figured out a key lesson: always stand in front of the sound board.
One of France's cultural touchstones is the tolerance of public urination. Despite the presence of several urinal troughs, some festival-goers couldn't be bothered, and our beloved Valley was turning into a fetid swamp. It was time to move on to the festival closer.
Somewhere during the sublime noise of the Dozer set, I'd had an epiphany, finally realizing what unites the Valley bands, the metal I love and my own aspirations as a rocker. It's the church of Black Sabbath, the cult of the monster riff. Like an addict's first hit, the riff supremacy of Sabbath can never be equaled, but we must continue trying. And that night, we had a chance to worship.
There were two problems with Sabbath's set. The first was the absence of drummer Bill Ward. It can be reasonably argued that it's not really Sabbath without him. But replacement drummer Tommy Clufetos filled in with energy and enthusiasm. The other problem is Ozzy Osbourne. I saw Sabbath nearly 20 years ago on their first reunion, and he was over the hill then. Today he's beyond burnt out, occupying some universe of his own. He actually looks like the witch from the first Sabbath album cover now. And he sounds like her too. His pitch is so far off that it's almost avant-garde. It definitely brings something new to their tunes. And he wouldn't stop interrupting Tony Iommi's solos and riffs with neo-fascist exhortations for the crowd to mindlessly chant "Hey! Hey! Hey!"
But Iommi is still the guitar god of us all. In the giant video screen close-ups, you could really see his actual fingers of steel (he lost two fingertips in an industrial accident) drawing out that masterful, crunchy tone.
After catching half a spirited set by homoerotic punks Turbonegro at the Warzone, we had to catch a couple hours' sleep for the day of travel back home to Montreal. The festival had done its job in kicking our ass, and meeting our expectations.
Malcolm Fraser doesn't trust urinals anymore. He's on Twitter.