Adrian Teacher Impresses East Vancouver's Coolest Dads
We spoke to the full-time teacher and part-time indie rocker about how he's planning on transitioning from collaborations to solo work.

Photo By of Quinn Omori
"I'm not really selling it, am I?" muses Adrian Teacher. The Vancouver songwriter is discussing why, after years of fronting beloved bands like Apollo Ghosts and COOL TV, he's decided to release an EP by himself. His explanation is laced with self-deprecating humility. "It's the dreaded solo career," he admits. "That's the trajectory—you're in bands and then eventually, here you are. It's just you." This explanation is perfectly in character for Teacher, who has never been particularly good at "selling it" when it comes to his own music. From 2008 until 2013, he fronted the jangle-punk band Apollo Ghosts, who developed a local cult following thanks to their prolific string of releases and feverish, crowd-surfing-required live shows. However, Teacher dissolved the project at the height of its popularity, moving on to the funky ensemble COOL TV while releasing an ambient cassette called, Bedroom Safari under the alias Arbutus. And while, Teacher is now performing under his own name for his forthcoming EP, it's not entirely accurate to say he's gone solo.
The forthcoming EP is co-credited to his in-studio and live backing band the Subs, which includes drummer, Amanda P. and bassist, Robbie N.—but even with the help, Teacher is still approaching the latest project with his usual characteristic lack of expectations or commercial aspirations. This is because the songwriter isn't a career musician, and he isn't trying to hit it big. Rather, he's an elementary school teacher (hence his pseudonym of a last name) who only tours during the summer and he's happy keeping it that way. "I've always tried to keep it separate," he says of his double life as teacher and indie rocker. "I saw a parent today at Neptoon [Records] watching Tough Age. He's a cool East Van dad so it's no big deal. Some parents have bought albums. This one parent bought my ambient, bizarro stupid record [Arbutus' Bedroom Safari] I put out and he was like, 'I downloaded it off your Bandcamp.'"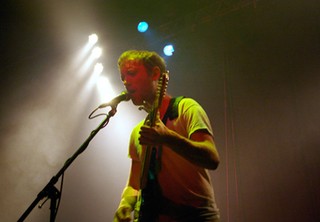 Photo By Caily DiPuma
Although Teacher mostly keeps his worlds separate, his job inspired one song on Sorta Hafta. Namely, the bubbly campfire ditty "Let's Call in Sick" which entertains the idea of skipping work and enjoying a day off instead—ironic given that the songwriter almost never takes sick days. Teacher adds, however, that the song was written as a cheeky response to a staff meeting in which school administrators warned teachers not to miss work. "Now they can keep track of you digitally through this thing called PeopleSoft, or I don't know what it's called," Teacher explains. "They can see your wave of when you're calling in—they see the pattern. They were like, 'Be careful, because we're watching you.'" "Let's Call in Sick" features a comedic skit in which K Records founder Calvin Johnson [of Beat Happening] can be heard phoning in sick to work. Johnson produced Sorta Hafta at his Dub Narcotic Studio in Olympia, Washington, and all five songs were recorded to two-inch tape in just two days. "He's like a rocket scientist from the 1950s, manipulating all these buttons and punching things," Teacher says of Johnson. "It's pretty sweet. He wears a lab coat when he records."
Johnson captured Teacher at his most lighthearted, with folk-flavoured acoustic arrangements that mark a change from Apollo Ghosts' rock leanings and COOL TV's high-tempo dance songs. Opener, "When Did I Get Older?" boasts spacious psych tones and its mood is uplifting despite lyrics that touch on aging and death. Former Eric's Trip member, Julie Doiron duets with Teacher on the fiddle-flecked folk cut "Old Graffiti," while "One Thing Your Money Couldn't Buy" and "Thiftin' on a Sunday" are big-hearted celebrations of life's small pleasures. With Sorta Hafta due out on May 5, Teacher and his band will be touring with Shotgun Jimmie this July, and they've already begun demoing songs for a full-length album. But despite the busy months ahead, listeners can expect the Subs to keep their musical endeavours relatively casual. "I don't think any of us are looking for something where it's like, 'Great, now I'm going to quit my day job and just live on the road,'" Amanda offers. "I like what I do, and I'm perfectly happy having this as my summer thing." At this, Teacher turns to his bass player and asks, "What do you think, Robbie, do you want to 'make it'? Because if that's the case, you probably joined the wrong band."
Noisey: How does it feel to release something under your own name after spending so many years in bands?
Adrian Teacher: It feels weird. It feels strange to do that, in a way. I prefer the idea of a band. But logistically, a band is so much harder. I don't like it so much when bands have different members changing. Like you think about someone like Chad VanGaalen—I don't really know who his band is. I've seen those guys. Sometimes he goes solo, sometimes he's got other people. But if it's a band, you kind of want a group of characters who you know, like the Ramones.
The acoustic style on Sorta Hafta makes it sound like more of a traditional singer-songwriter project. Was that intentional, given that you're using your own name?
I don't think so. Already, with Robbie joining, it will be a lot more raw. It will be more rock. The genre or the style can be really open. You might see us and Robbie's gonna be like, 'Oh I'm on violin, I don't know how to play it!' Now there's no limits to what it could be. The stuff that's on the EP is obviously guitar, bass and drums, a little softer sounding. But I don't think it sounds like that when we play it as a trio. It's a little bit more rocking, I hope.
Do your students know that you play music?
I played COOL TV at one gym class. I often will test a song on them, just to see if they like it. They're the ultimate litmus test for pop. Inherently, they'll be excited about something if it's good. They'll get it right away.
If you're not trying to make music a career, what's the ultimate goal?
It would be really exciting to be able to have some sort of a following, at least in Canada, and be able to tour and play one-off shows like festivals. Basically, do what we're doing now. We have so many friends now across Canada that we can say, 'Hey Jimmie, do you want to tour?'; 'Okay sure, let's do it,' and he goes and books the whole damn thing. 'Robbie, do you want to go on tour?'; 'Sure okay, let's do this.' And off we go. We're playing two festivals, a bunch of shows. It's all I really want—to be able to go play in different cities around Canada and have people show up and have a good time. That's always been the goal.
Alex Hudson is a writer based in Vancouver. Follow him on Twitter - @chippedhip