Luminato's 'Apocalypsis' Offered A New View to the End of the World
We watched 1000 performers rip the world asunder and bring it back to life.

Photos courtesy of Bruce Zinger
The apocalypse began before the audience could find its seats. While some still filtered in from the Toronto Sony Centre's lobby, in an unnerving scene of delirium, actors situated throughout the audience stood and shouted proclamations for the end of the world in English, German, and Latin, silencing excited chatter about the epic sensory buffet that was about to unfold.
In a talk preceding Luminato's mounting of R. Murray Schafer's Apocalypsis (previously performed only twice in London, ON in 1980), festival artistic director Jorn Weisbrodt advised not to seek hints of intended meaning, emotion, or story in the performance, instead describing the production as a sort of communal becoming that depends on the individual histories of its audiences and subsequently continues to manifest itself beyond the curtain drop. That sounds like a pretty flimsy guiding principal to rally 1000 performers around, but it was also very effective.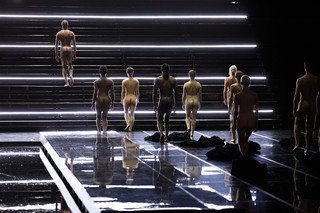 As the prophets exited, a spotlight shone on a young woman in front of the stage. Telling of starting a new life in Canada after escaping rebel soldiers that captured her and chopped off both of her hands during Sierra Leone's civil war, Mariatu Kamara delivered a spiritual prologue that never could have been a part of Schafer's original epic. If that didn't summon a sufficient sense of dread, files of figures in black robes were descending toward the stage from the audience. When Kamara finished telling her story and exited, they drifted onto either side of the stage—a stark, black grid with a large reflective cube at its center. All went silent until another man entered, shuffling up and down the floor and slapping violently at his lap. Then another in just a loincloth prowled across on all fours, walking on his knuckles. The large cube lit up to reveal a contained woman with distressed black hair in a white sack of a dress winding herself slowly around her seat, as if possessed. Four sopranos in all black and corpse paint stepped into the fore and shrieked. A muscleman heaved a heavy chain into a large gong seven times.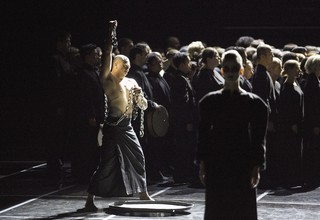 Throughout the first hour-and-a-half of the production, these were the kinds of disturbing images audiences reckoned with while enduring cacophonous torrents of brass, overpowering organs, and merciless war drums. The choirs were all fire and brimstone, singing in English and Latin and trading in dramatic whoops, sinister chants, and hisses. This first part of Schafer's epic is modelled after the Revelation of St. John the Divine and Psalm 148, and depicts the end of the world; the instrumentation was designed to be physical to communicate the urgency of the world being ripped apart, but expertly satisfying Schafer's soundscapes theory, which praises low ambience noise levels for their ability to convey perspective, in this production, directed and designed by Lemi Ponifasio, who cut his teeth emulating artists like John Cage, the moments of the first act that were most still and quiet allowed the leads the most clout.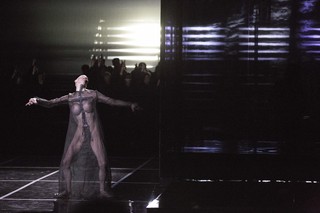 When a nearly naked Whore of Babylon (played by trans performance artist Nina Arsenault) descended to Earth only to dance energetically but completely contained and virtually silent, all eyes were on her. When 2014 Polaris Music Prize winning Inuk throat singer Tanya Tagaq improvised the mournful song of her Old Woman character (the sole survivor of the apocalypse), audiences could hear the fractured desperation of an entire planet.
Working in Ponifasio's signature black and white aesthetic, the production's nuancing saved it from defaulting to the ham-fisted evangelism that often grips hold of the same source text. And that Tagaq sang the song of the sole survivor of a mass extinction was particularly poignant in our contemporary context, when over 1000 aboriginal women in Canada are missing or murdered and the country's government refuses to acknowledge it as a legitimate problem.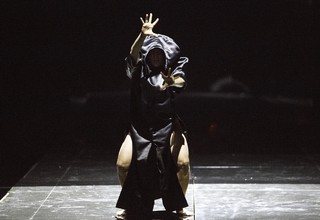 Part Two—the Credo—was more uplifting. Schafer's re-envisioning of 16th Century philosopher Giordano Bruno's expansions on the Copernican model, it was an optimistic meditation on the birth of a new universe. A shorter piece, it had no dialogue. Over the final 45 minutes, the actors onstage quietly washed their hands in a long pool of water, disrobed, and proceeded to ascend slowly to the heavens, naked, in a scene reminiscent of Zeppelin's Houses of the Holy cover art. Then a man chalked in white descended the same steps to restore humanity, all while 636 voices sang in harmony from the Sony Center Balcony. The performance closed with a calamitous recording of the bells of the Salzburg Cathedral.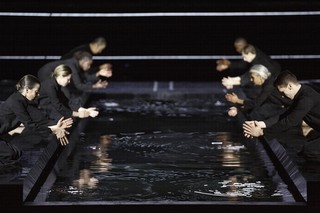 Costing over a million dollars, Apocalypsis might never be staged again in human history, but in the three years it took to bring together, the production sowed the seeds for a massive artistic community, pairing up hundreds of amateur performers with internationally known talent. It also reminded a generation of the legacy of a mad musical genius. If this is the end, you can bet it's also the beginning.
Tom Beedham is an arts and culture journalist living in Toronto. – @Tom_Beedham