Watch "No School" Rap Duo TaliBam! Float Through Williamsburg in the Trippy New Video for "BKLYN"
"Our party vibe is to be free from all expectations. For a moment, the world expected us to become famous rappers. That hasn't happened yet, but who knows."
TaliBam! at Pescara Beach, Italy / Photo courtesy of TaliBam!

For self-described "no school" avant-hip hop-turned-electro-disco jammers Talibam!, 2012 marked the year "the world expected us to become famous rappers," according to Matt Mottel, AKA MC Moaty Mogulz. He's also 1/2 of The Stylish Production Team, just one of the many masks he shares with kindred freak spirit Kevin Shea (AKA MC K-Wizzle) under the umbrella of their long-running, Brooklyn-based empire. In a just world, Talibam!'s ultra-groovin' and wacked poetry-filled rap masterpiece Puff Up The Volume should have been that year's Run The Jewels, but alas, their self-described "sixth grade amateur version of LMFAO" was criminally overlooked.
Fast-forward to 2015. Mottel and Shea just returned Stateside after a quick jaunt through Italy spent free-improvving with avant-garde jazz pioneer and oft-conspirator Alan Wilkinson, and now their focus is on a fresh new direction: their deconstruction of techno, complete with hot-off-the-presses, DIY riot-on-the-dance-floor EP, Translition 2 Siriusness.
We caught up with Mogulz and Wizzle for the low-down on the makings of a dance music beast, the unveiling of their new video, and news on a forthcoming new rap record.
The new video for 'Bklyn" is super-trippy. What can you tell us about the concept?
Matt Mottel: The concept of the video, as Allen Ginsberg would say, was to "Get the shit out, get the shit done, don't linger" and then edit! We had a limited amount of time to jump out of my van and dance on North 6th Street in the fashion zone of Williamsburg, Brooklyn. It's amazing what you can do with economy, no budget, and still make it stylish. The video reminds me of a punk Matrix action video. Keanu Reeves...we are coming for you! He actually lives right above that mural—in fact, he is the painter of that mural! If you shout at Keanu, he will potentially offer you a beverage to drink by dripping it from his luxury loft apartment at the top of the Urban Outfitters right there on North 6th. Open your mouth wide and wait!
Kevin Shea: Talibam! likes to do stuff ourselves. On this occasion, concept yielded to methodology. We wanted to complete it relatively quickly, so the video is made up of about thirty seconds of real-time shooting but slowed to 240fps. The editing was an experiment in timing and splicing. It's not as easy to make rapid cuts as I thought it would be. The goal is to have the perseverance to find the answers to those questions, no matter how time consuming. It's easy to get frustrated with not knowing how to do something technically in software like Final Cut Pro X. Stay with it. Every result on the planet has always been less fascinating to me than the process of creation. Results are a let down…art based on results is a fat farce. Don't bother wasting your time worshipping something based solely on the end product…unless you are interested in destroying compassionate diversity.
Whose cool van is that in the video? Is that the Talibam! tour van?
Mottel: That van is my work van. Until Talibam! does a big band tour, as two people we don't need it. New York City is an expensive place to live, so I make my rent carting items around. The van's rad paint job was done by a Bushwick youth hip hop crew, Educated Little Monster's, and NWB Community Group, an important grass roots organization supporting civic engagement around housing land use issues in Bushwick and beyond, is also represented on my van . When my van was just bright yellow, it kept getting ugly-ass tags that I was too lazy to remove, but once you get proper Graf pieces on your truck, there's a bit more respect from the tag community.
You've named the new EP Translition 2 Siriusness. What does that mean?
Mottel: The world needs to "Translition 2 Siriusness." It's an endemic state of affairs. The joke has been too obvious for so long. Since 2003, Talibam! has been making very obvious and powerful statements about the effects of globalism/capitalism/imperialism/mass media control, with album titles like Ordination of the Globetrotting Conscript, Boogie in the Breeze Blocks and Puff Up The Volume. Unfortunately, the world is still in the same state of affairs, if not worse. So, we decided as a concept both for the band's style and music to be more explicit in our cultural critique. This record for us is the 'transition to serious' because culture has not moved far enough to a more positive place for us to still be joking! We are still interested in modifying language and challenging linguistic power so transition to serious became 'translition 2 siriusness.'
Shea: Each man walks away with his own understanding of this totem. For me, the meaning stems from a kick in the nuts to some of the curmudgeonly, naysaying, self-important musical ponces out there lurking in the prideful shadows of narcissistic vanity. It used to amaze me when someone who I considered to be a friend would say something completely asinine about me and then blow it off like it was nothing. I'm unapologetically opposed to those kinds of two-faced, back-stabbing people. The world is too small for such petty little self-aggrandizing fodder. Rather than get upset with me for how I play the drums, why don't you think about yourself, lose some weight and add some health and compassion to the crumbling planet, you little crabby slug? I'd rather spend the rest of my life not trying to please anyone, not even myself—it's a process of learning, and if you don't take any chances, you are simply not going to learn about inter-disciplinarian diversity. Critical people are always trying to boost their own self-esteem. Its just as bad as putting a huge Day-Glo camouflage sticker on your drum case. In addition, Translition is also a riff on some now ex—or soon to be ex—collaborators who have gotten so uptight in their artistic vision it's as if they are newly recruited by the Scientologist culturally dull. Its like someone took a torn garbage bag filled with a soaked rug out of a trash bin sitting in a thunderstorm…I take that heavy bag out of the trash and I just want to throw it on the curb and get the hell out of there…can not wait to wash my hands.
Is there an underlining theme to the song, "Bklyn"? How does "Bklyn" relate to actual Brooklyn? Could "Bklyn" be the official song of 'Brooklyn like that new Taylor Swift song is the official song of NY?
Mottel: "BKLYN" is the robotic machination of the global empire entwining all land, space and time. I imagine the condo towers that now line Williamsburg to suddenly turn into giant robotic terrorists destroying paths of industrial and residential long-term housing and industry throughout the borough and ultimately the world. If our song can serve some sort of resistance to the real estate mogul vision for Brooklyn, then good!
Shea: In a way, it's sort of a let-down to call the song "BKLYN", but that's part of the point. A lot of people be bummed out about Brooklyn. But guess what, crybaby…a lot of people were bummed out about Brooklyn three decades ago, too. Brooklyn is as steadfast and sturdy as a piece of toast in the snow. Some $5,000 purebred dog comes around and munches up that toast…where does that end up? On the streets again, and I've been seeing a lot of doo-doo these days. Maybe you pick up that doo-doo like you're supposed to, and many people without even knowing you or what you have done will be happier because of it. No, you won't get an award, but you will alleviate some stress. Brooklyn is supposedly all about people not caring about others. But you know, so is nearly everywhere else, it seems. You know why? Because the planet is filled to the brim with human beings. I hope we can all get along just as much as the next d-bag moron-faced wanker. But somehow I just don't think that's gonna be possible until A LOT more people clean up after their dogs.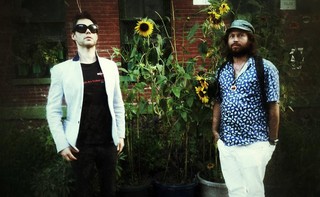 Photo courtesy of Talibam!

Translition 2 Siriusness marks an electronic direction for Talibam! What made you decide to experiment with electronica and dance music?
Mottell: I've always liked to say that my finger's are my sequencer. I don't need a robo-bit bass line to throb without any modification. My hands build the boogie pulse. Also, since our tours happen more often in Europe, our usual post-gig experience is spent ingesting quite a lot of electronic and dance music at killer dance parties. That has influenced our sound and method. Also, Talibam! was attending and hanging out at Sub Tonic Basement back in the day on the Lower East Side for the Bunker parties, which are now the dominant techno scene in New York, so we know this music well. We invest our time into the music we make without irony. The focus on diversity of sound and genre makes us grow as artists. I like steak, I like seitan, I like pork, I like fish, I like tofu, I like quinoa. Same as music: I like punk, I like free jazz, I like non idiomatic free improvisation, I like rap, I like techno. Eat it all! Swim in the sound soup! Otherwise you're just playing birth controlled dunce music...fuck that.
Shea: I wanted to experiment with drum programming just to make people's panties get all up in a bind. That way, when their panties get out from that bind, the world will be a much better place. If all you do is feed the populous palatable, dogmatic visions of artistic methodology/expression, then panties will forever continue to get in a bind. Art doesn't have to be completely appropriated by the so-called, more like self-appointed, rule setters. You want a consistent concept and vision thoroughly thought out and planned from start to finish, with all your little metric modulation shifts and pentatonics…gag me with a spoon. You and I both know the only thing that's going to give your album any real artistic merit is a forty-five-minute-long amateur timpani solo. How pretentious it is to complete your "work" to a T and be lauded for perpetuating what is essentially purity in form that's no different than any other pop piece of shit. Your methodology is a complete and utter joke. I am actually embarrassed to have bought more than five of your records. After hearing your record, I feel like I just watched a sixty-five-minute infomercial for a bunch of crap I'll never need. I could have made that album in thirty seconds…and you know what? I have.
You guys reinvented yourselves as "no-school" rappers in recent years. Is that phase over? Can we expect more Talibam! rap records?
Mottel: Talibam! is #noschool for life. Our party vibe is to be free from all expectations. For a moment, the world expected us to become famous rappers. That hasn't happened yet, but who knows. Stay tuned for the future.
Shea: The good news is that Talibam! has been working on our next rap album to be produced in part by Child Abuse bassist Tim Dahl. This album will be unlike any rap album that exists, and I honestly don't even know what rap is.
Catch Talibam! live:
Jan 15 - Talibam! Hard Vibe Trio with Matt Nelson of Battle Trance @ Manhattan Inn
Jan 22 - Talibam! Ensemble plays 'David Bowie's Space Oddity' @ Manhattan Inn
Jan 29 - Talibam! & J. Wilms present 'The Sanifarian Equipage' dub band @ Manhattan Inn
Feb 21 - An afternoon workshop followed by live performance at 7pm @ Sugar Cube Space