Unstoppable: An Oral History Of Stomp Records
We speak to Stomp's important voices to see what we could learn from their legacy.

All photos courtesy of Steve Gerrard
Tangential to a revival of commercial interest in punk rock, in the early 1990s, ska's third wave was booming. The independent community participating in the music was becoming more self-aware and developing a network of support across North America, and major labels across the board were tapping into it to varying degrees of success, courting bands like Less Than Jake, Mighty Mighty Bosstones, No Doubt, and Rancid.
In 1994, Toasters guitarist Robert Hingley's New York-based independent label Moon Records released Skarmageddon, a two-CD compilation rounding together then-emerging artists like Mustard Plug, the Pietasters, and the Slackers. But north of the border, no one was documenting and curating releases from bands in the Canadian ska scene. That changed when Montreal ska punk outfit the Planet Smashers finished their first record. With nowhere to release it, Smashers guitarist Matt Collyer teamed up with Kingpins bassist Jordan Swift, secured distribution through Cargo Records, and in 1995, they unloaded their first release. Originally planned as a split 45 featuring Collyer and Swift's bands, it quickly evolved into the first entry in Stomp's All-Skanadian Club—a compilation series charting ska bands from across the country, now five instalments deep.
From there, Stomp went on to spearhead releases by veteran acts like the Toasters and the Real Mckenzies, also signing groups like Bedouin Soundclash and the Flatliners before anyone else took notice. They established a distribution partnership with Warner and developed sister imprints as separate streams through which to release music by acts working in different genres, all while the industry left ska behind and the labels that were Stomp's blueprints went bankrupt and disappeared. For some time, they even operated out of a storefront on Montreal's Mount Royal Plateau.
Today, Stomp and ska are still synonymous, but the sister imprints have all been absorbed into Stomp proper, and the label has released more than 150 albums that have been distributed in over 130 countries. With alumni found in acts like Walk Off the Earth, the Stills, and Broken Social Scene, they continue to leave their mark on the greater music industry, one stocky rude boy logo at a time.
As Stomp's spent the last year marking their 20-year anniversary, Noisey spoke with Collyer and other important voices from throughout the label's history to see what we could learn from their legacy.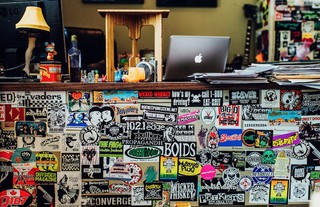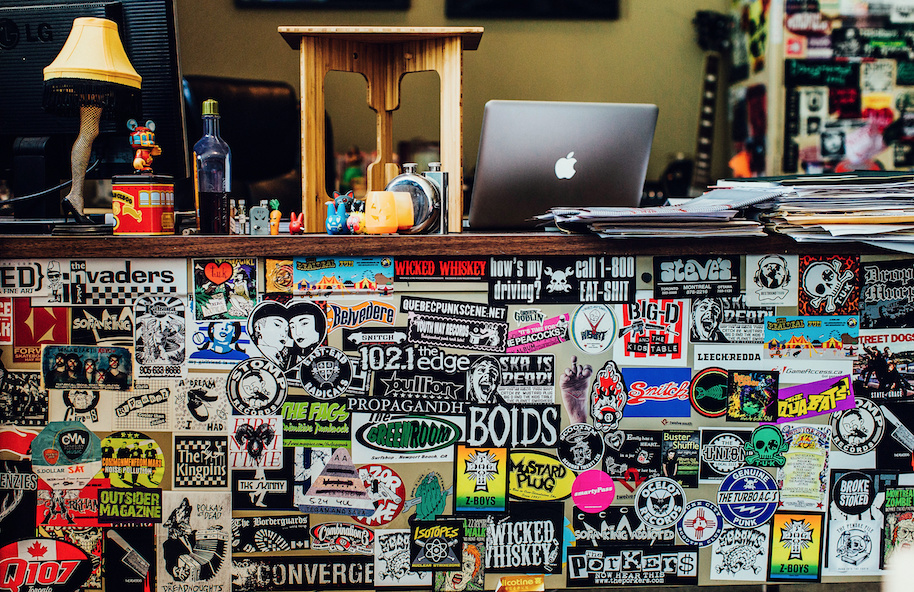 The Beginning
Matt Collyer (Planet Smashers; Stomp founder/president): We just didn't know what to do with our music. We had it and we thought it'd be a good idea to have a label so it looked more official. And that's how it started, it was a hobby. It was really different back then. It was before high-speed Internet, so records sold really easily. It was good times back then. I didn't know what I was doing. No one seemed to really know. Cargo was around, which was a Montreal distributor at the time. And if you had an independent band and you had a record you would go up to Cargo and see if they could help you out, which is exactly what I did, and it kind of worked.
Mike Magee (Vice-president, Stomp): I was in the marketing department at Cargo around that time. I was (and still am) a huge fan of ska music so Stomp Records ended up on my plate. The label was really starting to take off and doing super well in Canada. The first time I met with Matt at Cargo, he was in the process of doing his doctorate in chemical engineering. I believe he was researching how to make the pulp and paper industry more environmentally friendly. I guess he worked with a lot of stinky chemicals and sulphur because when he showed up in the lobby for the meeting, the receptionist paged me on the loud speaker and said "Mike Magee there's an incredibly smelly ska guy in a lab coat here to see you. Please come get him immediately." [Laughs.] We were like best friends after that.
Collyer: Ska music was getting big everywhere. It was '95 when we had our first release. That was the year that Rancid came out with …And Out Come the Wolves, and the Mighty Mighty Bosstones had a hit that year, too. So it was a good time. Ska was still cool.
Chris Murray (King Apparatus; Planet Smashers producer): In my mind, Rancid's "Time Bomb" really blew things up, an excellent song, well produced and retaining the grittiness and street attitude that people in my generation loved about ska music, whether it was the Wailers's "Simmer Down" or the Specials' "Concrete Jungle." After "Time Bomb" it became a lot less often that I would need to explain to someone what ska music was. An awareness was created that I think has stuck. Very quickly bands like Sublime, No Doubt, the Bosstones and Reel Big Fish became well known and the mid-90s ska craze was fully in motion. Hundreds of "ska" bands formed within a very short time, many of them very green, few of them having much connection to the ska music I'd grown up with.
Steve Kane (President, Warner Music Canada): It just seemed like people were a lot more receptive to hearing something a little rawer, something a little more off the beaten track, even including radio, which would pick up a Bosstones track or something like that. It was also this sense of going out for a night and just letting everything go and not being so focused on the gloom or whatever it was. It just seemed like there was a moment in time where people were really open to hearing sounds from a different culture or a different era.
Murray: It was a time for sure. For the previous ten years ska had really been an underground entity and a relatively small number of bands had been working hard the old way, quietly making low budget albums and getting in vans to tour with ambition but definitely for the love of doing it. Crowds were growing in a natural way as bands that put themselves on the road got better and learned to put on a good show. Even before things started to explode there was an optimistic feeling in the ska scene because we could all feel interest was growing. And as a result of interest growing, [major] labels started paying attention, seeing ska as a potentially lucrative style to exploit.
All-Skanadian Nation
Collyer: [The first Stomp release] was gonna be a Kingpins/Smashers seven-inch, and then we found two bands in Toronto, and we were like, okay, we'll squish 'em all on this seven-inch, and then we just started poking around and somebody knew somebody, and all of a sudden we realized there were quite a few more independent ska bands across the country.
Murray: At the time, pre-internet, compilations were extremely valuable as a way for bands to introduce themselves to new audiences, and as a way for ska fans to be introduced to acts playing ska music. Compilations really reinforced the cooperative vibe that existed in the scene, where bands trading shows in their hometowns was often the only way a new band could get out of town for the first time.
Collyer: You couldn't Google this back then. I don't think Google existed. It was just word of mouth. I remember calling a friend in UBC out in Vancouver and I just said, "Hey, are there any ska bands around town? Can you just check for posters and stuff?" and he found one, went to go see them, talked to them, and that's how we got those guys. People were sending in DAT tapes and letters, and it was really old school. It was a really different time. It was cool. We knitted together this community and all of a sudden the Montreal ska scene that we were familiar with suddenly became a national sort of thing. All of the bands started trading off and playing shows and it was really good.
Murray: King Apparatus was the most established group on the first compilation, and the All-Skanadian Club introduced me to what essentially became a new wave of Canadian ska, bands that many times had formed because we'd come through their city. King Apparatus had really been the flagship act for Canadian ska for years, and as we were wrapping things up I was glad that some new people were taking up the reins and putting new energy into the scene. Skanking Through the Boom and the Bust
Murray: I was approached by a couple of US majors and had meetings, and it was clear to me that, unsurprisingly, the people at those labels knew and cared very little about ska music but held the opinion that ska was hot so they'd better get on it. I brought my acoustic guitar to a meeting with Capitol and they played me Less Than Jake remixes they were very excited about.
Collyer: [Before Stomp] the only [indie label] that was really touching on [ska] was Raw Energy out of Toronto. I think King Apparatus was all they did along with a lot of hardcore. But I think King Apparatus signed to a major at some point, so that kind of ended. Here in Montreal there was a dummy label as well. It wasn't a real label, just a management company for a band called Me Mom and Morgentaler. So there really was nothing.
Murray: When the majors lost interest in ska, for a second championing new swing as the next big thing, it became tough for the diehard acts. As the ska fad was fizzling out, shows became smaller, promoters started losing money where they'd been making it, hundreds of bands broke up or changed their sound within a very short time, and within the scene it was clear the wave had crashed.
Kane: What changed? What happened? Was it just that people didn't view it as an album format so they got into a couple of singles and then moved on? What I always dug was going to a show and just saying, "Well, these people are still coming out year after year, month after month. They're still supporting these bands." But why did the momentum at mass media stop? I don't know the answer to that.
Murray: In the aftermath, a good number of bands who'd been doing it before there was any chance of making any real money playing ska remained, though definitely some threw in the towel.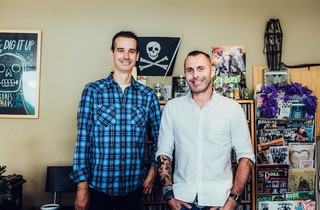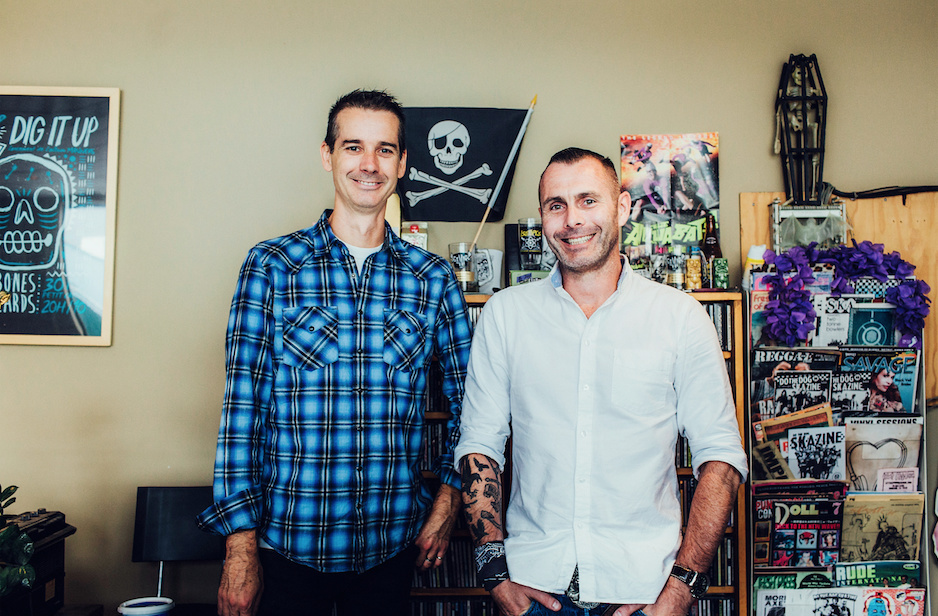 Stomp 2.0
Collyer: Mike Magee joined us in '98. He came over from Cargo, which didn't modify our expertise because we didn't have any, but it brought us some expertise and it allowed me to go on tour a fair bit more with the Planet Smashers, and the same thing for [Stomp co-founder] Jordan Swift from the Kingpins, and other people that were involved at that time. That was the next phase of the record label in terms of developing from a hobby label to something real.
Magee: Cargo had gone bankrupt and I was working doing freelance PR and graphic stuff in Montreal. Matt phoned me out of the blue one evening to chat. The Planet Smashers were ramping up to go on a year-long tour and he really wanted the label to continue. He also had set up a cool opportunity with Moon Records out of NYC where we would distribute each others' albums in the US and Canada respectively. He basically said, "If you can make this work then it could really become something cool." I jumped at the chance.
Collyer: Moon Records out of New York City was big Stomp. When we had 10 releases, they had a hundred. We were really looking towards them. We were following a little bit on their coattails internationally. They had quite a wake back then. They got involved a bit more with the Californian ska banana boom and bust, and they felt it pretty hard, whereas we were able to correct our ways and not get wiped out, which is what happened to Moon in 2000—they got a huge return and things fell apart. One of the guys there, the main distribution manager at the time said, "Hey, our big mistake was focusing on ska and not on the bands." At the time we were like, "Yeah… that does make sense," so we started investing in pushing band names—you could call it branding, but we didn't call it that back then because we didn't know what that was—and not ska so much. At the same time, we also moved into punk rock and started following other forms of music that we loved [through the creation of genre-specific sister imprints].
Magee: The label was running along well and was adapting to the demand. They were straight up doing what they thought they should do as a label and were trying to do right by the bands. All while they were trying to manage their own bands. I'd managed to pick up a little bit of insight from my years at Cargo that I applied in a very nuts and bolts fashion. I focussed on expanding the distribution, marketing the albums to retail and creating a press and publicity network for the touring bands. Just trying to get our artists and releases out there as much as possible. I set up our first website/email address and started to focus on early online sales. Mainly just boring business stuff like negotiating better manufacturing rates and getting coverage for our artists and stuff like that. I like to think it worked out well.
Collyer: At the start we had the different labels kind of to tell people what the music was like. We didn't really need that anymore. You'll notice that Tyrant kind of died really quickly, we started another label called Mayday which was gonna be street punk and Oi!, and then we just started realizing, "Okay, let's just put it all on Stomp, which is what we're gonna do from now on. The plan was to do with Stomp Records the same thing that we would do with Union 2112 and create this community within the punk rock circuit. [Union 2112] was just not necessary, it was not needed. You didn't need the label name to make it happen, so after a while it became pointless. Now we're just doing the Stomp thing.
Major Support
Collyer: We realized that as the retail shelf space was shrinking so quickly, we needed someone to push for us a bit more. No disrespect to the indie distribution companies, but we just saw us getting shuffled down further and further in terms of their priority, because they only have so many ins that they can do, and they can only get so many sales. That's really where it came from. I realized that we needed to improve our distribution within retail and we checked out the majors—Warner was just the right place. We knew from the beginning that we wanted to be with them, and we've been fortunate to be with them for almost a decade now.
Kane: The first thing that drew me to [Stomp] was just hearing a song in a record store and it stopping me in my tracks and forcing me to ask myself, "What is this?" I ended up buying the record. That was the Bedouin [Soundclash] record [Sounding a Mosaic].
Collyer: That record was huge for us. It's not very often that you have a platinum record on an independent record label. They had a huge change. At the same time we had other bands that were doing well—Belvedere and Flatliners and Planet Smashers were all picking up.
Kane: At that point, I'd met Matt years before, although we still never figured out where that was—through mutual friends or something. But I sat down with these two guys and just their whole approach, their absolute enthusiasm and belief in what it was they were doing just blew me away. Then it became beyond the music they were releasing. It became really clear that it was about a community that they belonged to and that it was a community that they were doing everything that they could to support and spread the word on. It was probably the purest example or distillation of the punk rock ethos of "don't just be an audience member, be a participant." And they were setting that up for all of these people and being this example for exactly how you live that. I became completely drawn into what it is that they were trying to achieve, and the fact that they were sitting here at that time with this song that was about to become a monster hit and admitting that "we're gonna need some help on managing this," which I thought was pretty cool.
Collyer: The timing was perfect. We had put out three really good new records right around then and two of them were sort of caught between the transition, one of which was Bedouin Soundclash, the other one was Flatliners (I think that's right. It might've been Belvedere). Those were sort of stuck between, and when we switched over to Warner it kind of just all worked out. It was a very good move for us to go with them, and we've been happy ever since.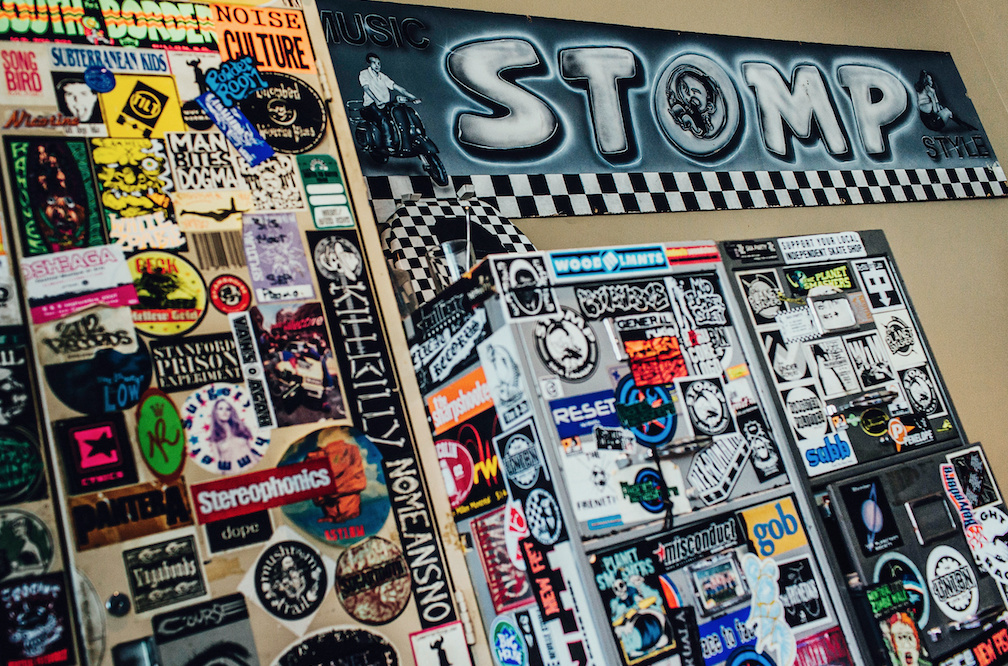 20 Years
Chris Cresswell (Flatliners): [Stomp is] a Canadian institution that celebrates all kinds of music and welcomes creativity and uniqueness in that art form. We were so fortunate to have them kickstart our musical career, and show us that amount of love and support at such a young age. It's something we will never forget, and something that we're always thankful for. You've got a label who is putting out ska records, punk records, dub records, rockabilly records, rock and roll records, you name it. And they've been doing it for 20 years with style and class. Much love to Stomp Records and all their hard work putting Canadian music on the map.
Collyer: I can't believe it. It's amazing. It still feels like a hobby at times. I know it's not, I know this is my livelihood, but I don't know what I would do if I had to do something else now. It doesn't feel like work even to this day. I love working with the bands and I love working with the people that are at Stomp, I love going to shows. And I'm excited about what we're doing in the future. We've got a good bunch of releases coming out. We put out a whole bunch of new developing bands this year, which is something we haven't done for quite some time, and they're all doing well and they're all different. But they all get along, they're all playing together and trying to help each other out. It's kind of nice.
Kane: I genuinely adore the guys. The business that they've built and the model that they've built… I see so many independent labels where it's all about where the next grant's coming from; these guys are all about "where's the next band coming from?" and "How do I keep them on the road?" and "How do I help?" So I have nothing but admiration for them.
Murray: Seeing how Planet Smashers really worked hard as a band to build their profile the way they did, feeling connected to that is something I really appreciate. Planet Smashers were the first band I worked with as a producer, and I learned a lot from those experiences. And today, as a US-based international artist, I really appreciate how my involvement with Stomp has helped me to stay connected with Canada over the past 20 years I've lived outside the country, and to feel I've been able to make a contribution to the Canadian ska scene where I got my start. I could be doing a gig in Edmonton and hear "Surfing In Tofino," and a whole lot of my life comes back to me.
Kane: It just continues to amaze me year after year, whether it was the Warped Tour, whether it was the work with Saint Alvia, whether it was the Creepshow which obviously warped into this other whole worldwide sensation with Walk Off the Earth eventually, or stuff that they continue to… where else in the world are you gonna find Raygun Cowboys and the Isotopes a home. And again, not just the noble idea of "let's make sure this music gets heard," or "let's put these records out"—it really is about building this community of like-minded bands, of like-minded fans, of like-minded approaches to how you conduct yourself in this business.
Tom Beedham is an arts and culture journalist living in Toronto. Follow him on Twitter.