Keys Open Doors: Pianist Jean Michel Blais Talks Bridging Music's Social Classes
The Montreal-based enigma explains why he's been in hiding for the last two decades.

Photo by Isis Essery
Montreal-based piano virtuoso Jean-Michel Blais is a bit of an enigma to the music world. For the last two decades this 31-year-old has been composing music that has been heard by virtually no one. And up until recently, Blais was music's best-kept secret until he was basically plucked out of Bandcamp's innermost recesses by the Arts & Crafts label. Aside from a bio on his website, there is little to know about him. Even his press photo and album cover obscure his face to secure complete anonymity. So when Blais answered my phone call en français, there was a brief moment where I feared I would have to resort to my rusty, grade nine French to get anything out of him. Luckily he could hear in my "bonjour" that I wasn't up to the task. "I was trying your French that's why I answered that way," he teases. "You did say bonjour so it's a good start."
It doesn't take long to discover that Blais is a fascinating subject to interview. He is endearingly naïve when it comes to any talk regarding the music industry, but also very optimistic and eager about what is ahead for him. It comes as no surprise that he grew up in a small Quebec town that was reportedly "absent of culture." Everything feels very new and exciting to him, with the exception of how he discusses his music and the method by which he creates it. When he gets going he truly sounds like the seasoned veteran composer that has 20 years under his belt. On April 8 the world will be introduced to Jean-Michel Blais through his debut album, Il, a succinct collection of minimal piano compositions that runs the gamut of human emotions: hope, sadness, joy and fear. Noisey reached Blais just as he wrapped up an "intense" meeting, to discuss his ideal audience (hipsters and sweet old ladies), how he learned that repetition was A-OK from Philip Glass and why he never bothered learning "Chopsticks."
So on top of music you're also a teacher?
I work as a CEGEP prof. In Quebec, CEGEP is kind of between high school and university. It's the last year of high school and first year of university. I teach there and we just had a meeting right now.
How will you balance a music career with a teaching career?
That's a good question, actually. I feel like I've always just played piano for fun for friends on the side. But this guy Cameron Reed at Arts & Crafts, he's a pianist who does this minimalistic piano music and he was just on the web looking for new albums. I guess he just typed in "Montreal piano 2016" and I had an album on Bandcamp that he liked. So he wrote me and I almost trashed his mail because I thought it was a joke. But that's the way we started getting in touch. So recently I wasn't signed or playing that much, and now it's getting intense. It's slowly becoming two full-time jobs and I will have to make a decision at one point. The question is hard to answer because it's changing daily. It's just more and more Arts & Crafts. It's demanding but in an exciting way.
Is pursuing music then a dream of yours or you're just going along for the ride?
I think it's both. I think it's a former dream I had forgotten. I studied music in conservatory and at one point I was doing these little compositions, and it sounds weird but I kind of killed that dream at one point. I found music, especially classical piano, to be too bourgeois and aristocratic. I thought it didn't give a meaning to my life, that I needed to do other things and help people to give meaning to my life. So when I was 21 I tried to compose but I found that it wasn't the time and forgot about it. I was playing a show a year, maybe two. Sometimes I stopped for long periods. I think playing music is really a giving and taking gesture, and now I see what it brings to people. So it's more obvious to me now than it was ten years ago.
You say you don't really want to be considered classical music. So do you consider your music to be avant-garde or is that something the press has classified it as?
My ideal would be for an old 65 or 70-year-old lady would listen to it, but also a hipster that lives at the corner in school for queer studies. So I'm trying to do something that bridges social classes and ethos and music style. If you're a purist, this is not indie music and this is not pure classical. Experimentalists would say this is too pop and pop music would say this is too experimental. I feel like I'm in this in-between. So I think I'm super influenced by classical but I get out of it before it gets too stuck up. Actually, I had some problems when I was studying classical music because I wanted to bring in new ideas. I thought in classical there was maybe a lack of improvisation and emotion, it was so formal and conceptual and methodological, but I take more from pop music. I am as influenced by Philip Glass as much as I am this French singer I listened to as an eight-year-old in the car with my parents. They both influenced me and I've found this place in between.
People like to draw comparisons to artists like Erik Satie, Philip Glass, and Chilly Gonzales. Do you feel like your music is aligned with those musicians?
I think objectively, seeing it from the outside there are similarities and I think they could be understood as influences. Not just in the music they make but also in the characters and their place in music history. But I think the most important thing about my influences isn't that I take from them, but I feel like they allow me to do what I profoundly want to do. Like repeating the same chord for five minutes is something I always wanted to do, and then I discovered Philip Glass and then it was like, "Oh shit! You can do that." And then I started to do that. It was like something inside that wanted to get out and in getting to know new music some things affect you and some don't. And sometimes it gives you the self-confidence and the opportunity to go in a new direction and find your own sound. I don't think I'm pretentious enough to say I'm bringing new stuff to classical or that I'm going to change music. It may be an interesting consequence but it's not a main goal. I experience things, music comes out of me, I shape it and I try to understand it. I'm more a sponge of what's happening. I feel like a vector through which music and art are expressed.
Most kids take up piano lessons at a young age. But you approached the piano in a different way. Can you tell me a little about how you started playing?
I started tinkering with this old, 80s vintage organ we had in the basement of my house. When you opened it you would hear the radio. You couldn't get rid of it. So I was always playing with this radio background. And it makes me think on this new album there are those sounds in there, like kids playing outside in the rain. Music can be not just what you want but your dialogue with the sounds surrounding the music at the moment. So I started playing there, but a real important moment in my life was when my friend moved into my village. And they had a grand piano, paintings and the family was always talking politics. It felt like I was entering culture with a big "C." And at that time, I was improvising and composing a bit, and the mother was a piano teacher. She would sit and let me play, but she asked me if I wanted to organize my musical thoughts, and then told me about Bach, Beethoven and Mozart. So I started going back the other way.
So you did take lessons. Did you learn songs like "Chopsticks"?
Oh, no [laughs]. I never really liked those cheesy songs that people learned. I was ten when I was composing and improvising. It really started to change when I began playing great classical composers. Like Schubert's melodies were amazing. Chopin was a master of the piano. I fell in love with these pieces and played them over and over. Sometimes people say to me, "Oh, I'd like my kid to play piano." But did you ask him or her? My parents never forced me. They encouraged me to take classes and we bought a piano together when I was 16. But I never sat and played if I didn't want to. It had to come by itself. There is discipline but it was always motivated by the love of sound.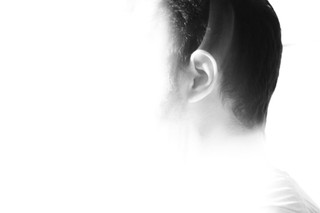 Photo by Eric Morrissette
You've been writing music for 20 years now, what made you want to record an album at this point?
The album actually existed before Arts & Crafts. I finished recording it and my friend, BUFFLO, sat with me and we listened to all of these parts of songs and ideas and recorded the best ones. I was moving to Argentina at the time, so we finished mixing it when I was in Buenos Aires. We did this online, through Facebook and earphones, which isn't the best context to mix in. I had a virtual release on Bandcamp, and then Arts & Crafts found me. So we're working on new stuff now, but what is being released is official.
So the album is called Il, which I took to mean "two." But there was an album before this?
That's a good point. It's called Il and "two" at the same point. So the concept is that the I which is "one" was a compilation of songs that existed but are not really interesting now. So the I is the idea that the first act of an artist is often super autobiographical. You talk about yourself, so it's I. And the second thing, which is Il, which is "he," which is the other. It's also the name of a song on the album. I don't know what to say. It feels like this openness to the other, which is why it's called Il, but it may be confused with a "two," when it's actually also a "two." It's a play on words. This is the second opus, but I'd prefer not to talk about the first one. Maybe someday something will happen with it. When I signed with Arts & Crafts it was a neat restart.
I was pleased to find that the album has contemplative and sombre moments like "Nostos," but also playful moments like "Budapest." What type of mood were you hoping to evoke on II?
I think diversity became an important thing. I had a lot of discussions with BUFFLO, who kind of produced the album, about how it should be dynamic. Maybe it has classical roots, because in classical music you have a symphony with this first intense movement, and then the second movement will be soft and moody, and the third one will be virtuoso. So I'm used to having those changes of moods. Sometimes I feel like I could make a whole "Nostos"-type album, which would be super moody, epic and electronic. Or I could do a whole "Budapest" album, which would be Eastern European, classical and physical. I think the whole idea was to bring the listener into my studio, which is my bedroom. It's a bit of a journey to express and visit these emotions. I don't think the intention during the composition was there, but when we gathered them we thought it would be nice to have this diversity and not explore just one state of mind.
Did working with BUFFLO on "Nostos" mean you're looking to collaborate more with other musicians in the future?Yes, certainly. The profession of a pianist is such an individualist thing. At conservatory, I was rehearsing six or seven days alone. And maybe someday you have chamber music where you play with one or two other instruments. Or you may have a concerto where you practice with an orchestra three times. But basically, you're alone. And the piano has the ability to produce a whole orchestra—you have the low, you have the high, you can do chords. You can do so many things. It was even hard for me at the beginning of "Nostos" to open up to other instruments, but it felt so lonely and then music becomes so bigger. It was great to be able to explore my mind's colours and ideas, and emphasize them. "Nostos" is just two ideas, but to bring them together with BUFFLO was exciting. So for sure I would like to work more with other people, but without losing the physicality of the piano. It's 2016 and it's great to incorporate electronics and new technology into this music without losing the acoustics and the original sound.
You improvised every day for two years while you wrote this album. Will you continue to do that?
Yes. I still am. I didn't know about it before people asked me about it, but the way I work is that sometimes I'm so inspired that I just sit and start improvising and when it feels like I have something interesting, I have this little Zoom and I just record what's happening. And usually my creative process isn't recording the first day but the next day when I remember the music feels like that's more interesting. I put it together and it becomes a song. Yesterday I was improvising and recording stuff that may be on a future album, I don't know yet.
Cam Lindsay is a writing savant. Follow him on Twitter.