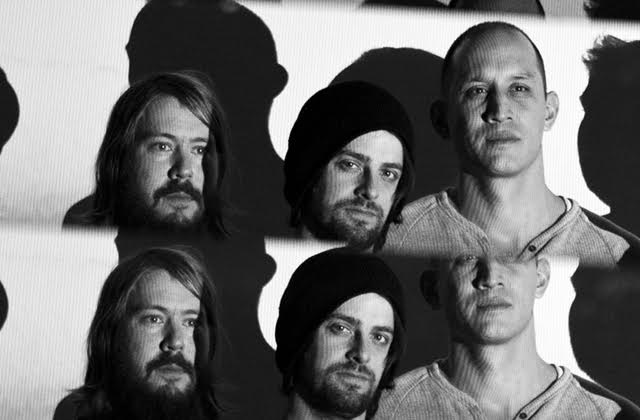 Check out the ambient supergroup's new Sera Timms-directed music video for "Taman Shud."
Photo courtesy of Harmonic Cross
In December, 1948, a dead man was discovered on the Somerton beach in Adelaide, Australia. Dressed in the very un-beach-like attire of a jacket and tie and carrying no ID, an autopsy suggested the man was poisoned with an undetermined substance. A scrap of paper bearing the words "Tamam Shud" ("finished" in Persian) was found in his pocket and traced to an abandoned copy of The Rubaiyat of Omar Khayyam that also had five codes, or "ciphers," handwritten in the back. In an era of Cold War anxiety, The Somerton Man made international news and became the subject of rumors of espionage, conspiracy, and jilted lovers.
Sixty-seven years later, The Somerton Man provides the focal point for It is Finished, the debut album from ambient trio Harmonic Cross. Comprised of Brent Eyestone, Graham Scala, and Ryan Parrish (ex-Darkest Hour, current Iron Reagan), longtime friends and musical collaborators who all play in Highness, Bleach Everything, and others, the project was a chance to do something outside of their usual, more aggressive fare. Across five tracks named for each cipher, and a sixth titled "Tamam Shud," the record's dark, ominous atmospheres provide a dual sense of uncertainty and intrigue to match the creeping aura of the true life mystery.
Noisey spoke with Eyestone, who also runs the eclectic independent label Magic Bullet Records (home to Ides of Gemini and Sweet Cobra) to learn more about the record, how ambient music can provide a jumping off point to a multi-sensory experience, and that one time he tricked his bandmate into joining a musical project with members of Metallica, Torche, and Converge.
Noisey: Did the concept for the Harmonic Cross album come before you started the band, or had you been playing this type of music together for a while?
Brent Eyestone: It's been a while since it all came together. We were all friends, but we'd see each other sporadically because Ryan was in a band called Darkest Hour that was constantly on tour. Then one day Ryan told us he had quit Darkest Hour and he wanted to hang out. We we set up some gear in Graham's living room, and what is on the record is what happened that day. We were trying to make something really pretty or beautiful but for some reason, any time any of us tries to do that, there is always a weird darkness. Not because we're dark people or anything; it just happens.
We wanted to use a concept. When we were young there were only a few television stations you could watch, so I'd always watch Unsolved Mysteries. Graham and Ryan had similar upbringings where they really liked mysterious things and things that have no explanation. We started batting around our favorite stories, and eventually we got really nerdy about The Somerton Man. I took the tracks home and started doing rough mixes and we found that the sounds we created fit the feelings we got while delving into the story.
How did you apply the concept of The Somerton Man retroactively?
You can put out an ambient record and leave it open to interpretation. That's great, but we wanted to do something a little more engaging. We thought if someone Googled "The Somerton Man," maybe they would come across the music and listen to it as they were looking up the case and have a little more dimensional of an experience as they explored.
With all the ideas you were batting around, why choose this one?
We weren't that familiar with the case, so it wasn't like, "Oh, let's do an album about Bigfoot or the Loch Ness Monster." It was really weird. We put all of these layers into the songs and then we found all of these corresponding layers in the story itself. We put it out there, and people are telling us things we didn't know about it. Sera Timms—who is in Ides of Gemini and did the video— when she was putting it together, she said, "I have this theme. What do you guys think about it?" Apparently when the man was lying on the beach people saw his arm raise up at different points. Someone else told us the font used on the taman shud note isn't known to exist in any book. There are all of these things that make you wonder more if there was a conspiracy or if he was a spy. Given the amount of labor we put into the recording and instrumentation, this story had an appropriate amount of layers to make a parallel.
You guys have been playing together in different groups for a long time, but had any you ever played ambient music before this?
This is the first time we've all played together as the three of us, but we've done other things. Graham and Ryan released a split between their ambient projects [Years and Ventoux, respectively], that they had recorded at home individually while I was doing my own thing, which I call Aughra. We were all doing these weird electronic and ambient records on our own that were different than the aggressive bands we were playing in. We started with that impromptu jam that became Harmonic Cross, then we brought Ryan into Highness and we put all of these weird chants in it and put it in a minor key. We tried, but we couldn't make that Highness record sound as pretty as we wanted, either. There's no way I'm going to make a clean, pop, pretty record. Ever. I've accepted it.
But you keep trying?
I try all the fucking time but it doesn't work. You could put everything on the line and say, "We're going to push your mom down the stairs if you can't write a 3-minute, really clean, G-major pop song." And I'd say, "I don't want you to push my mom down the stairs!" But it would still come out sounding like some kind of dark summoning and the moon would get clouded by some weird eclipse. I live in San Diego. I went boogie-boarding today. Somehow it just doesn't permeate into my creative stuff.
Some of you live on the East Coast, right?
Ryan is on tour all the time. Graham is in Richmond. I have family in Virginia so I go back there, or I'll bring Graham out here to do stuff, like I started up this project recently with Robert from Metallica and Rick from Torche. Because of the trust between us I said, "Hey Graham, if you can get to the airport tonight, I'll pick you up in the morning and explain everything." I picked him up and said, "You're going to be playing with these guys," and he said, "What the fuck is happening?"
Wait. Start that again?
It's a project through the Tony Hawk Foundation. It's me, Robert Trujillo, Rick Smith, Graham, and then Nate Newton from Converge and Doomriders. We're doing this record, it's just going to be a couple of tracks that we're going to put it out digitally and on vinyl. All the money that comes in will be donated to the Tony Hawk Foundation. We all like to skate and we believe in that charity; making free skateparks for lower-income areas. There's no name and no release date, but once it's done all proceeds will go to public skateparks. We're just rabid musicians who want to make new stuff and not put a cap on what it is. It could be an ambient record, it could be a weird, negative hardcore record, or just a band with people we didn't think we could get.
As long as it's not too pretty?
I would love if it was.
Back to the Harmonic Cross record, the physical release is still limited to 500 copies and special packaging. Anything live in the works?
When we recorded the Highness record in Brooklyn, we went over to Manhattan for Sleep No More, this interactive play hosted in this giant warehouse with 100 different rooms. The play is happening in all of these rooms at the same time. It was so powerful, and it added another dimension to the traditional play format. If we're going to try to make this record dimensional, we can't just have a traditional performance. We'd like to have something a little disorienting like, "Uh oh, I'm not at a regular show I'm not going to stand with my arms crossed and watch these guys dick around on electronics." It's going to take a little while, but it would be cool to do something where people aren't texting while you play. Just beat technology for one night, and have people go somewhere they haven't been before.

'It is Finished' is out 7/24 via Magic Bullet Records.