How a PUP Video Built Finn Wolfhard of 'Stranger Things' His Own Rock Band
The band's Prism Prize-nominated video for "Sleep in the Heat" may have ended up creating your new favourite group.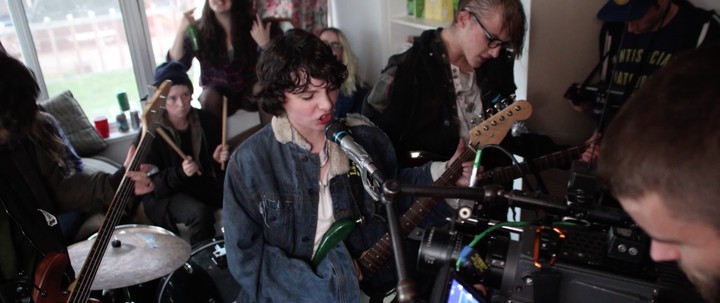 Canadian icons PUP and Finn Wolfhard go together like campfires and s'mores (look, we're Torontonians, our reference pool is shallow) and the two have thus far collaborated on two music videos that star Wolfhard as PUP frontman Stefan Babcock. The most recent of these clips, the Prism-Prize -nominated "Sleep in the Heat," ended up being an unofficial first jam session for Wolfhard's new band.
Tasked to perform as a younger version of PUP, the teenage musicians who joined 14-year-old Wolfhard ended up forming a band called Calpurnia. Their first shows will have them opening up for "Weird Al" Yankovic and Tenacious D. Not bad. Plus, though Wolfhard is already a guitar god, he seems to have met his match in lead shredder Ayla, truly an inspiration to aspiring young women guitarists everywhere. Watch the story of Calpurnia in the video below and check out the Prism Prize ceremony this Sunday.
Follow Noisey on Twitter.