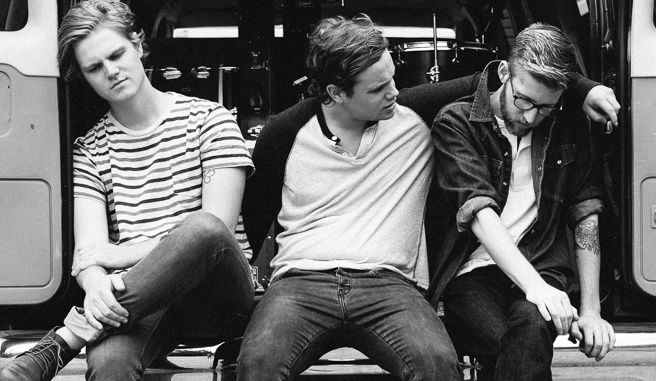 Good Southern boys will be good southern boys. Bet you can't lead them astray…
If your jam is sparkly, heart-on-your-sleeve indie rock then Colony House tick those boxes. These sweet southern boys, comprised of two brothers and a pal, actually sound less like Tennessee-reared rockers and more like London indie-poppers. Or the lovechild of Arcade Fire and Coldplay. They're the kind of guys you could take home to your parents… except it seems they're taken. Nevertheless we made them fill out our OKCupid-cribbed questionnaire so we could find out a little more about them and love and life and all their favorite things, like bourbon, Space Jam, and food—whatever's in the pantry, basically. They're growing boys and they'll need the energy because they're on tour for the rest of their lives.
Age/Sex/Location:
Will Chapman: 24 / Male / Nashville TN
Caleb Chapman: 25 / Male / Franklin, TN
Scott Mills: 25 / M / Nashville, TN (or all over the USA at any given day).
My self-summary:
Will Chapman: My wife and family are my best friends and I love fire pits and bourbon and occasionally a great cigar.
Caleb Chapman: I call earth my home but I visit space often. I travel for a living but home is my favorite place. I don't sleep much but I am living the dream. My life is one grand paradox and I love it.
Scott Mills: I appreciate the art of appearing that I try when I'm not trying. I love to play music in this band with my best friends. I'm learning how to listen more and I like that. The things that I like I really, really like. Sometimes I wonder what else I'd do if I didn't play music. I think that's all for now.

What I'm doing with my life:
Will Chapman: Playing music I believe in with my best friends and think the world needs to hear.
Caleb Chapman: As I mentioned above... Living the dream.
Scott Mills: Living the dream a season at a time. Sometimes it feels like an actual dream come true and other days it takes on a more sarcastic meaning - like riding in a van with 7 people through a snowstorm at 3am.

I'm really good at:
Will Chapman: Bothering my brother and drinking bourbon.
Caleb Chapman: Trying to be really good at things.
Scott Mills: Saying things I didn't mean to (working on that), talking too much, dropping my phone, wearing boots, falling asleep, making cocktails with two or less ingredients, neatly folding laundry and packing a suitcase.

The first things people usually notice about me are:
Will Chapman: Curly hair, little nose and my awesome new cardigan my brother got me for Christmas.
Caleb Chapman: Not quite sure. Hopefully that I have a good firm handshake and I say, "Nice to meet you" while making good eye contact, because that's how my folks raised me.
Scott Mills: Recently my hair started turning grey so I get a lot of, "Is that your real hair or are those highlights?" And for the record—yes, it is my real hair. Who gets highlights anymore? I did in 7th grade.

Favorite books:
Will Chapman: Reading is just not me.
Caleb Chapman: Unbroken, Old Man and the Sea, The Great Divorce, and The Heart and the Bottle.
Scott Mills: The Screwtape Letters, The War of Art, The Circle Trilogy. I'm working on reading more. In the past I've been more of a read half a book and then start another one kind of guy.
Favorite movies:
Will Chapman: Count of Monte Cristo and Space Jam.
Caleb Chapman: Forest Gump, Slumdog Millionaire, That Thing You Do, and so many more. I love movies.
Scott Mills: Ace Ventura, King's Speech, Shawshank Redemption, Moonrise Kingdom. I don't watch many movies, but every time I go to the theater I wonder why I don't watch more.

Favorite music:
Will Chapman: Right now it's Delta Spirit, Royal Blood, and the Inception soundtrack by Hans Zimmer.
Caleb Chapman: Johnny Cash, Kings of Leon, Lord Huron and we have a lot of friends putting out amazing stuff recently. To name a couple, Ivan and Alyosha and LEAGUES!
Scott Mills: Delta Spirit's "Into The Wide" and anything old rock 'n' roll. Roy Orbison or Elvis have been my jam as of late.

Favorite TV show:
Will Chapman: Sportscenter and Shark Tank.
Caleb Chapman: Breaking Bad, Boy Meets World, and anything with Rob Dyrdek in it.
Scott Mills: Shark Tank and Jimmy Fallon.

Favorite Food:
Will Chapman: La Hacienda in Nashville and Barbara's Home Cooking in Franklin Tn.
Caleb Chapman: White bean chicken chilli, homemade mac and cheese, and cranberry chicken salad from City Limits!
Scott Mills: I just love food. Eating makes me happy. Thai food is what I want most recently.
Six things I could never do without:
Will Chapman:
Bible, wife, family, drums, music, sleep
Caleb Chapman:
Julia Chapman, my family, my friends, food / water, scripture, love!!!
Scott Mills:
My Faith, toothbrush (with toothpaste), coffee, glasses (I'm blind), my boo, playing music.
The most private thing I'm willing to admit is:
Will Chapman: Not sure.
Caleb Chapman: My old aol account was and my password was rocketpower123.
Scott Mills: I've been known to watch The Bachelor.
On a typical Friday night I am:
Will Chapman: Playing some rock 'n' roll or sitting around a fire or at my parents house hanging with my friends and family.
Caleb Chapman: On a stage somewhere, in a van somewhere, or hanging with friends and family back home.
Scott Mills: Probably playing a show.
You should message me if:
Will Chapman: You want to send me a bottle of Pappy Van Winkle.
Caleb Chapman: I'd have to agree with my brother... If you have a bottle of pappy van winkle that you want to give me... Message me!
Scott Mills: What Will and Caleb said.
Colony House Tour Dates:
Apr. 23 - Tuscaloosa, AL @ Tuscaloosa Amphitheater with Need to Breathe
Apr. 24 - Fayetteville, AR @ Arkansas Music Pavilion with Need to Breathe
Apr. 25 - Kansas City, MO @ Crossroads with Need to Breathe
Apr. 28 - Houston, TX @ Bayou Music Center with Need to Breathe
Apr. 29 - Grand Prairie, TX @ Verizon Theatre at Grand Prairie with Need to Breathe
Apr. 30 - Oklahoma City, OK @ Bricktown Events Center with Need to Breathe
May 02 - Huber Heights, OH @ Music Center at the Heights with Need to Breathe
May 03 – Madison, WI @ Orpheum Theater with Need to Breathe
May 04 - Grand Rapids, MI @ DeVos Performance Hall with Need to Breathe
May 06 - Louisville, KY @ Iroquois Amphitheater with Need to Breathe
May 07 - Knoxville, TN @ Knoxville Coliseum with Need to Breathe
May 08 - Greenville, SC @ Bon Secours Wellness Arena with Need to Breathe
May 09 - Charlotte, NC @ Uptown Amphitheatre at NC Music Factory with Need to Breathe
May 13 - St. Petersburg, FL @ Jannus Live! with Need to Breathe
May 14 - St. Augustine, FL @ St. Augustine Amphitheatre with Need to Breathe
May 15 - Raleigh, NC @ The Red Hat Amphitheater with Need to Breathe
May 16 - Alpharetta, GA @ Verizon Wireless Amphitheatre with Need to Breathe

May 15-17 Gulf Shores, AL @ Hangout Festival

June 18-21 Dover, DE @ Firefly Music Festival

Jul. 09 - San Francisco, CA @ Nob Hill Masonic Center with Need to Breathe
Jul. 10 - Las Vegas, NV @ Mandalay Bay Beach with Need to Breathe
Jul. 12 - Los Angeles, CA @ Greek Theatre with Need to Breathe
Jul. 15 - Boise, ID @ Morrison Center for the Performing Arts with Need to Breathe
Jul. 17 - Portland, OR @ Oregon Zoo Amphitheater with Need to Breathe
Jul. 18 - Redmond, WA @ Marymoor Amphitheater with Need to Breathe
Jul. 21 - Morrison, CO @ Red Rocks Amphitheatre with Need to Breathe
Jul. 23 - Papillion, NE @ Sumter Amphitheater with Need to Breathe
Jul. 24 - Minneapolis, MN @ The Cabooze with Need to Breathe
Jul. 25 - Eureka, MO @ Six Flags St. Louis with Need to Breathe
Aug. 06 - Portsmouth, VA @ Ntelos Pavilion with Need to Breathe
Aug. 07 - Asbury Park, NJ @ Stone Pony Summerstage with Need to Breathe
Aug. 08 - Boston, MA @ Bank of America Pavilion with Need to Breathe
Aug. 10 - New York City, NY @ Terminal 5 with Need to Breathe
Aug. 11 - Vienna, Va @ Wolf Trap with Need to Breathe
Aug. 12 - Florence, SC @ Florence Civic Center with Need to Breathe
Aug. 14 - Nashville, TN @ Riverfront Park with Need to Breathe
Aug. 15 - Memphis, TN @ Levitt Shell at Overton Park (Moon River Fest) with Need to Breathe
Aug. 16 - Indianapolis, IN @ Farm Bureau Insurance Lawn @ White River State Park with Need to Breathe
Aug. 18 - Rochester Hills, MI @ Meadow Brook with Need to Breathe
Aug. 19 - Highland Park, IL @ Ravinia Festival with Need to Breathe