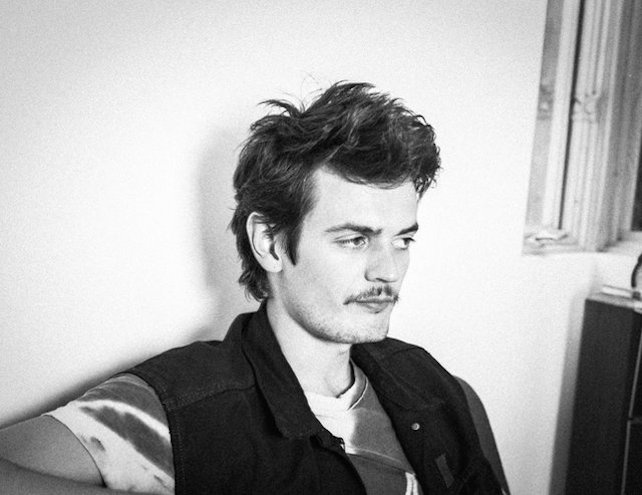 Calvin Love is self-proclaimed student of David Lynch and Jim Jarmusch soundtracks. His punk-turned-pop music explores the weird, grotesque, and strangely beautiful corners of the human psyche.
Calvin Love is an Edmonton native who writes dark pop songs for long night drives. A self-proclaimed student of David Lynch and Jim Jarmusch soundtracks, his music has a distinct cinematic quality to it, as it explores the weird, grotesque, and strangely beautiful corners of the human psyche. Starting out in his home city's punk scene, he began playing music at age 13, and hasn't done anything else since. Now he writes and records alone, as a musician who thrives off of solitude, and lets his life on the road guide his work.
His debut full-length LP, New Radar, contains twelve songs filled with lo-fi synths, rough guitar leads, and overdriven howls. Like his good friends and musical peers, Sean Nicholas Savage and Mac Demarco, he pulls a dark veil over his pristine pop compositions, capturing the feeling waking up after an all-night bender or eating in an empty diner at 4am. We spoke with Calvin Love recently about his Edmonton punk background, his solitary recording process, his inspirations, and his forthcoming LP.
Noisey: You started out playing punk and have transitioned into quite different territory. Were there any key moments in that transition? Or was it just something that happened?
Calvin Love: Playing punk was what my friends and I would play to be a part of the scene at the time in Edmonton. I've always had an urge to play fast and aggressive, but I got this other side as well - that pop side. My friend Sean Nicholas Savage was into keyboards and we listened to 80s hits, so maybe it rubbed off that way.
Is there anything you take from your punk roots into your current music?
Mostly just the ethics of do everything yourself through hard work. And getting out your aggression/frustration through your music.
You also started out very young. Did you ever envision yourself doing anything but music? Did you ever want to be a dentist or accountant or something?
No, never wanted to be a dentist, or an accountant (my math is terrible). I never wanted to do anything that was normal, like get a house, exist amongst society, go to university after high school — because that's what everyone else did. I knew what I wanted to be when I started playing music at 13, and I'll do whatever it takes to do it full time and hopefully, some day, make a living.
You're one of many artists who have come out of Edmonton over the past half decade. What's in the water there?
There is the chemical they filter into the water here in Edmonton, it comes from the ice caps. Trickles all the way down through the rocky mountains. It's called DARPP-32, and all of us kids living in Edmonton would grow up drinking it. It would turn us all into little song writing monsters. That and weed.
You've said that the best setting for listening to New Radar is on long night drives through America. Why does that vibe appeal to you?
Well I wrote New Radar and collected ideas while on long drives and tours across America. The road is where I spend large parts of my life, so it would only make sense for that vibe to bleed into my music. Also, how many of us spend so much of our days and time in our cars? I mean, why not have a soundtrack for every car mission you gotta go on. To me, being on that open road is, FREEDOM BABY! Freedom vibe appeals to all, no?
Have you gone on a lot of night drives?
You bet your booty I have. Night drives are when the band is asleep and I get to enjoy the solitude. I usually push myself pretty hard to go far & it may get a little dangerous from no sleep. But I like night drives the best. It's too bright during the day. It makes me tired. Night gives me energy.
Some journalists have identified your work as part of a "Miami Vice" wave in music, along with artists like Sean Nicholas Savage, Blue Hawaii, Destroyer, etc. Are you down with that term?
There are so many fuckin' terms, but "Miami Vice" – that's the first I've heard. What does that even mean? I find it pretty easy for journalists to just coin whatever term or genre they want. I don't pay attention to terms. That's just a term someone had to come up with to finish their story.
You name the soundtracks of David Lynch and Jim Jarmusch as influences on your music. What do you like about them?
I feel the like Jarmusch's soundtracks are like mix tapes for each scene in his films, and the songs seem to always represent his characters perfectly. I also like finding new music through films. Neil Young's score for Dead Man is incredible. As for Lynch, his soundtracks are always freaky and weird, which appeals to me.
What are your favourite Lynch and Jarmusch films?
Lynch – Wild at Heart, Lost Highway, Blue Velvet. For Jarmusch – Broken Flowers, Stranger Than Paradise, Down by Law.
Your writing and recording process sounds very solitary. What do you like about it?
Well as life gets more busy and chaotic, I feel solitude to a certain level is a must. I like collaborating when it flows well. But having the abilities to create entire songs on my own, without distractions or opinions, flows nicely for me at the moment. I like having my own studio space where I can turn off the outside world and reflect, dream, and transpose my experiences & feelings into music. Now that I have a touring band, rehearsals are where I get my collaboration fix. It's exciting hearing the songs I've written under the headphones take on a new life, when the band gets ahold of them.
Does it ever drive you crazy? Or do you need the solitude?
Sometimes it does, yes, but I need solitude – it helps me reflect. I definitely go crazy from time to time. Mainly my ears start to go and everything goes from sounding exciting to sounding like complete shit. But that's when you take a break work on something else and come back.
Who are you listening to these days? Anyone you want to recommend to readers?
Homeshake, Future Islands, Gerry Rafferty, MOOD RINGS and this insane James Blakeish kid. Lil Spook – check him on YouTube, his shit blew my mind. Lil Spook hit me up!
What's next? Any recording plans?
I'm gearing up for another big tour with my pal Mac Demarco. Also, I've got my second LP written/recorded. Just putting the final touches on it and planning to release it late this year. Hopefully I'll get back to the EU as well. I wanna do some videos, an instrumental soundtrack album, but overall just playing and recording and collabing w/ peeps that are not necessarily in my frame of reference. Trying to keep it out of the box. There is this sweet dame of a DJ out in LA called Heidi. I gave her a track an let her run with it. Out came something outer worldly. Baleric disco vibeZ.
Greg Bouchard is a writer in Toronto. He's on Twitter.
---
Candence Weapon is another Edmonton native making noise.
We watch Mac Demarco perform in Brazil and filmed it.
DJ Mama Cutsworth is doing great work advocating for DJs.