After Six Years, Maps & Atlases Return with "Fall Apart"
The Chicago band's first album since 2012 is called 'Lightlessness Is Nothing New,' and is out on June 1 via Barsuk Records.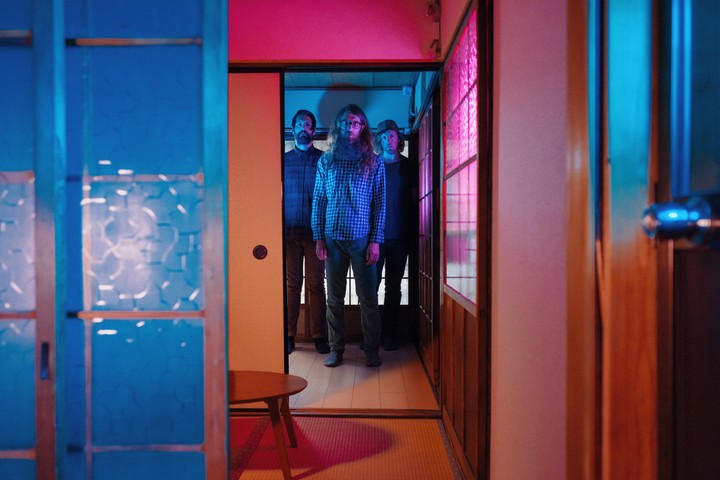 It's been a quiet few years for Maps & Atlases. After touring in support of their second album, 2012's Beware and Be Grateful, the Chicago band wrapped that touring cycle and took a much needed break. But what started as a way for the band members to rest, and focus on other creative projects, after a while Maps & Atlases all but retreated from view. Vocalist-guitarist Dave Davison began playing solo, drummer Chris Hainley focused on photography, bassist Shiraz Dada recorded other bands, and guitarist Erin Elders started Wedding Dress, a band that would become his priority, one that contributed to him leaving Maps & Atlases in 2015. The band wasn't dead, but from the outside, it didn't look like there were any signs of life either.
"There had to be a purpose to it beyond momentum," said Davison, explaining why the band first took a pause. "Even from the very beginning, we always said we only wanted to record and play music because we feel like we want to express something and do something unique." After years of refining their experimental, folk-based sound, the band had taken their music to its logical conclusion. With Davison working on his own solo music, it wasn't long before he wanted to bring in other musicians to help him build upon his vision. And it only made sense that the first people he asked were his bandmates in Maps & Atlases.
"I thought Chris would do a good job on this, so I asked him to come play on it," said Davison of the songs he was writing. "And that was when I realized that maybe this doesn't need be a solo release. I like playing with Chris and Shiraz, and I'm asking them to play stuff on it, so I don't know why it would be a solo record." Although Maps & Atlases never officially broke up, the band had to splinter apart for them to remember what brought them together in the first place. "That break makes you realize how much all your best stories and memories have taken place with these people," said Davison. And once the members of Maps & Atlases reconnected, they had discovered the reason for the band to exist.
The product of their work is Lightlessness Is Nothing New, Maps & Altases' third album, and first new release in six years. The lead single, "Fall Apart," shows Maps & Atlases forging ahead as if they were a brand new band, allowing themselves to transpose Davison's programmed drums into an out-and-out funk track. On "Fall Apart," Maps & Atlases more freely embrace modern pop production and songwriting devices, no longer shy about jumping into a chorus within the first 30 seconds of a song while still leaving their mark on it.

If there needed to be a valid reason for Maps & Atlases to exist, Davison had found one, using the band as a way to help him make peace with his father's death. While Lightlessness Is Nothing New isn't mired in death, Davison's lyrics focus on the moments that aren't easily defined as being good or bad. "It's not some binary thing," he said. "This is not the darkness of my experience; Lightlessness is somewhere in between. It's somewhere that's not light or dark, not transparent or opaque."
That gray area is what Davison finds himself exploring on "Fall Apart," as he ponders whether it's better to come to terms with losing or pretending it never went away. "Thematically, I think the song represents where the album is coming from as a whole," said Davison. But even then, he doesn't want Lightlessness to come off as pretentious, as if he happened upon some universal truth and is now sharing it with you. "The process of making this album has been a meditation on my experiences, and it's given me a different perspective on them," he said. "Though I don't know if I have any more answers than anybody else."
Lightlessness Is Nothing New is out June 1 on Barsuk Records. Pre-order it here.
Tour dates:
5/29: 7th Street Entry - Minneapolis, MN
6/01: Upstream Music Festival - Seattle, WA
6/02: Volume Music Festival - Spokane, WA
6/03: Holocene - Portland, OR
6/06: Rickshaw Stop - San Francisco, CA
6/07: Lodge Room - Los Angeles, CA
6/08: Casbah - San Diego, CA
6/09: Rebel Lounge - Phoenix, AZ
6/10: Sister Bar - Albuquerque, NM
6/12: Club Dada - Dallas, TX
6/13: Scoot Inn - Austin, TX
6/14: White Oak Upstairs - Houston, TX
6/15: Parish @ House of Blues - New Orleans, LA
6/16: Georgia Theatre - Athens, GA
6/17: Cat's Cradle - Back Room - Carrboro, NC
6/19: Rock & Roll Hotel - Washington, DC
6/20: Music Hall of Williamsburg - New York, NY
6/21: Sonia - Boston, MA
6/22: Johnny Brenda's - Philadelphia, PA
6/23: Cattivo - Pittsburgh, PA
6/24: Grog Shop - Cleveland, OH
6/26: Rumba - Columbus, OH
6/27: El Club - Detroit, MI
6/28: Lincoln Hall - Chicago, IL
6/30: Fountain Square Music Series - Cincinnati, OH
This article originally appeared on Noisey US.