Premiere: Watch "Never Quit" From Pet Sun and Feel Your Face Melt
Trip balls and enjoy another drug themed video to bring you one day closer to the carelessness of summer.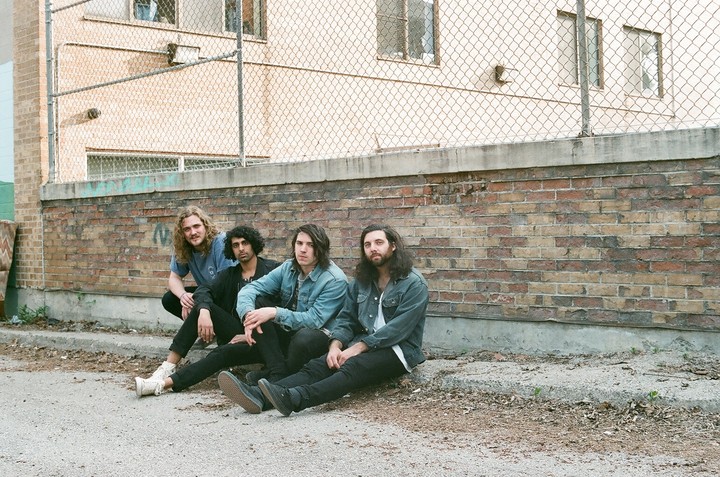 Pet Sun have played in a lot of weird locations, but their newest video is set in what appears to be the inner workings of a mind bathed in acid. It's a collage of colours and shades that wouldn't seem out of place on a retro windbreaker, and it's a testament in bands doing the most with the least:
"'Never Quit' was the first video we had a plot for which actually made things pretty easy for us in the studio," said lead singer Stephane Senecal-Tremblay. "Billy Moon was great to work with and bought us ridiculous amounts of pizza for dinner and many cold beers. Our costumes were running low so we had to do our best with a black balding wig, a cloak and some old face paint. An electric wizard was born and took our lives! Totally worked out. We had an idea about throwing a TV out the window but the pizza took up too much of the budget. Next one."
Check out the video and the band's tour dates below:
May 28th - Hamilton. This Aint Hollywood.
May 29th - Ottawa. Mug Shots
May 30th - Montreal. Death House.
June 2nd -Boston. O'Briens Pub
June 4th - Brooklyn. Hanks
June 5th - NYC. Cake Shop
June 6th - Philly - Kung Fun Necktie
June 7th - Washington -Electric Maid
June 9th - Cincinatti - Tacocracy
June 10th - Indianapolis - Melody Inn
June 11th - Chicago - Beat Kitchen
June 12th - Cleveland - Happy Dog
June 13th - Pittsburg - Gooski's
June 20th - Toronto - Silver Dollar (NXNE) w/ No Joy, Dilly Dally
June 21st - Toronto - Handlebar (NXNE) w/ Louise Burns, Praises