Tatiana Maslany Creates Playlists for Each of Her 'Orphan Black' Characters
Orphan Black's Tatiana Maslany's talks her love For Missy Elliott and the music that inspires the show's characters.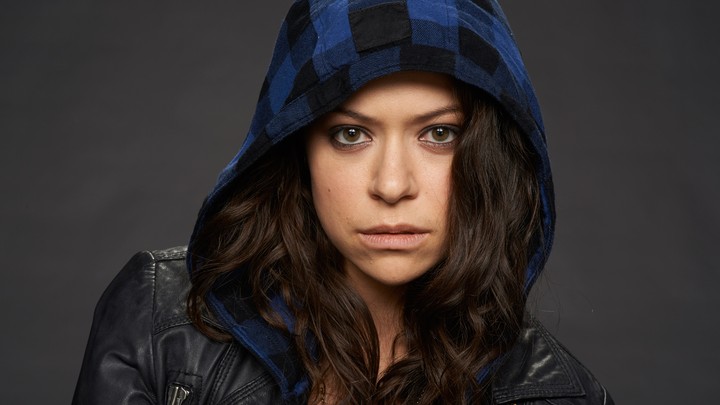 Photo Courtesy of Space
At the end of a long white hallway in a downtown Toronto office sits the Saskatchewan born and lead actress of sci-fi phenomenon, Orphan Black, 29-year-old Tatiana Maslany. It's a chilly morning in March, and Maslany is just finishing up a quick bite to eat. Upon meeting, she promptly offers an assortment of snacks—a thoughtfulness that is consistent throughout the interview, culminating in Maslany pulling out her phone to share an album stream of Perfume Genius' Put Your Back N 2 It. "He's amazing," she says excitedly. Orphan Black follows the complicated lives of four women who are clones of one another-all of whom are played by Maslany. There is Sarah, the rebel who can never seem to stay out of trouble. Cosima, the resident scientist of the group whose health is rapidly fading. Soccer mom Alison, who will just as quickly mace you in the face as she will send you a floral arrangement, and then there is Helena, whose job it is to kill the other clones. While season two saw the sisters spending the majority of it apart, season three finds them acting as a united team.
The first episode of the new season premieres on April 18th, and finds the sisters being faced with a batch of male clones who are hell bent on making their lives miserable. Furthermore, the sisters must deal with some fallout within their own ranks. Sitting across from me in a black and white printed dress, Maslany's enthusiasm for both her work and her love of music is infectious. Music is a key component in the structure of the clones, as Maslany creates playlists for each one in order to differentiate their personalities. For Sarah, Maslany uses the frenetic sounds of M.I.A. and The Streets, while for Alison she looks to musicals such as Les Misérables and West Side Story. Although her choices may appear to be random, they actually reflect Maslany's own eclectic musical library.
Growing up, Maslany's personal tastes included Korn, Busta Rhymes, Marilyn Manson, and Missy Elliott. "I was really into hip-hop as a kid, and I still am," says Maslany. "I loved the beats, I loved the attitude of it." Outside the realm of hip-hop, Maslany also enjoyed the sounds of fellow canucks Our Lady Peace. "My uncle was working for Sony, and he got me tickets to Our Lady Peace and it was the best day of my 12-year-old life." Since that time, Maslany's taste in music has become as diverse as the characters she plays, citing the likes of Peaches, Tune-Yards and Nicki Minaj as current personal favourites. Like all good music lovers, Maslany has not abandoned the music from her adolescence, stating that Busta Rhymes and Missy Elliott are two artists she still listens to today. "I was so quiet and dorky, but I loved these loud voices," says Maslany reflecting on the artists who have come to shape her expansive musical palette. As Orphan Black prepares to embark on its third rodeo, the show is a prime example of how music can play a major role in the creation of another art form, even if that art form calls for you to have a dance party with yourself.
*Below are Tatiana Maslany's personal playlists for Sarah, Alison, Cosima, and Helena as part of our new Noisey Canada Spotify playlist .
Sarah's Playlist
Noisey: With artists like M.I.A. and Missy Elliott, what is it that draws you to them?
Tatiana Maslany: It's something about the nonconformity. I was listening to Missy again yesterday on the plane here. I'm having this resurgence of her. There's such a creativity with it. It's nothing expected. It's not in a straight line, and I love that. There's something really sexy about her, and really bold and non-apologetic. I feel like her music has changed so much. Every single album is so vastly different. I know that "Get Ur Freak On" was the first Missy song that I heard where I was like "what is this?" When it comes on at a club or something, it's still my favourite song to dance to.
When Katy Perry brought her out at the Super Bowl, a lot of people on Twitter were like "who is this Missy Elliott?"
What I loved about her performance in that, is that she didn't need any pyrotechnics. There was nothing but her presence and her music. It was enough. She didn't need the sharks. She didn't need the huge, giant tiger thing. She carries that weight and that power like you don't even need anything else.
In her absence there's been quite a rise in female rappers with Iggy Azalea and Nicki Minaj. Outside of Missy, who's your go to female rapper?
I really like Iggy Azalea. I like Azealia Banks too. I can't say that I feel a long connection to them. I like their music in the moment, but I don't feel they have that staying power. And not that I don't think they'll be around for a long time, but there's something about Missy that was so new. She continued to produce and she continued to make work. She just has so many irons in the fire.
Cosima's Playlist
Throughout the course of the show, you have beaten up a neighbour to Meredith Brooks' "Bitch" and you have taken over the life of a cop to M.I.A.'s "Bad Girls." What has been your favourite musical moment on the show?
The "Bad Girls" one was such a surprise to me. I remember when one of our producers told me that they got that song, I was like "what? I'm in a montage to an M.I.A. song? My dream has totally come true."
You're known to make playlists for each of the clones. If you're just going about your day to day business, which of the clones' playlists do you listen to the most?
It depends. They all have bits of me in them. Sarah's got The Streets and Dizzee Rascal, which I still listen to all the time. Helena's like Antony and the Johnsons and Tom Waits, and I still love both of them. And Rachel is like '90s slow jams. I could listen to any of those every day.
When it comes to Helena, I find that her scenes usually feature a lot of electronica. Is that something you've had input on, or more the production?
That's more the production's exploration of her, which I love, because it sounds like what her brain might be doing. There's Prodigy in her soundtrack, but I also love the idea of her internal workings being more like Antony and the Johnsons. [With Helena] there's a softness to her. There's lots of fear and vulnerability, and lots of quiet, delicacy.
While playing Alison in season two, you performed in a community theater production. How did that come about?
I think it was something funny that [creator] John Fawcett thought that she would for sure do. I definitely told them that show tunes were what I used to get into Alison. I don't know if it was a response to that, but it seemed like such a natural thing for her to do.
Who in your life has played the biggest role when it comes to discovering new music?
My brother is my go to for music. He has such an amazing taste for it. He introduced me many years ago to a band called Why?, which has since and remains one of my favourite bands of all time. And also Son Lux. [He's] ridiculously good, like unbelievable. Probably one of my favourites of all time as well.
Alison's Playlist
If you're having a bit of a down day, what are some sad songs you'll dip into?
Lots of Antony. I find Perfume Genius is really good for that. Neutral Milk Hotel. There's this great album by Jonsi & Alex called Riceboy Sleeps, which is what I've been listening to a lot lately. I'm working on a film up north. We're shooting in Iqaluit. I haven't actually gone out there yet, but there's something really quiet about this music and really cinematic. To me it feels really resonate of that space of snow and infinite miles.
What are you looking forward to most about going to Iqaluit?
The second weekend we're there, there's a big spring festival and A Tribe Called Red is playing. They're amazing. It feels like there's a lot of culture that comes out of that quiet, which I can relate to in terms of growing up in the Prairies. There's a lot of space, so I think people get the impulse to create something in that space, whether it's improv or music or dance. There's a real life to the art scene in Saskatchewan and it sounds like in Iqaluit as well. I'm excited to just be in that environment which is so stark and barren, but seems to have such a life to it.
We have a lot of upcoming festivals here in Toronto. Which festivals have you been to?
My little brother was a big fan of Skrillex at one point a couple of years back, so we went to the big Skrillex-Diplo concert which was awesome. Grimes I think played as well. I've been to the Virgin Music festival on the island. I've done that a couple of times. When I first moved to the city, the thing I did was go to concerts. That's all I did, because I was from Regina and nobody came through there. Two people would come through a year, but here every band I loved was playing.
Helena's Playlist
What's been one of your favourite concerts?
I saw The Streets play when I first moved here, and that was one of the best ever. M.I.A. was amazing. I saw her a few years back. I saw a great band called Dethklok. I was so excited about that. That was my first and pretty much only metal show that I've ever been to. It was an experience for sure.
If you could see any artist dead or alive, who would it be?
The Yeah Yeah Yeahs. I need to see them live. I've been such a fan of them for so many years, and I still haven't seen them. If MCA were still alive, I'd love to see the Beastie Boys again. I saw them once in Vancouver. I was out there for an improv festival, and they just happened to be playing. All of my friends came from Regina. They drove up and we went to the concert. It was incredible.
Earlier I asked you what songs you listen to when you're feeling blue. What songs do you listen to when you're going for a night out?
I'll listen to anything that's loud. Busta Rhymes is really great before I go out. I'll put on Songza and put on one of the rap playlists, like '90s rap or something. That's what gets me going the most.
Aaron Morris is an honorary sestra-brother. He is on Twitter.*Follow our brand new Noisey Canada Spotify for weekly playlists curated by your favourite artists and well, us.