PREMIERE: Caveboy Say Goodbye to Boredom With Video "Something Like Summer"
The end of summer is always a party killer so let the Montreal dream-pop trio finish it in style.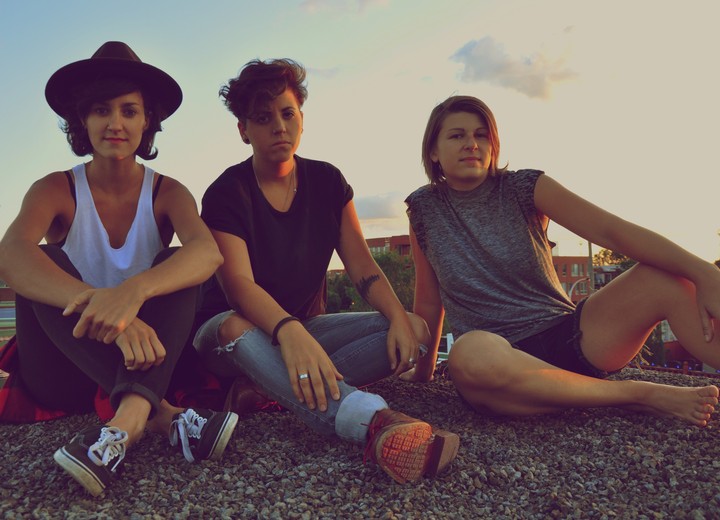 Photo By Remi A.
The end of summer is always a party killer, but Montreal dream-pop trio Caveboy are sending it off in style with a new upcoming EP and video for "Something Like Summer." Directed by Amit Kehar, the clip stars comedian Tranna Wintour as a glammed-out garage salesperson peddling used and useless wares (Pretty Woman on VHS! Slinkies!) to bemused suburbanites. Things then get wild when our heroine makes out with a random guy and begins to gleefully tear apart her inventory. With washed-out visuals and manicured lawns everywhere, the video seems to express a desire for liberation from tedious everyday living. It's a perfect fit for the song itself, an exhilarated anthem with driving guitar and clarion vocal melodies.
"'Something Like Summer,' is about growing up and growing out of certain places, people and feelings throughout our lives," says the band. "It's about the simultaneous confusion and liberation that comes with that growth, and where we go from there. The idea of a yard sale seemed like the perfect representation of this, as it's a literal way for one to lay out their entire life, pass it along, and move forward. We were so lucky to have Tranna Wintour as our lead actress. She captured the character beautifully and really personified the inner battle that so many of us have to deal with over time. Although we sometimes want to let go and forget about our past, it's not always that easy. In the end the past is what makes us who we are, so why throw it away and pretend it never happened?"
Phil Witmer is a writer based out of Mississauga. Follow him on Twitter.