Despite Drake, Toronto's Hip-Hop Scene Largely Remains the Same
It's not easier for a young rapper to break out into the mainstream now than it was 10 years ago, the only difference is that there's a new institution.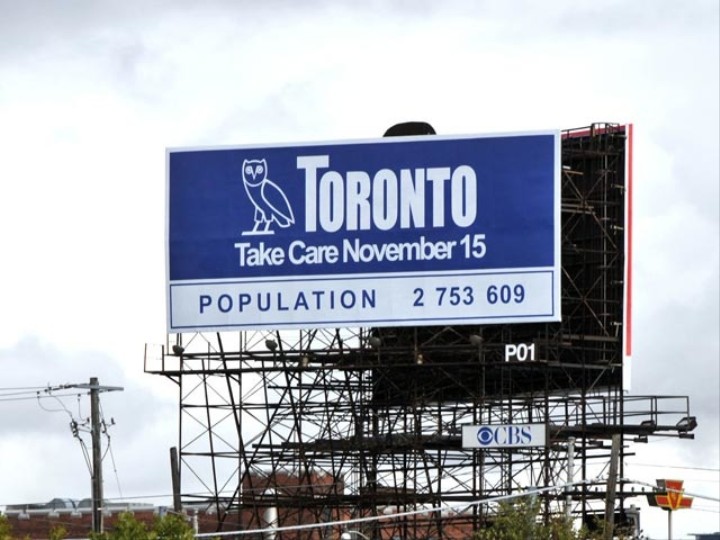 Recently in a commercial for Sprite, Drake positions Toronto as a hotbed for hip-hop on par with the birthplace of the craft. "All these guys that are like, you gotta go to New York now to make it happen. No you don't. That's dead now. Do it the way The Weeknd did it, do it the way PartyNextDoor did it, do it they way I did it." Drake's speech is flawed, considering the two examples he chose went through the institution of OVO to find success, but the latter part is a flat-out lie. Drake didn't get popular until he left town, bouncing around America and working with almost anyone he could. Fans of the unofficial Homecoming documentary will remember that Drake only got a chance to become the rapper we know now after J Prince flew him out to Houston to meet Lil Wayne—who wasn't even a fan of the Canadian until he was convinced by Prince. "Do it where you're at," continues Drake in the commercial. "If you have the music, that's all it takes." While good music is important, following Drake's career path shows that it's equally important that you have access to some of the biggest names in hip-hop who are able to vouch for you.
Drake's rise to stardom is inspiring, but the issues he faced trying to make a name for himself internationally haven't just gone away because of his presence. Despite what The Boy would have you believe, it's hardly easier for a new act to break out now than it was in a pre-Drake Toronto. The only option out of Toronto is still to either move to America or receive a cosign from OVO—which has established itself as a gatekeeper by plucking up potential artists early, like they did with The Weeknd and are now doing with Roy Wood$.
The city isn't lacking in talent that is able to connect stateside. Artists like Tory Lanez floundered around the local scene before transplanting to America to find success, while Alessia Cara and Shawn Mendes retreated from the suburban Greater Toronto Area to sign major record deals with the help of the internet exposing them to the American market, a move I call the "Bieber shuffle." Even Kardinal Offishal, Toronto's original golden boy, achieved his biggest success after he was discovered by Akon and was catapulted to Top 40 success with "Dangerous." Dozens of lesser known examples of this fame-drain take place quietly as producers, writers, and artists realize that the resources and connections needed to break out beyond their bubble don't exist as plentifully in Toronto as they do in major American markets like Los Angeles, Chicago, Atlanta, or Houston.
The process for breaking out of Toronto shouldn't be much different than what would happen in those aforementioned cities in theory, so what do those markets have that Toronto doesn't? For one, those cities have generations of artists who are able to vouch for new acts where Toronto only has Drake, an artist who is still concerned with being at the top of the charts. So while artists like Robin Banks, Mo-G, and Top 5 all possess the same youthful effervescence that makes rap fun in American hip-hop hotbeds like Chicago and Atlanta, they can't receive a look from an established artist like No I.D. or Gucci Mane. The most support those Toronto artists receive locally often starts and ends with a cryptic Drake Instagram. Once there's a Toronto Gucci Mane this might change, but as long as the main gatekeeper is still trying to be the biggest cultural touchstone for the city, nobody else will be able to flourish in his shadow.
Drake and OVO do support local talent in their own clandestine ways, and if you trace the backers of most of the names you associate with Toronto's burgeoning hip-hop and R&B scene, you'll see that someone in their pack has ties to OVO. It can be as cut and dry as an artist being featured on the October's Very Own blog or their new radio show, or as subtle as an OVO producer financially backing the rise of a young upstart. But this support often means that this new talent needs to fall in line, waiting for their benefactor to allow them to have a shot. Even then, a cosign from the golden owl doesn't guarantee success, and for every PartyNextDoor or Majid Jordan, there's a P. Reign or OB O'Brien.
The artists who can't afford to move to America and don't get selected to be touched by an owl will often end up deleting all of their previous work before performing a full rebrand and releasing new music under a different identity. Jahkoy admitted to doing this before moving to Los Angeles, and Jazz Cartier's Losing Elizabeth mixtape is nowhere to be found, making him appear like a rookie artist in the eyes of the uninformed. This exercise in vanity means that the musician gets to introduce themselves to an audience on their own terms, but it also prevents potential fans from performing a deep dive into an artist's old music. You could argue that part of the appeal of artists coming out of American hotbeds is that fans are able to listen to their progression—flaws and all—upon discovering them serendipitously. How much differently would a listener's experience be with Chief Keef and Makonnen had those artists not appeared with a deep back catalog from which you could judge them on? Artists like Lil B and Soulja Boy bank on the idea of quantity over quality and have made a career off it, so why do Toronto artists shy away from following suite?
Continued below...

Toronto still has a long way to go if it wants to get on the same level as any of the American hotspots. Artists like Shad and Classified have found relative success by staying home, but if you want to be one of the best in the business you need to compete at an international level. Unfortunately that's still not possible for artists that aren't on Team Owl, and until that changes, Toronto will never be a hip-hop hotspot.
Slava Pastuk has been hearing "Toronto has next" his entire career - @SlavaP