Kuato's 'Great Upheaval' of Acadian Culture
This Halifax band wants to help Acadian music evolve beyond the rowdy "kitchen party" culture.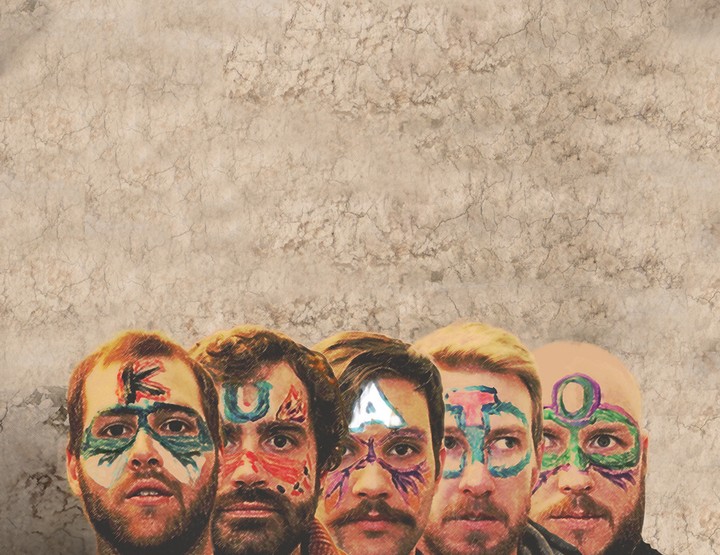 In the 1600s, some French colonialists arrived drunk and hungry in Canada, settling in Eastern Canada in parts of Nova Scotia, New Brunswick, PEI and Quebec. But these hell raising, hard drinking settlers had absolutely no interest in being a part of straight-laced, boring ass New France — they wanted their own little slice of paradise. Wasting no time, they named it Acadia, and then they set about doing what they did best – hunting, fishing, and throwing some wild parties. Eventually though, the British government decided they couldn't have these fiddle loving booze-hounds being a giant pain in the ass and acting as a barrier to their colonial goals.
So, in true douchebag fashion, they seized the land and deported those who hadn't died of disease, alcohol poisoning or gangrenous musket wounds. Only a handful were able to stay in Canada, the rest were deported to Louisiana, giving rise to the Cajun culture and setting the stage for shitty things like Zydeco music and awesome things like gumbo. Needless to say, you'd have a bit of a chip on your shoulder about the whole thing, and it doesn't help that today the Acadian identity, especially in the arts, is pretty much just the butt of terrible jokes about accents and salted fish. However, despite a pretty raw go of things in the past, Acadian culture is enduring; a stubborn and surprisingly good-natured beast that's fiercely protective of its heritage.
Nowhere is this more obvious than in the longstanding Acadian musical traditions of rum and whiskey soaked kitchen parties. Nights of non-stop drinking and fiddling, raucous singing and banging on everything from wash tubs to wooden spoons to the damn kitchen table itself. It's become a caricature of sorts, a kind of cartoonish distillation of the Acadian identity. However, some people, like Josh Pothier, the drummer of Nova Scotian instrumental post-rock band Kuato, and a born and bred Acadian, think that that caricature might be hurting the culture more than it's helping.
"There has long been this weird line between artists who are Acadian, and "Acadian artists", and a view by many in the Acadian community that if you're not playing a certain way or not performing in French or whatever, that you're ignoring your culture," says Pothier.
"We're taught very early on that our culture is in danger of disappearing and that we need to preserve it by maintaining certain customs and traditions, but to me you only preserve something that has died, and Acadian culture is a global thing now - it's evolving, not dead."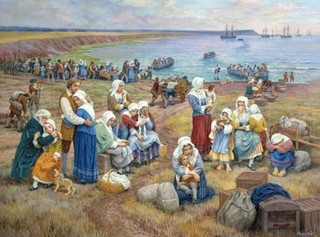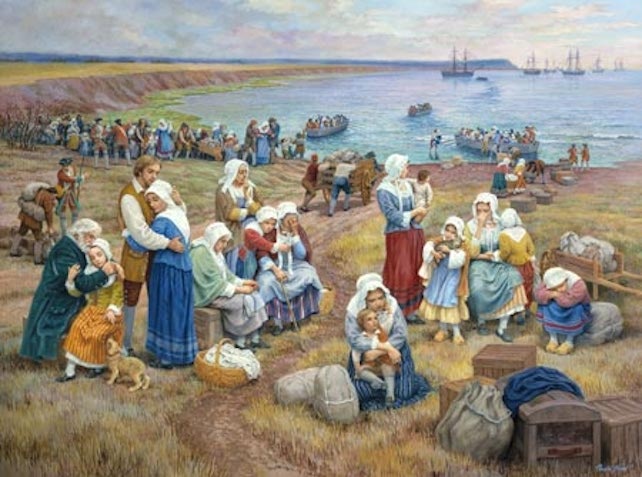 Pothier grew up in Yarmouth, Nova Scotia, a seaside town on the southern tip of Nova Scotia in an area that's still fiercely Acadian, so he's had his share of salt cod, rapure pie and never-ending fiddle parties. Pothier is pretty determined to help redefine how people view the Acadians, and that's a huge part of what makes up Kuato's debut LP, The Great Upheaval. It's a concept record of sorts, touching on the massive deportation of the Acadians, and the album is a giant sprawling canvas of drones, piercing guitar riffs and huge, sweeping melodies that seems miles away from the raucous foot-stomping, hollering and fiddling of traditional Acadian music. However, just like the hazy, hungover morning after a kitchen party, if you think carefully and retrace your steps from last night, it all starts to make sense.
"I was reading a book at the time called Heroes of the Acadian Resistance and it was about a lot of the back and forth guerrilla warfare that went on prior to the deportation, and one of the main subjects of the book (Pierre Surette) is a direct ancestor of mine, and he was involved in a lot of rebellious stuff which I found really interesting," says Pothier.
"I brought the idea up to [guitarist] Adam [Toth] about using the conflict and expulsion as a sort of thematic basis for the music, and he was quite supportive." Pothier and Toth formed Kuato as an ambient/drone two-piece after they met working at an Italian restaurant in downtown Halifax, where the band's now based. Bonding over a shared taste in music and cooking wine, they would trade bands back and forth like witty retorts while working.
"I seem to remember him giving me Do Make Say Think records and me giving him Godspeed records and we would just talk music all day in the kitchen and tip each other off to stuff we were into that month," he says. Over three EPs and some lineup shifts, the band finally settled into its current incarnation with the addition of members Darryl Smith, Mike D'Eon and Stephen MacDonald.
Growing up being bombarded with Acadian music and culture at school, Pothier admits it was only a matter of time before it all started to seep into Kuato's music. "It was part of our school mandates to bring in Acadian entertainment my entire school life, so I would be exposed to it often," says Pothier.
"I was never really into the high-energy, kitchen party types of songs, but I definitely have a deep love for two particular Acadian songs — one is a very sad traditional song called "Partons la Mer est Belle" and the other is "Saulnierville Station" by Les Tymeux d'la Baie. Throw those on your summer mixtape and let your parties get weird."
That dark and somber part of Acadian culture is very rarely unfurled for others to see. The Acadians usually prefer to keep it light, refusing to dwell any more on a particularly bloody past. The up-tempo fiddle jams, rye and waters and rollicking good times are a kind of defense mechanism. But the understated, hushed beauty of those traditional songs and that part of the past are easily tied back to the tangled emotional threads of the band's latest release.
The mournful and evocative track "Groundwork" is blanketed with hesitation and anxiety as thick as the ever-looming charcoal grey Acadian fog, while "Battle of Blood Creek" is frenetic with white hot anger and confusion. Maybe it's because that haunting past is so hard to face, or maybe it's because people would just rather say "Fuck it," and go for a pint, but Kuato's songs shed a light on the difficult history of the Acadians that's rarely given a voice in music.
"I like to think that when events like that happen in a place that it permeates in the air and the soil and that it sort of leaves an imprint on everything that comes afterwards, and that this music is part of that imprint now," says Pothier about the sentiments of the album.
Pothier is very proud of his Acadian roots and how it's recently come to inspire a new cultural conversation, referencing contemporary Acadian artists like Radio Radio, or JonahMeltWave who he thinks are both actively engaging with the past and expressing their culture in new and unique ways. But he's definitely aware of that cultural stubbornness - that "Fuck off, we're doing just fine here," grip that the Acadian community has on their traditions.
"The people who operate within the Acadian cultural sector have very strict and traditional ideas of what is and isn't art, and that is a discouraging environment for someone with a lot of creativity. Thankfully I feel that things are changing finally," he says. Pothier doesn't see this record or its concept turning many heads or inspiring any kind of movement in those stubbornly traditional circles of Acadian culture though, and to be frank he really doesn't give a shit that it won't.
"I think if you're going to like or not like a record based on the concept rather than the actual music you're listening wrong," he says. "Acadian art has always been tied into the folkloric and I would love to see it break away from that and begin to really find its place into the global artistic consciousness. I get that it's important, and that some people feel a much deeper connection with it than modern music, but I'm not going to fake an interest in something just to adhere to some unspoken cultural rule -to me, the insincerity of it would be worse. if I'm looking at a CD deck with 9 traditional Acadian music compilations and Shallow North Dakota's This Apparatus Must Be Earthed tucked in the middle, I'm going to pick Shallow North Dakota every time. But that doesn't make me "less" Acadian, it just makes me an Acadian who likes to sludge out more often than most," he says.
Kuato is touring in support of their album right now, and may even be kind enough to cook you some rapure pie – ask for clam, it's a wild-card and people will give you a weird look, but it's the best.
Tour Dates for Kuato:
July 26th – Riverport, NS – Old Confidence Lodge
August 4th - Kingston, ON - Artel
August 5th - Windsor, ON - Phog Lounge
August 6th - Kitchener, ON - The Outpost
August 7th - Toronto, ON - The Boat
August 8th - Ottawa, ON - House of Targ
August 9th - Montreal, QC - Drones
August 15th - Moncton, NB - Esquire Tavern
August 22nd - Halifax, NS - The Seahorse Tavern
August 23rd - Fredericton, NB - The Capital
Nick Laugher is a writer living in Montreal. He's on Twitter.