Owen Pallett Talks Insanity, Self-Help and His New Album "In Conflict"
Owen's new project isn't what you think it is.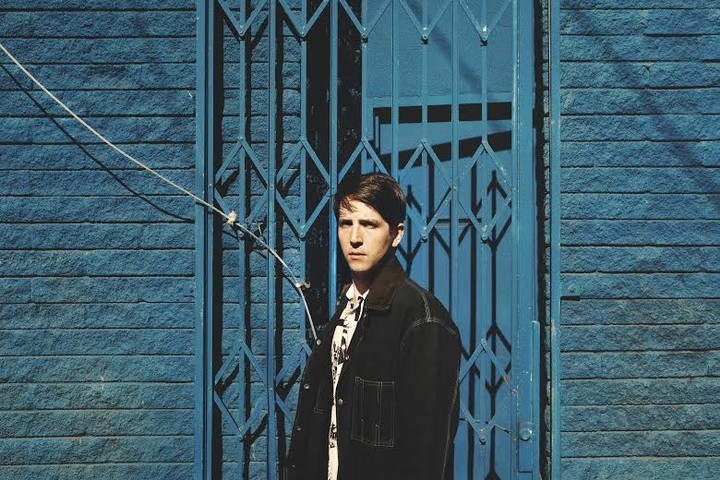 On May 13, Owen Pallett releases his fourth album, In Conflict, which was recorded in Montreal. It doesn't necessarily mean there's conflict in love, relationships or even with oneself. But there is totally some kind of friction – take the album art, which obscures the lyrics with black blobs of ink. To Pallett, some things will never be understood (strangely enough, not his phone number, which is in the lyrics).
The album features Brian Eno singing backup vocals throughout the album, playing synth on The Riverbed and guitar on "In Conflict". Two music videos have already been released – "The Riverbed" stars Owen's uncle, actor Jim Pallett in Los Angeles, which was directed by Eva Michon, who is also the editor of Bad Day magazine. The second video, "On A Path," shows a fun slideshow of stuff by Steve Kado, co-founder of Blocks Recording Club, who shot everything in Pallett's apartment over a week.
While you may have heard Pallett and Arcade Fire were nominated for an Academy Award for Spike Jonze's Her, we're too psyched about the album to worry about winning and losing. Besides, this album is all about going with the flow, even when shit isn't working. As he was about to meet his dad for dinner, Pallett spoke to us last week about Brazil, Iceland and how this album is a change of scenery.
Noisey: Is it possible to approach insanity in a positive way? Was this album a form of self-help?
Owen Pallett: It isn't approaching insanity in a positive way, but rather as an equal way of being. It wasn't really self-help, it's always the case – I'm always trying to write songs I would love to hear. Know what I'm saying? As for the self-help thing, that's something I do have a comment on, which is that I hope with this record that I can side-step or avoid any words like self-help or catharsis or autobiographical because I don't ever want this record to seem like it's a product of my state of mind or my biography, but rather it's a product of my intention as an artist. In a way, while making this record, I've felt aligned with the other songwriters – especially female ones – who get labeled with the confessional or cathartic tag. We are talking about Lisa Germano or Tori Amos, who get labeled with this tag. These are terms of negation that obscures the idea that someone like Lisa, who people love to talk about her alcoholism, or Tori, where people love to talk about her fairy worshiping, but all it does is use their intentions and further otherwise them. This record is not self-help; it was made with very specific intentions.
This album originally started in Iceland, is that correct?
It didn't start in Iceland because I was writing songs before Iceland, but I was with my band and we had learned a bunch of Heartland songs and we were putting together new songs. I had formed this band after the Heartland tour had finished and we had to play a couple shows where a few songs from Heartland had to play live. I started working with my friends, it was really natural to play with them because we've played music together 10 years ago in other bands. At the same, it was like, '"How do we incorporate a bassist and a drummer into what is essentially a pussyish, live, loopy violin show?" Very cerebral, how do we turn this into something with artistic merit? We took a summer in Toronto, working on old and new songs, we went to Iceland to record them in the same place I recorded Heartland, which is Valgeir Sigurðsson's studio, which Björk built, an awesome studio and we had a really great time, but we weren't ready as a band, the producer made some errors, we were doing everything to click and it was kind of a mistake. You can tell by listening to In Conflict that the time is all over the place. We were playing everything live, there's no click on any songs, except tracks five and six which I did without the band.
The song that struck me the most is "The Passions" was that inspired by a beginning or an end?
Oh, yeah. It's kind of an autobiographical song, after everything I've said [laughs]. It was taken from this long lyric I wasn't sure I wanted to do with it. When I was in Brazil, we were having this fun night out while on tour and I have a very long-term relationship. I am not going to go into details.
It's inspired. There's longing, sadness, ecstasy.
If you weren't a news outlet, I would have a long interesting conversation with you about my history about not even inter-generational relationships, dating people older than me or dating people younger than me, but that it's really fantastic and everyone should do it.
Who is your best friend? I heard they are a guest on this album, among others.
Matt Smith, he's my bassist basically but he sings "On A Path". His voice and my voice are complete opposites but together it's really nice. It's almost kind of like when he sings, I feel like I've put on a different outfit. It's a complete change of scenery. I've worked with Thomas Gill before, with Brian Eno, this was the first time I worked with him. It came out of nowhere since I played this festival he curated and played this benefit for him that was celebrating him. He gets along with my best friend, Matt. I jumped at the chance to ask him and he said yes.
He's a legend. You brought family into this in that your uncle Jim is in the "Riverbed" video. How did he like the role?
He's an actor who lives in L.A. He's very talented so I thought 'I would love to put him in a video.' We had been entertaining that thought for a long time, that he would be in it. Then, when the song was written, we thought of the part and the video as being written for him. At 63, he looks like he's in his 50s. He's a very fit guy into meditation and yoga. It's a great opportunity for him to shine.
It started with 30 tracks. Was it difficult cutting it down?
It was difficult, with Heartland working with Rusty on the mix, we created a unified sonic world. With In Conflict, even though I think the songs are better and recordings are better, I prefer it in almost every way to Heartland. I was having more troubles with the mix and with the sequence and getting it to hang together as an album. I started to roll with that, to roll with the fact that it wasn't totally immersive in the way that Heartland was, and to play with that, even. When you buy the record in different formats, there are different sequences and different closing tracks and the album is never quite there. It's even in the album artwork, there are inconsistencies in the formats and all of them are marred by phosphorus paint. Some lyrics will always be obscured. In a way, I used the fact that it wasn't fully gelling as an album and just kind of went with it. Make it gel even less.
Might as well go with that flow, right?
Originally, everything was segueing into each other; it was very much a journey. I took the segue tracks out and was cutting intros and outros from songs and putting them in different places and making the whole thing more jarring.
You capture the art of battle in some of your tracks off In Conflict. Are you a fighter?
Oh no. I'm zero fights, I'm not a slave. I am a servant. I am constantly trying to supplement my own identity into others, whether it's my artistic pursuits or sex relationships or whatever [laughs]. I'm totally not a fighter.
Do you believe in high and low art, or is it all the same to you?
I am so agnostic about that, I don't have an answer. I don't necessarily believe in art, never mind high or low art. Every time someone shuts down a work of art for invisible reasons, whether its Alanis Morissette or Miley Cyrus, my brain shuts off. I don't understand and I don't listen that way. It's tough. The world is filled with a lot of content and has developed of processing and ordering that content, prioritizing certain content over others. It's hard because sometimes I don't' don't gel with the arbitration process and that makes me feel a little bit isolated. It can be kind of tough.
What do you want people to take from this album, above all else?
I don't really hope for much of anything, my goal was that historically what had made me happy about making records is that there was always something surprising. Something I'm not expecting. It's a conversation with a total stranger or a family member. The fulfillment comes from unexpected and unanticipated places. For example, my father who never listened to my music is very enthusiastic about one of the songs on In Conflict, specifically the vocal performance. That was extremely gratifying to me because my father pointedly never came to shows, not for any weird reasons, we get along great, he just didn't want to. That he did sit me down and talk about what he liked about this thing; that was really good. What I'm trying to say is that I hope this album interacts with people in very unique and interesting ways and I'm eager to see what people's responses are.
Owen Pallett plays May 9 at La Sala Rossa in Montreal and on May 10 at Danforth Music Hall in Toronto. He tours Europe in May.
Follow @nadjasayej on Twitter