Sappyfest Is Atlantic Canada's Best Kept Secret Music Festival
Going to Sappyfest is like going to a family reunion with a family that you actually want to see.
On the surface, Sackville, New Brunswick, is your average Atlantic Canadian small town. There's a handful of historical buildings, several churches, and the main street is dotted with bars, cafes, and donair spots. On the outskirts, there's an Irving gas station, liquor store and McDonald's, with a ten minute drive taking you past swampland and into farming country to Silver Lake for swimming. The town is also home to Mount Allison University, which empties out during the summer and its residences turned into lodging for tourists, etc.
Beginning in 2006, Sackville sees an influx of visitors the first weekend of August, when it hosts Sappyfest. The independent music festival was started by Paul Henderson, Jon Claytor, and musician Julie Doiron (who played this year) as an offshoot of New Brunswick label Sappy Records. While it started small, SappyFest quickly grew to feature a who's-who lineup of Canadian indie rock. Previous editions have included sets from the likes of Arcade Fire (who performed as secret guests under the name Shark Attack), Charles Bradley, Fucked Up, Grimes, Owen Pallett, Yamantaka // Sonic Titan, and plenty of east coast talent. As a result, Sappyfest has grown to be known as one of Canada's best small music festivals, attracting bands and fans from coast-to-coast to make the pilgrimmage to Sackville. By an unofficial estimate, over half of those in attendance had attended the festival previously one or more times, which lent to the weekend feeling like one large family reunion (albeit with family you actually like).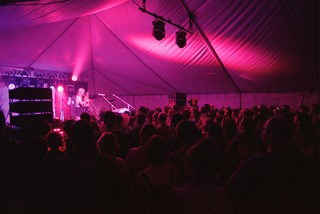 This year's theme was "Bring It On Home", which besides being the title of a great Sam Cooke song, felt especially apt given many of the performers' past history with the festival and the town itself. Following some financial difficulties in 2013, this year's lineup was scaled back, but still included performances from 2014 Polaris Prize-nominated folk singer and autoharpist Basia Bulat (who incited the weekend's most friendly moshpit), Halifax's Cousins, Kingston's PS I Love You, Calgary singer-songwriter Rae Spoon, New Brunswick guitar troubadour Shotgun Jimmie (one bar offered a "Shotgun Jimmie Special", i.e., a drink served with orange bitters and stirred with a knife), and a Sunday night headlining performance from Guelph's Constantines, playing only their third show since reuniting this year. Many acts found themselves pulling double duty over the weekend (Constantines' Bry Webb and Steve Lambke both have solo projects, Doiron also plays in the group Weird Lines) and half the fun was playing six degrees (or less) of separation with the artists.
With the three main venues — a tented main stage on the closed off Bridge Street, the stately if slightly under-ventilated Vogue Theatre (a poster outside the cinema's current lone nightly screening, Hercules starring Dwayne "The Rock" Johnson) and Sackville's Royal Canadian Legion — in a block and a half radius from each other, making it easy to leisurely navigate between shows. Besides the music, there were poetry readings, late night karaoke (surprisingly light on Sloan songs, but a passionate rendition of The Bangles' "Walk Like An Egyptian" united the room), local vendors selling food, clothes and artwork, a daily journal The Sappy Times, and a D.I.Y. mail service straight out of a Wes Anderson film. Sappyfest also took all the things that suck about summer music festivals — overzealous security, overpriced beer and disgusting washroom facilities — and replaced them with friendly volunteers, delicious $5 craft brews, and not entirely disgusting port-a-potties.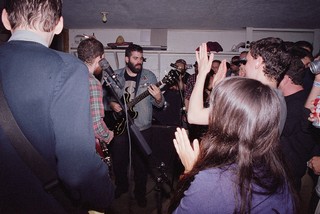 While Sappyfest featured many veteran acts, there were plenty of breakout performances from rookies as well. Montreal's Ought, best described by one friend as "Television fronted by Jarvis Cocker", proved why they're ones to watch with a set of tightly wound post-punk songs with life affirmative singalong choruses. Vancouver's COOL had possibly the worst name of any band playing the festival, but their high energy funk-pop and frontman Adrian Teacher's manic dancing were a treat to watch (bonus points awarded for having a song with the lyric "Jack Layton alive and well, Uncle Stephen at the gates of hell"). Not technically newcomers, but now a trio, Holy Fuck's Brian Borcherdt and Leon Taheny's Dusted sounded more muscular and offered up a tantalizing taste of their yet-to-be-announced second record.
Despite being an outlier on an indie rock-dominated lineup, Halifax hip-hop collective Weirdo Click kept bodies moving after midnight Sunday, followed by a dance party (there's something surreal about dancing to "Killa Cam" in a veterans' pool-hall). Following a scrappy set from Halifax's Quaker Parents in a claustrophobia-inducing packed shed, those still awake spilled out into the cool night air, old and new friends collapsing in the tall grass in open circles. Communal joints were passed, loose beers fetched from backpacks, carpool plans devised for a Monday morning that would come too early, goodbye hugs exchanged and vows made to return next year. Someone lit off a cherry bomb firework five feet away without incident to scattered applause. It was an idyllic scene that could have been any festival in any small Canadian town and yet was somehow special to Sappyfest.
Max Mertens drank his weight in New Brunswick craft beer this weekend - @Max_Mertens
Colin Medley is a photographer, you can find more of his work here
------
After Sappyfest, we saw Greasebeast tear the legion down.
Why did Shotgun and Jaybird break up? We asked them.
This Halifax group covered Spooky Black to wonderful results.