Elliott BROOD Transition From Carefree Youth to Dedicated Fathers
Casey Laforet speaks on the importance of always being able to run home.
"I've always had that kind of wanderlust in me," says 38-year old Casey Laforet. On the phone from Mississauga, the Elliott BROOD front man is describing his ventures from the vast plains of the Canadian Prairies, to the smaller locales of Lindsay, Ontario. Eventually moving to Toronto, Laforet would soon reconnect with a hometown acquaintance by the name of Mark Sasso. Having known Sasso from high school in Windsor, Laforet was eager to re-establish a relationship. After swapping a Richard Buckner CD for a Grant Lee Buffalo CD, the two quickly began writing songs together at Sasso's apartment. Then, in the midst's of their blooming creativity, an unexpected show was scheduled at the now defunct bar, Holy Joe's.
"I had anxiety about that," says Laforet. "I didn't think I could perform in front of anyone. For the first show I remember I was wearing a wig, just to have some sort of a costume." Luckily for the young musicians, the show proved to be a success. With a band name chosen and a new member on board, Elliott BROOD released their debut album Ambassador in 2005. That album would be followed by four more, including their latest release Work and Love. Lifting the album's title from a song by The Constantines, Work and Love acts as a time capsule for the band's youth. Instead of exploring the corners of the earth, the new album finds Elliott BROOD going home. Childhood is a major theme on the album, and the recollections put forth by the band are both endearing and devastating. Filled with anecdotes on first loves, forgotten dreams and the occasional wild night, Work and Love is a scrapbook of the band's transition from carefree youths, to dedicated fathers.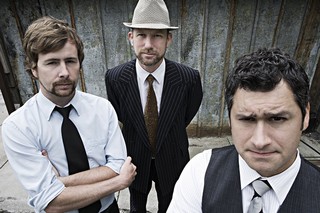 Noisey: You grew up in Windsor. How would you describe your childhood?
Casey Laforet: I had a great one. It wasn't till I got older that I started to wanna leave it. As kids we had free reign of doing whatever we wanted. We'd go out all day and come home when it was dark. Burning things, breaking things. Being stupid kids basically. We got away with a lot.
Next year marks the 10 year anniversary of Ambassador. How do you feel when you look back on that time?
Nostalgic. We had a lot less to worry about. We have kids now. It was an easier time. It was pure creativity. We had no idea what to expect from touring or making records. We had nothing to reference, so we were just making stuff up as we went along. We were big drinkers back then too. We've kinda slowed that down a bit now that we have families. Those times were chaotic, I do remember that.
Speaking of having kids, your son was born January 1st last year. How did becoming a new father play a role in the creation process of Work and Love?
I think it was in the background of my mind. A lot of the songs that I contributed to this record were written before he was born, but he was on the way so the thought was there. I don't know how it effected the writing necessarily, but it definitely made me want to be more serious about what we're doing. I get self-conscious that I don't know if I'm doing the right thing with kids and being a musician. I get nervous about that. The subject matter of the record has a lot to do with my own nostalgia for being young. I had a great childhood, and I want him to have the same thing.
When listening to the album, I found the idea of home to be prominent throughout. I was wondering if you could elaborate on that?
My parents still live in the house I was raised in. They never moved, it's still there. I always had a place to run home to. I still have it if I need it. It's the only place I know. That's a really comfortable feeling for me to know that I have that place. Not everyone has that experience. A lot of people I know have lived in five or six different places in their lives, but my home is a house in Windsor on Scofield and it always has been that place. It's a very strong thing for me. It's my comfort thing. And it's not just that home, but now I have my own home with my kid and wife.
Are there any particular records you'd want to introduce your son to?
Tons. He doesn't like Neil Young yet, he doesn't like the voice, but I understand that. I started him on Rumours, Fleetwood Mac was a good start for him. Shovels & Rope he really likes, they're a band out of the states. Probably the first thing I'd want him to listen to might be The Flying Burrito Brothers. I'd want him to know all of their catalogue. That would be my pick for him. I think lyrical content and musicianship is probably unmatched for me with those guys.
If years down the road he turned to you and said he wanted to started a band of his own, what kind of advice would you give to him?
That would be a tough one. Pick the right people to play with is one thing. I'm lucky enough that the two guys I travel with are best friends of mine now. We get along really well. It doesn't always happen that way. You can get in with people you don't like. I guess my advice would be, be friends with the people you're working with, cause if you're going to travel in a band together that's the only way you're gonna last. We've only lasted this long because we get along. I think the thing that breaks up most bands is they just can't stand each other. So be buddies with the guys you're playing with for sure. It will make the music better.
This time around you guys worked with an outside producer for the first time. What was that like?
It was interesting because we'd never done it. We were a little nervous about it. I can say that I was, because you're relinquishing control to someone else. But it worked out to be a really great thing having that fourth voice. If we didn't agree with each other, there was someone else who could make that decision and add input on it. Ian [Blurton's] an amazing producer. He really crafted the skeletons of the songs we had into something cool. When we first went in we were like "are we gonna be able to do this? Are we gonna be able to work with someone else? Is he gonna understand it?" But he really did. We would play a song a certain way and he'd be like "a little bit slower. Why don't we change this part? Move this chorus to the back." He really got his hands in there. I think he made the songs a lot better.
You recorded the album at The Tragically Hip's Bathhouse Studio. How would you describe the environment there?
I would advise any and every band to go to [Bathhouse studios] to record. The situation there is that you live in the house. You live upstairs, and then the downstairs is a studio with guitars and amps and keyboards. All the toys you could imagine. You really get immersed into the process. It would have been difficult for us to have done this record if we just went into the studio every day, and then went home. Everything you need is there, so you're always in the project. You never really leave the mind space, which I think really helped us.
What song in particular proved to be the most challenging to record?
Oh wow, there was a bunch. One of the most emotionally challenging ones was the first song "Little Ones." The day we were recording it, we found out that a friend of a friend's child had passed. We got this text in the morning saying "thank you so much for the music," and he explained that his son had been ill and that our records had been part of his healing process. That's a heavy thing to hear. The subject matter of that song is watching kids and trying to warn and protect them to stay young. We had to do vocals that day, and it was in the back of our minds while we were recording. I think it lent heavier emotion to the song, than what would have been there if we had not known that. It was a pretty wild experience. That was the hardest one emotionally for sure.
How autobiographical is the album?
It's the most autobiographical of all the ones we've made. It's pretty much our own stories. For the most part we make music in the third person. We mine historical events, and write stories about other people and other things. But on this record we decided to try and use our own stories. The stories are ours. They're stories of us growing up and our views of what it's like to get old and miss being young. I'd say it's purely autobiographical.
How do you go about retaining that youth from adolescence?
You know it's funny, we do a job that's kind of childish so there's that. When we're working and traveling we get to have a lot of fun. I'm the youngest one in the band and I'm turning 38, so we're not by any means kids anymore. But we're still experiencing things. We have kids to keep us young now too. Not everything is about us anymore. It's about them. To me, staying young is trying to keep up with my kid, which proves that I'm old cause he's fast and I'm slow. I don't know if there's a way to hold on to it. I'm a very nostalgic person, so this record was perfect for the stuff that I had in my head.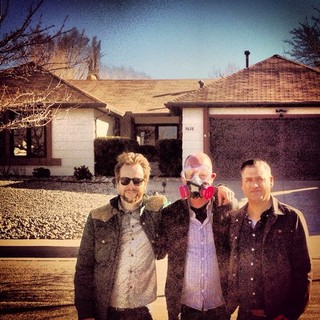 "Nothing Left" starts off sounding like a bit of a party song, but it's actually quite sad.
Yeah it's the end of a party song. That's Mark's song, and that's basically a breakup that's not gonna get better. It does have a jumpy, happy feel to it, but lyrically it's the end of a relationship. It's that moment you realize this is not gonna happen. Everyone's probably hit that point. Hopefully it only happens to everyone a couple times before they get the person they stay with, but sometimes it happens more than not.
Out of the songs that you wrote for the album, which one is your favourite?
I really like the last song "End of the Day." It's a simple song. There's not much to it, and it's right at the end of the album. It's from a specific time that I remember sitting at a hotel in Denver, and just being completely depressed with everything that was going on. We weren't gonna be leaving the hotel for two days. We were stuck at the side of this highway. It was raining, and it was just the loneliest I'd ever felt. A lot of shit was going on at the time. I'd written the song thinking nothing would ever happen with it. We listened to the demo by chance, and they were really excited about trying to do something with it. I really liked the way it worked out. That's one of those songs where the demo was completely different from how it worked out on the record, and I think on the record it's how it should have been the whole time. [The song] would never have happened had it not been for other people giving input, and turning it into what it was.
You guys lent "Jigsaw Heart" to the Homegrown National Park campaign. I'm curious to know why that particular project speaks to you guys?
We get to travel through this country. We see the beauty of the surroundings. Not only in our country, but all the places we get to go. I think it's important to build the awareness of green spaces, especially in big cities. I live right across from High Park in Toronto, so I have access to large green spaces. I want my kids to have that too. We're looking down the line now. It's not just us anymore. We want our children to have a healthy planet as well. I have a daughter coming in two weeks as well, so I'll have two kids soon. I want them to have the kind of spaces I've seen. I've been lucky enough to go to a lot of our national parks and green spaces in this country, and I want them to still be there.
You mentioned that you have a daughter on the way. What are the feelings like at home right now?
It's a little intense with Christmas and everything. We're due on the 19, and my son's birthday is New Year's Day, so it's going to be a very busy season for the rest of our lives. It's exciting. We have a tour coming up at the end of January, so I'm going to be away which will be difficult. I'm a little nervous. I know how to take care of a boy, but a little girl's gonna be more intense for me. I'm gonna want to protect her even more. There's that saying, if you have a son you have to worry about one asshole, but if you have a daughter you have to worry about millions of assholes. That's where my head's at right now.
Aaron Morris is a writer living in Toronto - @aarmor12