Yamantaka Eye Is Bringing His CIRCOM Project to Australia For the First Time
We spoke to the Boredoms leader about his improvised laptop circle that is one of the highlights of the 2015 Dark Mofo program.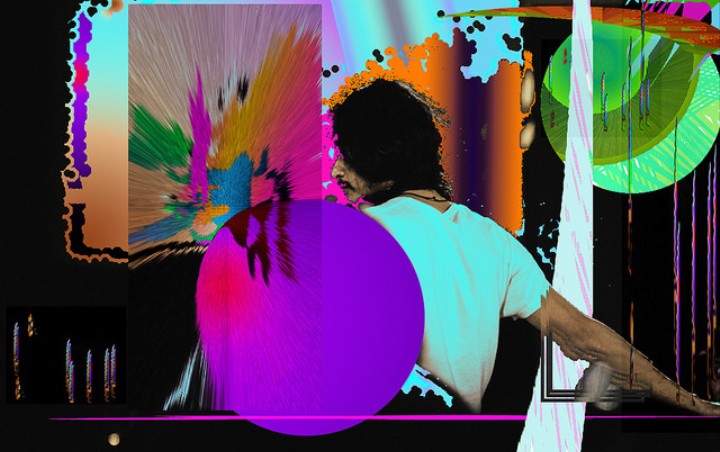 The Australian premiere of iconic Japanese musician Yamantaka Eye's EYE: CIRCOM is one of the many highlights on this years Dark Mofo program.
The driving force behind Japanoise icons Boredoms, Eye has been a vital piece of the global experimental music scene for over 30 years and latest incarnation CIRCOM takes his role as conductor into new territory, directing a circle of laptop wielding participants using an entirely improvised sequence of specialised hand signals.
Dark Mofo and it's weird and curious mix of music, art, theatre, food and nude swimming has become one of the Isle state's leading cultural attractions. Highlights of this years festival (June 12 – 22) include the opening of Mona's new exhibition Private Archaeology by Marina Abramović; British award-winning torch singer Antony and the Johnsons performing with the Tasmanian Symphony Orchestra; Rhode Island sludge metal duo The Body and Melbourne's favourite drone-driven guitar trio My Disco.
A versatile yet instantly identifiable mixed-media artist, Eye is an appropriate addition to the Dark Mofo bill. He's curated annual live mixed-art projects and has had one of his bands banned from performing in Japan. The guy has been known to play live with an earth excavator.
Following on from Boadrum, his synchronised drumming circle project, CIRCOM sees Eye leading a group of musicians and non-musicians using laptop computers through the Jo, Ha, Kyu - a traditional Japanese three-act structure.
We spoke to Yamantaka (via translator) to find out more about CIRCOM.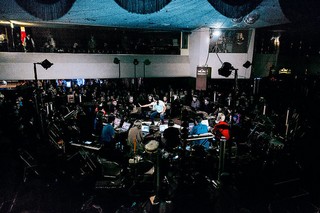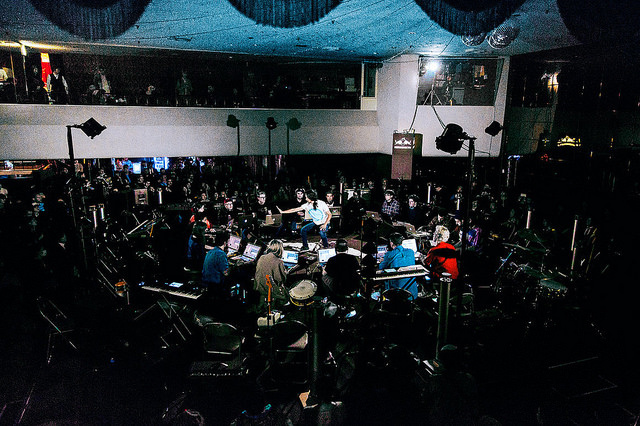 VICE: Did you get the CIRCOM idea from Boadrum?
Yamantaka Eye: I think it is connected with Boadrum. Boadrum was a vortex and it is autonomous. CIRCOM is dependent on the signals from the centre, so I am thinking that I may think a little more about the relations between performers and the automatic progress itself. For example, listening to a sound of a flow of river, and putting a stone in the flow and feel the change of the sound. I hope to be able to conduct like this.
Why do you use Jo, Ha, and Kyu? What does it mean?
I don't think I am trying to conduct with Jo Ha Kyu method in particular, but I hope it would become so as a result. Jo Ha Kyu was suggested as a concept originally. I don't know if it became Jo Ha Kyu as a result, because Jo Ha Kyu is a broad definition. This time at DARK MOFO will be also improvisation, so I don't know if it would be Jo Ha Kyu or not. Jo Ha Kyu is the progress method of Japanese traditional arts, like Noh.
Why do you use so many different people in the project?
When many people try to make the same sound, the sound is unable to be the same and the fluctuation occurs. I may have the feeling that I want to look at yonder of the resonance.
How do you choose the participants? Why are some non professional?
People who I meet at first time on the spot would be suitable. [Performing for CIRCOM] is really easy, for example, taking a slow breath simply. I think it is a similar approach to that, so it is kind of difficult to stick to the general idea of a professional for this project.
Why are laptops important?
It is not important to use laptops. Guitars are fine too, but I wanted everyone's default similar to some extent, too see what fluctuations will come out. I want to create a position where individual difference will come out naturally, so I have chosen laptops as each participant has the same software and sinewave.
What do you want the audience to feel?
If you meet an unknown language, what will you feel? I hope the audience will be able to have diverse interpretations.
DARK MOFO. June 12 - 22: Tasmania
Marina Abramović: Private Archaeology
Antony and the Johnsons with the Tasmanian Symphony Orchestra
Anthony McCall
Patricia Piccinini
Peter Hennessey
City of Hobart Dark Mofo Winter Feast
Blacklist
Wild at Heart
Bompas and Parr
Remote Nature Response: Ash Keating
Dark Park
The Hothouse
Fire Organ: Bastiaan Maris with Duckpond
Bass Bath: Byron J. Scullin with Supple Fox
Pallbearer
The Body
Oake
The Irrepressibles
Brous
Orlando: THE RABBLE
The Witches by Roald Dahl: David Woods + Luke Jeffries + Guy Edmonds
RBMA presents EYE: CIRCOM
My Disco
Kusum Normoyle
Jake Blood
The Preatures
Klo
Tiger Choir
Gareth Liddiard
King Dude
Laura Jean
Ogoh-ogoh
The Witching Hour (Midnight concert series)
Helen Gillet
Nick Tsiavos
Calvin Bowman
The Discovery Orchestra
Giidanyba: Tyrone Sheather
Radiant Heat: Lucy Bleach
Angry Electrons: Jason James
Dark Mofo Films
The Kettering Incident: world premiere
Allison Bell with members of the Tasmanian Symphony Orchestra
Envelop(e): Julian Day, Mick Harris, Jason James, Elizabeth Veldon, Christina Kubisch, curated by Matt Warren
Unconscious Collective
John Kelly: Beyond Woop Woop
Laundry of the Terminal Psyche: Douglas McManus
Nude Solstice Swim
Funeral: The Guerrilla Museum
Ashes to Ashes: curated by Scott Carlin and Lana Nelson, photography by Angela Waterson
Dark Mofo and RBMA presents EYE: CIRCOM + My Disco + Jake Blood + Kusum Normoyle. Friday 19 June, 7.30pm at the Odeon Theatre, Hobart.
Tickets for all Dark Mofo shows available Monday 20 April from darkmofo.net.au.