Listen to Barcelona's Belgrado and Their Chilled Post-Punk
With songs sung in Polish the new album mixes post-punk, with traces of dub and minimal synth.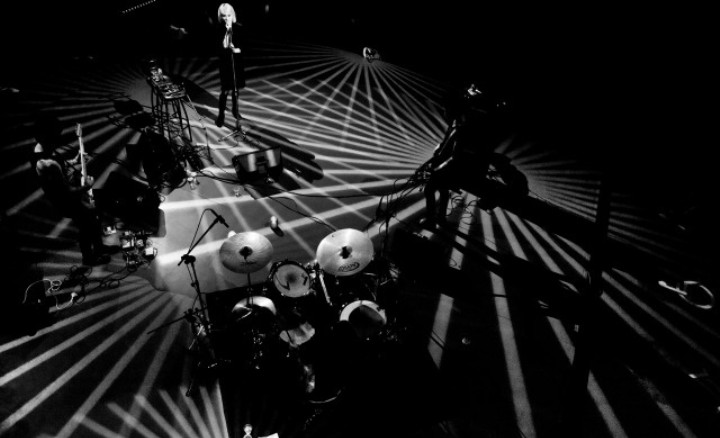 Image: Mateus Mondini
Presenting music that's colder than a Serbian February, Barcelona post-punk band Belgrado have digitally released their latest album Obraz.
The physical album, to be released in August on La Vida Es Un Mus, includes a 28-paged illustrated booklet with collaborate artwork between Camila Dunster and the band's Patrycja Proniewska and Jonathan Sirit.
Patrycja, who was born in Warsaw, sings mostly in Polish and the new songs mixe post-punk, with traces of dub and minimal synth.
According to a statement on their Bandcamp:
"Obraz is a deconstruction of reality to its basic forms and most primitive elements. The starting point after maximum destruction. A reconstruction towards a new reality. The world of images and a thousand spectacles, fragmented, dismantled and reassembled. Dynamism, rhythm, energy and movement. Creative sense over technique. Reality is a construction that we ourselves create."
The band have toured heavily though central Europe, South America, and this August head out on a Mexico and US tour kicking off with an appearance at the Texan dark punk and post punk San La Muerte fest.
Belgrado USA/Mexico tour 2016:
Aug 6 – San Antonio, Texas / San La Muerte Fest III
Aug 7 – Monterrey, Mexico
Aug 9 – San Luis Potosí, Mexico
Aug 10 – Colima, Mexico
Aug 11 – Guadalajara, Mexico
Aug 12 – Ciudad De México
Aug 14 – Los Angeles / Berserktown III
Aug 15 – Santa Rosa, California
Aug 16 – Oakland, California
Aug 17 – San Francisco, California
Aug 19 – Pittsburgh, Pennsylvania
Aug 20 – New York City / Nowhere to Run Festival
'Obraz' will be available via La Vida Es Un Mus in August.