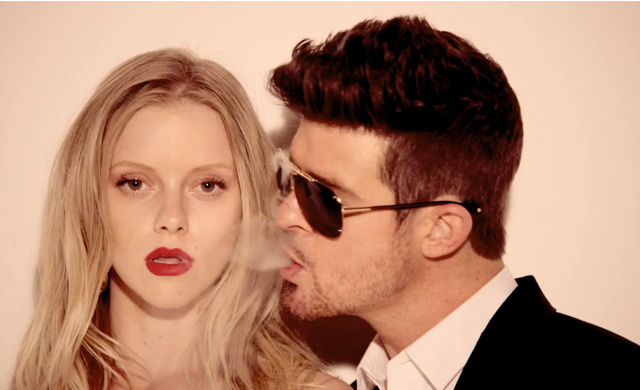 Thicke's spent this year carving a tidy niche out for himself as the most popular creep in music.
Image via
Last month Tyler the Creator came to Australia and the whole country descended into a writhing pile of outraged feminists screaming for his misogynistic blood. After a short tour he went home, everyone's out of touch sisters said, "thank goddess," and we all stopped talking about sexism in hip hop.
Personally as a woman who loves calling people women haters, I didn't see what all the fuss was about. I like Tyler, and I think that if you take the time to listen to any rich 22-year-old talk you'll probably be pretty horrified. If there was any lesson to be taken away from the whole situation it's not about sexism, it's about letting Tyler the Creator have Twitter.
Although the Tyler controversy has blown out, it still shows that there is nothing easier to call sexist than hip hop. The plethora of "bitches" and "hos" in the music lyrics alone it a pretty easy target, but the reality is no one loves women more than hip hop artists. Sure there are a lot of semi-naked girls in their clips, but those clips are love letters to asses and boobs. There is no where else in music that you'll see that much junk crammed into a pair of denim cut offs and worshipped like the Virgin Mary.
In contrast Robin Thicke puts on a tie and sings about "having a little Thicke for you/ a big kiss for you/ I got a hit for you" in a Michael Buble croon and we play the music at blue-light discos.
Thicke's spent this year carving a tidy niche out for himself as the nicest creep in music. When the original video for his song Blurred Lines was banned from YouTube for being too salacious it shouldn't have come as a surprise considering it had already been described as the "new rape song" by bloggers such as Lisa Huyn.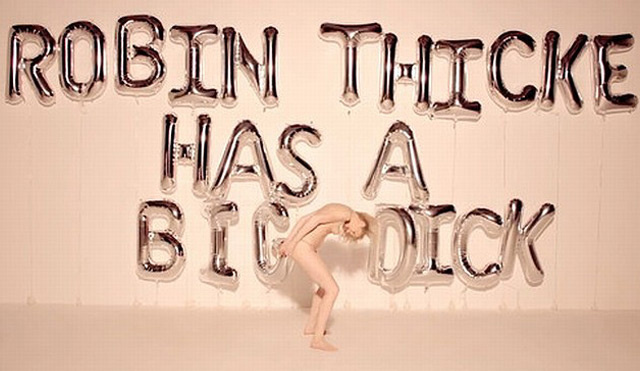 A still from the Blurred Lines video
When talking to GQ about the clip and it's resulting controversy he joked about its degrading nature. "Because all three of us (Pharrell Williams and T.I) are happily married with children, we were like, 'We're the perfect guys to make fun of this.'"
Although the interview was obviously intended to be lighthearted, the suggestion that if you're married then it doesn't matter who you push your dick against in a video is undeniably creepy. Thicke continued the charm dump with, "What a pleasure it is to degrade a woman. I've never gotten to do that before. I've always respected women. So we wanted to turn it over on its head and make people go, 'Women and their bodies are beautiful. Men are always gonna want to follow them around.' "
Thank you Robin for finally tossing aside your oppressive respect to give the xx chromosomes the physical appreciation we've craved for centuries.
If you're still feeling a little grimy take comfort in his claim that, "The only reason to hate it (the video for Blurred Lines) is because you don't understand why that is funny or fun. It's like going to the Louvre with your 10-year-old and asking why they have all these breasts on the wall and would they take it down."
Despite the number of bloggers squirming uncomfortably at the songs, Thicke is going from strength-to-strength. When he was in Australia recently he was even invited to perform Blurred Lines at The Voice Grand Final.
It seems Australians don't like mouthy 22-year-olds "misogynists" in our country, but 2.3 million of us will happily tune in to one in a suit on primetime TV.

Follow Wendy on Twitter: @WendyWends