Flip Out Over Dry Finish's 'String Me Along'
The Sydney band's debut cassingle will be available this weekend at the second annual Nag Nag Nag festival.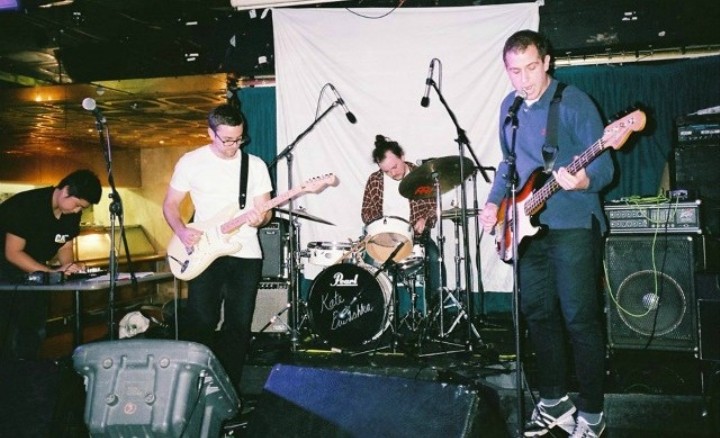 Image: Carmen Juarez
A foreboding "Ha Ha Ha Ha Ha Ha" rings out over agitated synth and mumbled shouts on "String Me Along", the a-side to Dry Finish's debut cassingle.
The menacing cackle is perhaps more than a nod to punk legends Flipper's track "Ha Ha Ha" from the classic 1981 Love Canal EP. Some members of Dry Finish are also involved in the Flipper-inspired Flippered and all members seem to share an affinity for combative and damaging rock and roll.
The five-piece, who have been involved in Adults, Roamin Catholics, Point Being, and Video Ezy formed in Sydney in early 2015 as some members were 'between bands'.
Their debut cassingle has just been released on Sydney's Paradise Daily label. Unfortunately one of them is soon moving to the land of poutine and ice hockey violence but not before Dry Finish play some upcoming shows including supporting UK songwriter Dan Melchior and Sydney's second annual Nag Nag Nag festival.
Listen to the A-side "String Me Along" which the band explains is a song about modern rigours. "When you are lead through a series of circumstances which aren't based in any reality, it's exhausting, combative and damaging. 'String Me Along' talks about this unpleasant space. The riffs are disjointed and agitated: like when someone you don't want to see is in the same space as you. We didn't plan it, but structurally, it's very repetitive – we're prone to repeating the same mistakes."
The cassingle is available on through Paradise Daily and the second annual Nag Nag Nag festival.
Nag Nag Nag 2
Friday Jan 15 at the Red Rattler
Terrible Truths
Rites Wild
Ela Stiles
Aloha Units
Tim & The Boys
Delivery Boys
UTD
Sat Jan 16 - Marrickville Bowling Club
Deaf Wish
Lower Plenty
Bed Wettin Bad Boys
Terry
Exek
The Rangoons
Clever
Bitchratch
Sex Tourists
Dry Finish
LA Suffocated
Flippered
Mullumbilical Bros DJs rave set +
DJ Clenbot/gregy91
Dry Finish are also supporting Dan Melchior Feb 19 at the Chippendale Hotel.