Diarrhea Planet Named Their Band Diarrhea Planet
And it was actually better than their original name.
One of the most difficult tasks when forming a band is coming up with a good name. There is some protocol to follow. Think of something original. Think of something that will stand out. And think of something that won't jeopardize your chances of becoming the biggest band on the planet (see U2). The guys in Nashville, Tennessee's Diarrhea Planet kept those first two rules in mind: An original name? Check. Stands out? Double check. Chances of outselling U2? Umm, no. Not everyone is open to music by a band whose name suggests an intergalactic ass explosion. But a funny thing seems to be happening. Thanks to a tight-knit Nashville scene that includes JEFF the Brotherhood, Turbo Fruits and Pujol, Diarrhea Planet seem to be beating the system by becoming a certified buzz band. With a brand new album, I'm Rich Beyond Your Wildest Dreams, now out, this four-guitar-led rock crew are out to prove that you can't judge a band by its supremely disgusting name.
Noisey phoned up vocalist/guitarist Jordan Smith during some off time from playing gigs and making pizza pies at Papa John's to discuss what else? That name of theirs.
Noisey: Where on earth did the name Diarrhea Planet come from?
Jordan Smith: We all met at Belmont University, which really focuses on the commercial music industry. The music school is for those who want to be John Mayer or Jessica Simpson, those sorts of people, or singer-songwriter types. And then there's the music business school, which is real serious, for those in the music industry machine. Nashville really seems to despise anyone that comes out of that school for the most part. I met a guy there named Evan Donahue, and we seemed screwed from the get-go so we just decided to start a band that would be the most obnoxious, unlistenable we could think of. Just make feedback and scream over the noise, rip off our clothes and throw up over people and stuff.
Sounds great!
Yeah, yeah. We wanted to be the worst band ever, that was our goal. And so we picked the name Diarrhea Planet because we thought it was hilarious. We wanted a name that could never be cool, was kind of perverted, and totally immature.
What other names were you considering?
The original recordings I had made were under the name The Don Knotts Bowel Movement.
I love Don Knotts! I used to have a Don Knotts T-shirt…
I love him, he was my hero. I made a bunch of different stencils and made shirts with all of his different characters. There were other names. I'm working on a new project at some point called The Shocking Boobs. There was The Silent Leathers. I feel Diarrhea Planet was the second name we came up with.
I read a story about losing a bet to Wavves and then you had to use Diarrhea Planet as a name. Was that bullshit?
Oh, totally man. Because we've told the story so many times, we sometimes make stuff up. I've had some actual brain farts which ended up becoming far-fetched stories. Like, we met Joe Perry and we joked about naming our band this and he thought it was a great idea. The Wavves thing we've been throwing around because we had a really funny run-in with that band in Nashville a few years ago and we've always enjoyed name-dropping them.
Why haven't you done any artwork or merch depicting that name of yours?
There actually was a T-shirt made that was sold as a limited edition run, and it was the first ever Diarrhea Planet shirt made. I wanted to print it but the band chickened out. It's a drawing of a punk with his pants and underwear pulled down, and he's shoving his fist up his butthole and there's poop running down his hand and his hand is coming out of his mouth flashing the devil horns.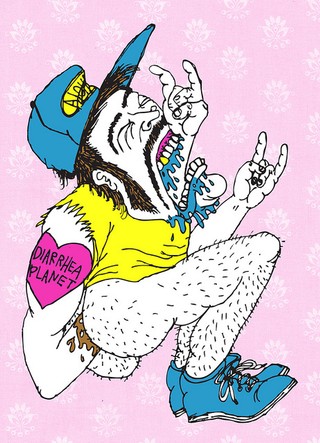 Any crazy concepts discussed about what a Diarrhea Planet would be like to live on?
If I had to say what a diarrhea planet would be like to live on, I'd probably say it would be close to what it's like living in New Orleans. But a little bit grosser.
I've noticed you call your fans the Planeteers. Why not the Diarrhetics?
Diarrhetics would actually be kind of funny because the medicine flushes you out and hydrates you. I don't know. I think somebody else called us the Planeteers once. I think it was the Nashville Scene, and we just adopted that and started calling our fans the Planeteers.
Your fan base has a nickname, which means you're just like One Direction (Directioners) and Justin Bieber (Beliebers).
Yeah… I just loved watching Captain Planet as a kid, and that had the Planeteers.
What did your parents think when you told them the band was called Diarrhea Planet?
Basically, I graduated from college and told them we were going to tour in a band called Diarrhea Planet. They thought it was ridiculous, and said it was so dumb. But ever since I was a little kid I thought potty humour was super hilarious. Though once it started progressing into something, and we quit our other "serious bands," because this was just supposed to be a fun band, they thought, "Oh, this is like a real thing." So, their initial reaction was that it was dumb, and now they love it. My mom and dad now both love the name.
Have you ever covered the "Diarrhea Song"? (i.e. "When your sitting on a mountain and your butt becomes a fountain, diarrhea")
No, I actually forgot about that song until now. We could definitely work that in at some point.
So who in the band has had the worst diarrhea on tour?
There have definitely been times where we'll eat somewhere and then everyone will fight over the toilet because we all have diarrhea. On tour you learn which ones will and won't give you diarrhea.
What is the worst city for getting diarrhea?
Probably New Orleans! The weather there is so oppressive. It's so humid I literally thought I was walking through diarrhea. Brown misty air. Everyone's plastered with sweat and covered in dirt. It's just so gross there.
Damian from Fucked Up told me the band's name has prevented them from certain opportunities. How has having the name Diarrhea Planet screwed up your chances?
Oh yeah, totally. What's really funny is that we were looking for a booking agent for a long time and the first one our manager hit up was Fucked Up's booking agent. I thought we needed a guy who wouldn't be afraid of an offensive band name, and Fucked Up was the first band I thought of. So I looked him up and Colin reached out but he said no. He said, "If you guys have a different band name." And I just thought, what?! You can't even say their name on the radio! So we got turned down by John Chavez. But yeah, we'll read about something on us and all they focus on is the name. They never talk about the music. [Editor's note: Sorry!] Occasionally people won't even give us a shot. Promoters might not book us at a venue. But for the most part I feel like they're starting to get over it. You have to admit though, if we ever became huge it would be the ultimate prank. Like for a kid to walk into Walmart and ask his mom to buy him a Diarrhea Planet CD for him.