Feedtime Step on The Gas: The Cult Sydney Band Return With Their First Album In 20 Years
Listen to an exclusive stream of feedtime's new album 'Gas'.
That feedtime's first album in 20 years is called Gas makes sense. In Sydney, in the mid 80s, Rick Johnson, Al Larkin and Tom Sturm (back then going by first names only ) wrote primal noise rock that involved pummelling bass, distorted slide-guitar, thudding percussion and almost grunted vocals. Songs such as "I Wanna Ride", "Motorbike Girl" and "Pumping a Line", were as dirty and gritty as a rag stuffed into a motorcycle fuel tank, and their low hum, rumble was built around momentum and torque.
The name Gas was inspired from Rick watching his brother-in-law driving a truck during a visit to his property in Canada."He was really giving it the gas, driving around and chucking up mud everywhere and creating havoc," he explains during a recent phone conversation.
"I thought about terms like 'stepping on the gas' and 'giving it the gas' and wrote down some words for a song. But when it came to singing I didn't mention the word once. I realised that you don't need to 'give it the gas' or 'ride the gas' you can just ride it out. So we kept the name."
Not that feedtime are ready to ride out to pasture just yet and the new album, recorded by Mikey Young and available on In the Red on April on April 7, still has plenty of grunt.
During the 80s the classic line up released four albums and a clutch of singles before their initial dissolution in 1989. An offer to play SS Records' San Francisco anniversary showcase in 2011 and Sub Pop reissuing the early albums as a box set built momentum for a US tour and more shows. The band started writing enough new material for a new album that became Gas.
Stream the album below and read an interview with Rick and Allen.
Noisey: It must be exciting to be back with a new record with the original lineup.
Alan Larkin: It is. We started playing again with the 80s lineup after the SS Records. We weren't looking too far into the future but after the US tour we started writing new material and playing and rehearsing and ended up with a whole bunch of new songs. It's really edifying to have somebody interested in putting it out.
Rick Johnson: We feel really good about what we've done and there has been a couple of breakthroughs sonically. I can't play some of the songs like I used to because my little finger won't bend and I've had to go into the realm of slide guitar and investigate that and keep very simple chord structures and work around the tonality that you can get.
How do the new songs align with your previous material?
Rick: I don't think it aligns necessarily with any of the previous four albums from the 80s. There was a transition and development in how we were making music and I think when we got back together we picked up on that. With the new album we were basically doing what we did in the 80s and developing new ways of doing a very similar thing. I think we've pushed our boundaries a little bit more and created stuff that we couldn't have done in the 80s and that's really exciting.
You are not about nostalgia.
Alan: We've never been into the nostalgia thing. We stared playing again to support the Sub Pop box set and then did the trip to America.
Rick: We recently played at the Newtown Social Club and some people could identify with the style from the earlier days and some people couldn't understand that they were the same songs but just changed ini the way we play them. But elementary things like "I Wanna Ride" you can't muck around with that but something like "Paint it Black" you can put new tonalities into it. It really blasts through at a certain level. What's wonderful is the stylistic methodology is a rumbling rhythmic excerise. Scott Soriano from SS Records described feedtime has having released a whole bunch of singles on an album. He called it a 'neat trick' but we didn't know any different.
I really like "Shovelhead". What is that song about?
Rick: That song took me three years to write. It was probably the first song I've written that's not about trying to get rid of pain. It was a new approach and when I finally found the essence of the song I fell out of my chair and I cried because it broke something inside of me. I never knew that I could write a song that made me feel happy. The attitude was not that I was writing to get away from pain but I was writing because I was liking it. (laughs) That was news to me.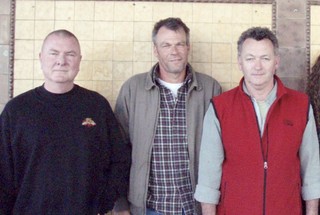 People forget that there are two songwriters and two vocalists in the band. How did you approach the record as far as sharing material?

Allen: We basically come to rehearsal with whatever ideas we have, thrash them out and Tom adds his input on drums. Rarely does a song come out the same way. Just like the album it was basically a live take with vocals being the only thing added after. And if we play any of those songs live they may never be the same note for note but the feel, intensity and meaning is there.
Rick: It's interesting how people hear our music in different ways. A friend has a Masters in the Philosophy of Music and is a jazz singer and she appreciates feedtime similar to the way she appreciates John Cage. It's more in the grittiness, tonality and the energy of it. I have an acquaintance who likes feedtime and who also has epilepsy and her neurologist has prescribed listening to feedtime rhythms to help with her brain patterns. This interests as I would never prescribe feedtime. (laugher)
But you are still described as 'misanthropic noise makers'.
Allen: A lot of people who hear loud and repetitive music that they don't understand would think of it as boneheaded. But if they got past that initial feeling they would realise that the songs have had some fantastic lyrics over the years.
Do you find it surprising that some of your biggest support has come from the United States?

Rick: I'm astonished at the degree of respect people have maintained for feedtime. Tom Hazelmyer [Amphetamine Reptile Records] is considered a guest of ours because he gets it over in Minneapolis and people like Scott at SS Records, Sub Pop, Larry at In the Red and many others still have respect for feedtime and for what has gone before. There's a lot of feedtime heads getting around the place and they are just quiet people who like that we are back up and running.
Did you feel an affinity for other Aussie bands like Lubricated Goat, Venom P Stinger, The Scientists and early Cosmic Psychos who were also getting some US attention back then?
Allen: We were aware of bands like Lubricated Goat and Cosmic Psychos, crossed paths on occasion but we were never really apart of any of music scene. We basically did things our own way. A lot of bands just link in with the scene and wait for the big break. Whereas, we never intended to have a career as musicians, we just wanted to get together, have a good time and express our thoughts with words and music in the way we wanted to.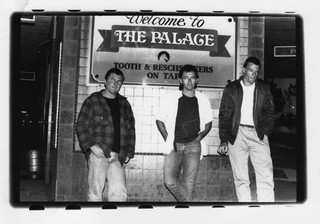 I read that you knew what was going on but you didn't feel part or attached to any particular scene.
Allen: We probably weren't that welcome anyway. If you're a punk band in the 80s in Sydney, you've got a certain way of looking, a certain way of playing. Your name, your logo and graphics would be of a certain style. We were against that. A lot of people just didn't know how to take it.
And are there any favourite track from the new album?
Rick: One that gets me tearing my head off is "Fifty Eight". It's one minute and 48 seconds of demented joy. I just replay it over and over again. It's like when I first heard Ramones. I want to play it at my funeral. And some of the stuff that Allen is so bloody powerful. And Allen I don't want to embarrass you here but some of the texture of the vocals and the delivery still shocks me.
Allen: One I really like is "You Don't Mind" the last track on the first side. Tom is playing mouth organ and it takes the song to a different place. It's great how you can be playing and playing the song, and then something clicks. You can listen to that track and the harmonica comes in and takes it to a whole new level. Every track on there has something special happening.
'Gas' will be available April 7 on In the Red.