Premiere: Bitchin Bajas' New Track 'Planete T'
Step into the Chicago trio's aural flotation tank.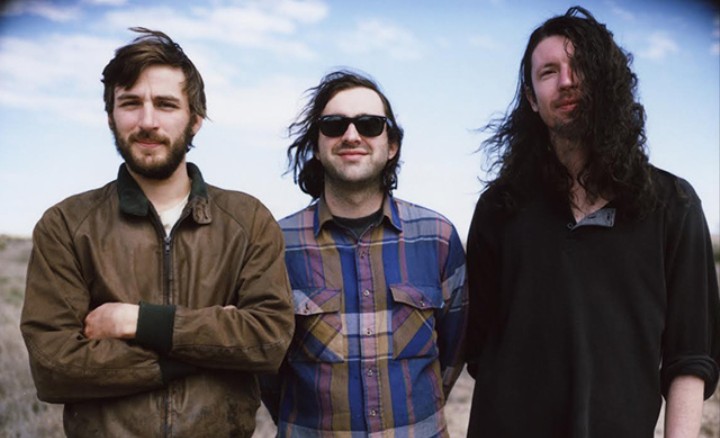 Image: Alex Marks
Bringing to mind Coachella bros who catch up midweek for some brews and "sick guitar shreddage", Bitchin Bajas' name sits out of place from the relaxed and atmospheric long journeyed instrumentals found on their latest album Transporteur.
Formed in 2010 by CAVE's Cooper Crain, the Chicago three-piece produce warm and melodic ambient music that mixes minimal 60/70's electronic with original acoustic elements. People have mentioned Krautrock, and those people would not be incorrect in descriing their sound, but the six-minute "Planete T" from the upcoming album, has a feel of underwater floatation. A world of tiny air bubble streams and small angel shaped fish.
We sent Cooper some questions to find out more about the new album.
Noisey: The album is called Transporteur and is coming out on a French label. Is there a French/European direction to the album or is this just coincidence?
Cooper Crain: The vehicle we used while touring Europe last fall was a Volkswagen Transporter van. It got us all around Europe safely and we started playing a lot of this EP on that tour. We figured since the record was released on a French label we would try and stick with that theme. The music is European influenced but also other themes and ideas were involved.
You collaborated with Olivia Wyatt for the score of Sailing a Sinking Sea, a film about the Mokens who live by the Andaman Sea. Is writing for film scores something you would like to continue?
I was working with Olivia on the sound design of the film for a while before we did the score, I was already pretty familiar with the project. When she decided she wanted us to add a score it was pretty quick. Within a week of asking she was flying out to Chicago to help us for three days on the score. We've done a few musical accompaniments in the past for films but it was always the videos being edited to the music. This was a more us trying to fill in the holes, the gaps and put music where it was needed. Working on specific themes from the Moken folk music and trying to play in the their tunings to help match the sound.

You've said that you would like to one day combine CAVE and Bitchin Bajas for one record or show. Is that any closer to happening?
This is not closer to happening. We share myself and Rob Frye between the two groups so hopefully one day, its still a dream of mine.
'Transporteur' is available May 4 through Hands in the Dark.