Courtney Barnett's Approach to Music is as Chilled as Her Plainspoken Delivery
We had a chat to the Melbourne songwriter ahead of the release of her debut album and national Australian tour.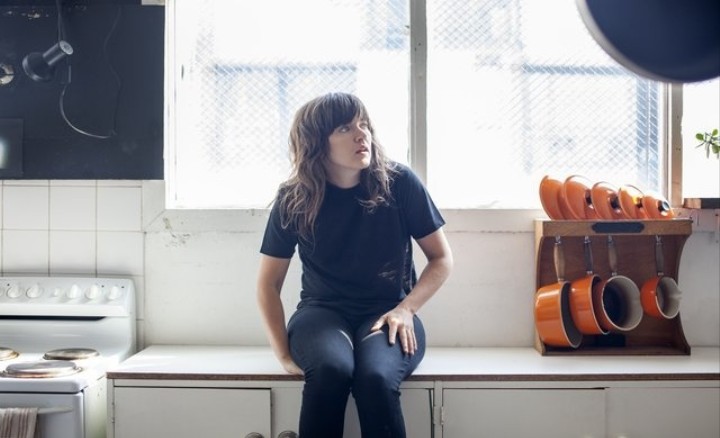 It's been a successful 12-months for Melbourne songwriter Courtney Barnett. She's appeared on Jimmy Fallon, won some awards and toured the US and Europe including a spot at Glastonbury. Pretty good going for a 26-year-old who has yet to release a proper LP. But the debut album is on it's way. Sometimes I Sit and Think, And Sometimes I Just Sit is due late March and will see Barnett heading out on a national tour that culminates in a hometown show at Melbourne's majestic Forum. It looks like 2015 is going to be just as busy for Barnett and her band.
But Courtney is a chiller. You get the feeling that she takes all this in her stride and her approach to music is as direct as her plainspoken delivery. She's been around too. First in the short-lived garage outfit Rapid Transit and later playing guitar in the twang-psych band Immigrant Union (which featured Dandy Warhols' Brent DeBoer). She also co-runs the small indie label Milk! Records who have released all her albums including the upcoming debut LP.
Following 2013's The Double EP: A Sea of Split Peas, which collected the EPs I've Got a Friend Called Emily Ferris and How to Carve a Carrot Into a Rose, the debut seems to be a more measured and true album, rather than the collection of songs released previously.
The imagery in many of Barnett's songs resonates with Australian listeners. A track on the new album, "Depreston" - a long time inclusion in her live set - tells of a couple "looking out further" when moving from Melbourne's inner north to a California bungalow in Preston. The home of an older woman who has died. Barnett couples, "It's a deceased estate" with "aren't the pressed metal ceilings great?" and "I see a hand rail in the shower" with "a collection of those containers for coffee, tea, and flour" and the song becomes easily identifiable to anyone familiar with the elderly and infirm or the old food recpteibles you find in share house kitchens.
While some may find these picaresque observations somewhat coy, Barnett has a proven ear for a clever turns of phrase and an eye for literate story-song details that has drawn early comparisons to Australian singer songwriting legend Paul Kelly.
Speaking on a sunny afternoon in between appearances at the Laneway Festival, Barnett chats about new songs, fame and Melbourne's grand old Forum.
Noisey: You are playing the The Forum on this tour. That seems a long way from your early gigs.
Courtney Barnett: It's a huge thing. It felt huge when I played the Corner. (laughs)
How does the Melbourne venue totem pole work?
It's probably works up from the Tote. That's kind of how it feels like. When I started out playing gigs year ago you would play all these small shows and the first goal after that was to play at the Tote. Then it was to get a show at the Corner. The Forum was the distant dream. We played with Something For Kate last year and it was incredible.
But this is your first time headlining. Even the architect and those the pillars are pretty impressive.
Yeah, Its' my favourite venue in Melbourne. I've always loved it.
Apparently it used to be a Christian Revival Centre back in the day.
Yeah I've heard awesome stories about it. A friend used to work there and apparently when it was taking over by the Christians they chopped all the dicks off the Roman statues. I laugh thinking that there may be a box of dicks somewhere in a back office.
While recently watching Angel Olsen perform I was thinking about her band on stage. They were great but the show was billed as Angle Olsen. It's the same with your band. They are an integral part of your sound and not some revolving cast of who is available.
I've always grappled with that and I've already get a very open conversation with the band and the boys [guitarist Dan Luscombe, bassist Bones Sloane, drummer Dave Mudie] are like "Yeah whatever we don't care' (laughs) The only reason really was the first EP was a lille project that I wrote and recorded in my room and when I recorded it for that actually realise I got a bunch of friends to play the other instruments. It's something that I've always thought about but then you have like Patti Smith and Jimi Hendrix Experience and then Paul Kelly and the Colored Girls or Paul Kelly and the Dots.
Speaking of Paul Kelly, much is said of the localisation -particularly of Melbourne- in your songs. It's something that definitely helps people relate to your music. "Depreston" continues on that. I like the image of the coffee machine.
Yeah it's about saving money by making your own coffee rather than buying over priced stuff from cafes. The song is also a lot about mortality. You know the old lady who used to own that house had died and it was a real circle of life type thing. And the lack of to buy a beautiful property for whatever money and then to knock it down to put up a block of flats. The value of property over memories.
Then the rockier "Nobody Really Cares if you go to the Party" reminds me of something that Tim Rogers and You Am I may have written back in the day.
Yeah I have been listening to a lot of You Am I and Beatles over the last year. I think the message behind that song is pretty obvious. The social peer group and pressures not like it's the end of the world but just this little moments of feeling like you are missing out on something.
Your success have been relatively quick but it seems that some people especially in Melbourne feel like they are part of your rise. They see you on American TV but you are still, "Courtney who I see down the street getting a coffee". It's like they feel part of your success. Do you know what I mean?
Yeah I get you. There are other local artists who I feel that for. I've had that same kind of feeling and it's a really nice to be able to enjoy that success and to feel like you are part of it in some small way.
Catch Courtney Barnett on the Sometimes I Sit and Think, And Sometimes I Just Sit tour:
April 24th - Hobart at Wrestpoint
​April 30th - Adelaide at The Gov
May 1st - Adelaide at The Gov
May 2nd - Perth at The Bakery
May 3rd - Perth at the Bakery
May 7th - Sydney at the Metro
May 8th - Sydney at The Metro
May 9th - Brisbane at The Hifi
May 15th - Melbourne at The Forum
May 16th - Melbouren at The Forum
Sometimes I Sit and Think, And Sometimes I Just Sit is available March 20 on CD, vinyl, deluxe double vinyl and digital through Milk!/Remote Control (Australia) and Mom + Pop (internationally).