Allie X: "I Don't Want to be Anyone's Bitch"
The elusive, Katy Perry-approved rising star opens up about insecurity, self-delusion, and her music as a science experiment and fantasy world.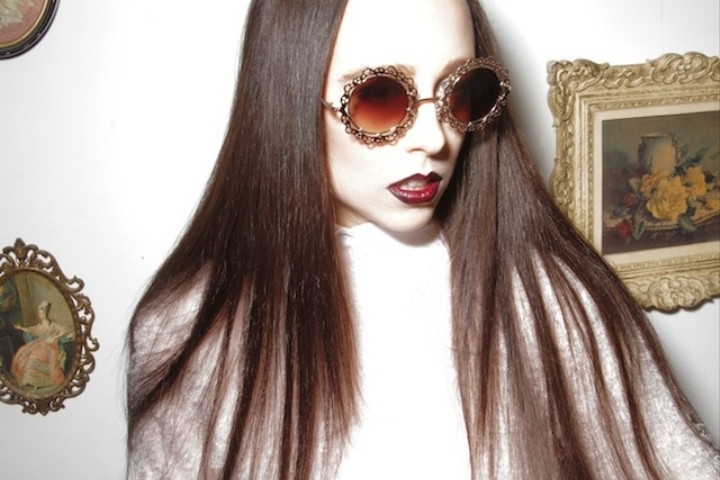 Allie X - "Catch."
"Writing songs is like a science experiment: you take this person's brain and that person's brain and put them in a room for hours and see what they make out of nothing," says Allie X between sips of a fizzy, green chlorophyll juice with chunks of aloe. It looks like she's drinking an actual science project. It also matches her fluorescent green-tipped nails. We're sitting along a bustling stretch of Beverly Boulevard on the patio of Erewhon Market, an upscale organic grocery store where we've just purchased $24 of liquid.
It's one of Allie's favorite spots which she discovered upon moving from Toronto to LA last July to work as a songwriter for a boutique publishing house. She's a fan of Erewhon's elixirs for their holistic benefits, which ties into the interest in health and medicine she's shown in her music. "I always feel drawn to medical themes. It's a really interesting relationship you have with a doctor. He's your pusherman and your god at the same time. It's all very personal but also clinical and they kind of have your life in your hands, depending on the situation," she says, explaining how the hospital imagery in her first single "Catch" came to be.
Tackling the dark side of medicine isn't a theme you often see in pop and her theatrical songs are both sonically and lyrically complex. "Catch" is packed with vintage synths and densely layered vocals, whispers, and gasps, but its greatest instrumental feat is Allie's breathing: she subs an exhale for the cymbal on the chorus. You wouldn't guess by listening, but the classically trained vocalist and pianist actually has trouble breathing deeply. "I struggle with anxiety," she explains, stopping to pause between each word to make sure it's the right one, and in doing so, ironically coming across as zen-like and composed. "Writing a song is really just a mind-fuck. You have to get past those demons in your head."
The beauty of Allie's work is that as much as there's darkness lurking, the melodies and rhythms are bright and catchy enough to draw in those who want to take a pop song at face value. The themes may be heavy but her music could easily slot next to Katy Perry's aspirational anthems. In fact, Katy Perry is a big fan. Shortly after "Catch" dropped, Perry tweeted out Allie's song, which, with Perry's record-breaking 52.6 million followers, is a killer endorsement for any pop aspirant.
"I was so taken aback," says Allie, speaking of the Tweet. "She didn't actually put my handle in her tweet so I didn't see it at first. It was her fans who were like FYI Katy Perry just tweeted about you. I clicked on her tweet and she said she was obsessed with my song and then she had little emojis that were a little pill and syringe, which was so amazing because I was like, 'Oh she really listened to the lyrics.' My heart started beating really fast and then I screamed." Given Allie's hushed speaking voice, this is a clear indication of how much the moment really meant to her. The singer reveres Perry along with Gaga and Kanye, and while, with only two songs out— "Catch" and "Prime"—she's still gaining a foothold in the industry, the twenty-something singer already has the requisite perfectionist complex to truly excel in the pop arena.
"It's necessary to believe in yourself to the point of delusion," she explains without a flinch of sarcasm. "If someone wants to make it as an artist you need to be able to project a fantasy that you're working towards and to do that you need to believe that you're good at it. I'm as insecure as I am delusionally confident. It really does go both ways. I think it's 55% delusional confidence, 45% crippling insecurities."
The insecurities Allie deals with in songs like "Prime—which she refers to as "a self-destructive jaunt"—lend her music a genuine outsiderness rarely felt in pop. Through her songs, she wants to speak to people who feel marginalized and she explains that the "X" in her name is a nod to this. "Prior to this phase of my life I always thought my feelings didn't add up in these formulas I was taught by my parents, teachers, and friends. So bringing an X into the equation made things start to make sense. I want to provide a world for people that don't otherwise have a world… a world for people to go to."
Right now, with her escalating popularity, she's having a kind of high school reunion moment. Before Katy Perry's tweet, Allie was brushed off by labels, but now they're clamoring to sign her. So far she's refused all offers, instead she's keen to explore the advantages of self-releasing. "The music industry is changing and I want to be part of revolutionizing it—I don't want to be anyone's bitch," she says, adding that she thinks artists have more power than ever before. "The internet has given everyone means to be self-sufficient and creative."
It helps that Allie has a killer team around her, like photographer Logan White and stylist Krissie Torgerson who helped her create the striking GIFs she released with "Catch" and "Prime." In person, she's styled to the max in a loose-fitting black dress, a mint blazer, eggplant-colored fedora, gold creepers, a vintage cross brooch, and a pair of hexagon-shaped sunglasses which she keeps on throughout our conversation. She clearly takes clothing seriously and considers her future-goth style to be an extension of her musical aesthetic. Although she does have a few hurdles to overcome: "I've always dressed to hide my body," she reveals. "I haven't always been petite. I've had a lot of different bodies over the years, I feel like that's the medical thing, but I'm getting over that now."
Her candidness about her insecurities, in person and in song, is one of the aspects that sets her apart not just from mainstream pop, but also from the rising class of alt-pop singers. Surprisingly, Allie, who cut her teeth in Toronto's indie rock scene (though she's reluctant to name bands), didn't always embrace the pop melodies. But two years ago she reached a turning point: "I said, 'I'm going to do a pop project and be very shameless about it'," she explains. As it turned out, she didn't have to be shameless at all: the genre is no longer a guilty pleasure, pop acts such as Sky Ferreira, Icona Pop, Lorde pack powerful crossover appeal. "I think the popularity is partly because it's electronic pop now—that really changed when Gaga became popular. The "blog pop" genre has made pop cooler as well, [that's] songs that really thrive on the internet and can move to the radio eventually. It's a really interesting time," she notes. There is one downside though: "You ride a fine line between being thought of as too mainstream or too underground. That's silly to me because good music is good music."
Marissa is on the fence about pricey green juice. Follow her on Twitter - @marissagmuller
Related:
HEARTSREVOLUTION Talk Pop Culture, Feminism, and Michael Jackson's Crystals