The Best Music Videos of 2013
2013's best videos found transcendence through #DGAF camerawork, rickety animation, DIY special effects, and Tumblr gif jacking.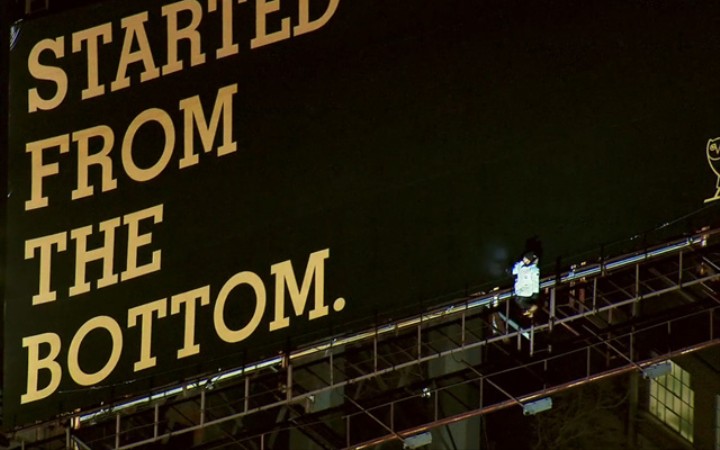 The "important" videos this year tended to be the ones that courted controversy and generated thinkpieces, which is kind of a bummer if you ask me. The existence of these things is just fine, but the critical nihilists that embrace them because this is the only way they can feel edgy and subversive need to fall the fuck back. And when it wasn't Thicke's creepiness or Miley's twerk tourism forming consensus, it was some tasteful tedious video (often, by Justin Timberlake) that went nowhere but invoked the big budget monoculture. When all that gets through is troll jobs and pre-YouTube nostalgia bait then it's time to blow music videos up and start all over.
2013's best videos found transcendence through #DGAF camerawork, rickety animation, DIY special effects, and Tumblr gif jacking. Even the proper videos worth your time – with a narrative or perhaps, something resembling a budget – seemed to be more about the end of music videos as we know them than hearty contributions to this joke of an artform. Here's an end of the year music videos list. But it's also an end of music videos as we know it list.
20. Yung Lean, "Ginseng Strip 2002" (directed by DJFERRARI)
Look into this raised-on-the-Rap-Internet kid's eyes and realize he's laughing with you. Because you know, hip-hop is supposed to be fun? His cooking dance moves are stellar. His New Balances are undergrad at a state college pursuing an Engineering degree #swaggy. His bucket hat is well, a bucket hat.
19. OxyXMoron "The Woods" (Directed by Anthony Supreme)
Heartwarming, hanging out with the homies-style video that's been done forever and ever and ever and never gets old that got maudlin in the late '90s when Juvenile's "Ha" raised the stakes, simmers down, lets the pathos lurk even further in the background, and culminates in this South Carolina crew going fishing together in the woods. What friendship looks like.
18. Killah Priest "The Winged People" (Directed by Orign of Futprnts Workshop)
Imagine an America where Elijah Muhammad had the clout of Pat Robertson leading to a Nation of Islam-fronted television channel like The Christian Broadcasting Network but you know, espousing "the mother plane"-style Ezekiel's wheel-was-a-UFO-sighting theorizing. Then, this rigidly animated video would be Saturday morning programming for the youth.
17. Thelonious Monk "Paris 1969"
We have no purpose for these kinds of concerts-in-full anymore and that's just fine. But getting to see this recently resurrected footage of the jazz pianist, in his twilight years, stuck with an okay band, but still, exploring his hammer-handed style and getting up to hypnotically groove while his band solos, makes you want to put on your curmudgeon hat and yearn for the days of multi-camera, expertly shot and conceived concert videos.
16. Cat Power "Manhattan" (Directed by Greg Hunt & Chan Marshall)
Chan Marshall gets her tourist on. Sometimes, this video's just Sheryl Crow "Everyday Is a Winding Road" cornball quirk and other times, it's bleeding loneliness and an open-hearted willingness to connect like Cleo From 5 To 7. Bjork's "Big Time Sensuality" for all of y'all who've been pissed off enough to punch a wall.
15. Extreme Animals "The Urgency" (Directed by Jacob Ciocci)
Highlights from this VHS-released web vent by Pittsburgh nu-metal refixers include: an American Beauty/Katy Perry mash-up, and Christine "I am not a witch" O'Donnel crammed into Harry Potter. When the words "SURFING" and "SUFFERING" are flashing on the screen back and forth seizure-inducing like, folding into one, it's #CHINATOWN. A sample of the 30-minute video is above.
14. Young Thug & Peewee Longway "Loaded" (Directed by Goodwin)
A gorgeously shot, gold-hued house party clip, complete with classic camera beat down shots, solidifies trap game Patrick Stump screamer Young Thug's cracked out charisma and sloppy starpower. Lil Wayne can retire now.
13. Waxahatchee "Coast To Coast" (Directed by Ryan Russell)
Like your friends' fucking Instagram feed when they all went swimming on a whim that one day and all posted photos of them doing the same thing at the same time from slightly different angles.
12. French Montana ft. Nicki Minaj "Freaks" (Directed by Eif Rivera)
In which Nicki Minaj, style icon (her Kmart line is so sique!), rocks a gold leather jacket and no shirt underneath, and stands in the middle of a You Got Served meets Belly dancehall throwdown.
11. Young Family "$$"
Alt-lit hero Tao Lin shittily skateboards in a fancy-ass neighborhood. Like an Eric Andre bit if it lacked even that Adult Swim provocateur's anti-punchline, punchline humor. An inexplicably affecting lark.
10. Semi "another 6 sec rap" (Directed by Semi)
Six second slab of rinky-dink ringtone rap this world has not heard since say, 2008, contained in a clip that asks, like all great art, more questions than it answers. Who is this kid? Where does he live? What is his deal? When does he get a record deal? This bite-sized banger might could be the future of music.
9. Drake "Started From The Bottom" (Directed by Director X & Drake)
Wherein a cross close-up of Drake's mom, Drizzy ghostriding the whip in the snow, and a Hugh Hefner-like grotto party full of turn-up hands-ers take on the same emotional import. Even a truly terrible two-minute interlude with Benny Hill-level BEWBZ jokes can't hold this video back.
8. Kanye West "Bound 2" (Directed by Nick Knight)
John Ford's Monument Valley and Lawrence Wenschler's ideas on the Uncanny Valley become one in this visual engagement ring and interracial romance provocation to good ol' 'murricans. Ultimately, it comes down to Kanye's decision to rock flannel on top of flannel. That's either the coolest thing in the world to you or really fucking stupid. Same goes for this whole goofy-ass video.
7. La Chat "Turn On The Lights" (Directed by Chaz "Abe" Minus)
Enter The Void's opening credits are recreated with the fonts that come with your Gateway PC. Space visuals from the era of SegaCD back La Chat turning pop Afro-Futurist Future's emotive hit into a pussy-eating anthem for some reason? What trying very hard, missing the mark, and ending up in some heretofore undiscovered aesthetic no man's land looks like.
6. Beach House, "Wishes" (Directed by Eric Wareheim)
A rummy celebration of the handsome creepiness of Ray Wise. A surreal expression of the weird beautiful rituals of small town middle of fucking nowhere America. An antidote to director Wareheim's offensive and straight hack video for Major Lazer's "Bubble Butt."
5. Migos "Versace" (Directed by Gabriel Hart)
Stakes-raising, big hook-making, Atlanta trappers Migos in a Howard Hughes-huge mansion, with some Miley Cyrus and Donatella Versace impersonators, and a whole lotta gold kill the expensive rap video dead. Feels like they took a time machine to the late '90s and bum rushed a Puff Daddy shoot.
4. Schwarz "U R Beautiful" (Directed by Lee Heinemann)
A bunch of friends in a studio apartment dressed up just enough to pass as a proper video location wilding the fuck out to the fucking wildest song of the year. The anti-"Started From the Bottom."
3. MGMT "Song No. 2" (Directed by Isaiah Seret)
New Jack City (+ heart) + Point Blank (x 2) + Breaking Bad (- suburban dad-appealing cynicism) + Alejandro Jodorowsky (x Lee Daniels' greasy cinematography) = MGMT's "Song No. 2," 2013's best music video that still plays by music video rules.
2. Vin Diesel "Stay"
This went-viral video of actor Vin Diesel's fragile performance of Rihanna's "Stay" to his wife—both Rihanna and Mikey Ekko's parts, mind you, because gender-fluidity is #hawt—with the "Nothing Compares 2 U" meets The Passion of Joan Of Arc video projected behind him is pretty much a How To Dress Well live performance circa 2010 and UOENO it.
1. Oneohtrix Point Never "Beta Male" (Directed by Jon Rafman)
Food-encrusted keyboards, a furry flailing in the mud, 8-bit graphics of piss-stained panties through which salvation is found (and a number of other GIFs jacked straight off Tumblr) is like a farewell transmission from the very end of the Internet.
Brandon Soderberg is a writer, film buff, and dog owner who lives in Baltimore. He's on Twitter - @notrivia