Ty Segall Band - 'Slaughterhouse'
By Beca Grimm
RATING:
TRACK LIST:
Death
I Bought My Eyes
Slaughterhouse
The Tongue
Tell Me What's Inside Your Heart
Wave Goodbye
Muscle Man
That's The Bag I'm In
Diddy Wah Diddy
Oh Mary
Fuzz War
Don't listen to this album before bed. It weaves a sonic spider web of grit and grime and prevents any actual rest from occurring. After testing this firsthand a few times, I can vouch for the guaranteed nightmares following such a gamble. However, if sleep ain't on the agenda and either a lot of cigarette smoking or other conscious activities are, well, here you go. This is a damn good record.
Slaughterhouse marks the first time Ty Segall invited his touring band to join him in the studio, resulting in even more excitement, sass and mean swagger. The black lung reverb and fuzz give a junkyard dog 'tude to the sound. But if the junkyard dog also competed in surf contests. Kind of like:
This is Orange County hip-swivel music with an inexplicable Atlantan garage musk. There's some bounce that damn near invites a listener-pogo-along with "The Tongue," while "That's The Bag I'm In" prompts a demonic twist-off. I mean, "twist-off" like battling with the sweet '50s dance, but I suppose downing sugary booze from bottles also applies. The fusion of surf, garage, and heavily committed lo-fi efforts blend in an unfathomably delicious mixture.
Serious cool coats the track "Wave Goodbye" with testosterone-y, trudging guitar. It stomps through fast-moving saltwater, against the current. But what I especially like about this track—and hell, Ty as a person—is it (and he) doesn't take anything too seriously. Not like this asshole.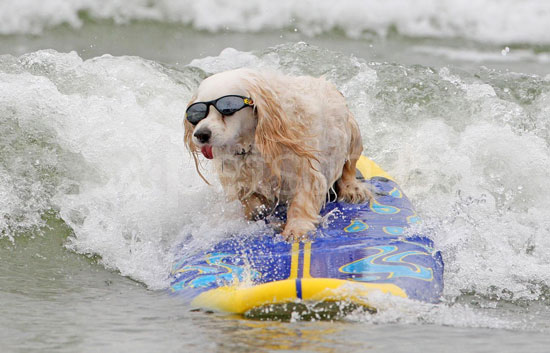 The cut wraps with sizzling licks before fading into a gleeful, "FUCK YEAH!" Fuck yeah, dude. For real.
"Diddy Wah Diddy" might make the running as a definitive track for Summer 2012. Screw it. I'll say that now, even though I have pretty much no idea what he's yelling, save for "extra fast," "I've got a nice car" and of course "diddy wah diddy." Oh! And "Who fucking cares? Fuck the fucking' ****." Yep. Don't know that last word. Regardless, I can dig on this nihilistic tangle of fun noise.
My only concern with Slaughterhouse comes with the choice to release throwaway track "I Bought My Eyes" as a single. It's less representative of Segall's psych-rock mastery, cruising more into some sedated Obits-esque territory. It almost makes me want to:
But ultimately, I have to stay on board. It's acidic crotch rock, soaked in rusty bathtub moonshine.
What kind of dumb-dumb could pass on a second serving of that? Don't let the smoke burn your eyes!